Boston Healthtech Was Built for a Crisis Like This
How the city's innovators are answering the COVID-19 call.
Between the COVID-19 pandemic and our ever-digitizing world, the healthtech space is seeing more action than ever lately. The telehealth market alone is projected to be worth $10 billion by the end of this year, with VC firms investing hundreds of millions of dollars in the industry.
Boston companies are getting a sizable piece of the pie too. Biotech giant Sophia Genetics recently closed on a $110 million funding round and is gunning for a Nasdaq IPO. Meanwhile, digital health monitoring startup Whoop just became one of the city's newest unicorns after a fresh $100 million investment.
This boom didn't just come out of nowhere for Boston. With its prominent universities and hospitals, the city is home to some of the brightest minds in the world, which has led to a culture that encourages innovation. Particularly in the healthtech space.
"Boston is, essentially, the equivalent of Silicon Valley, but for the medical tech field," Gianluca De Novi, a researcher at Harvard Medical School and director of medical devices at Massachusetts General Hospital, told Built In. "Everybody's trying to create new services and new products in these domains."
Legacy of Leadership
Boston has long been considered a global leader in the healthtech space. In fact, some of the earliest work to combine computers and healthcare happened in Boston, beginning in the 1960s and '70s, says Laurance Stuntz, director of the Massachusetts eHealth Institute. The organization is a division of the Massachusetts Technology Collaborative, an economic development agency created on behalf of the state to support the growth of its technology sector, including digital health companies.
"A long time ago, people started playing with computers and technology. Meditech was founded here, still exists here, and is the backbone software for most of the community hospitals in the country," Stuntz told Built In. "Mass General created the first, what we would call, electronic health records."
Now, Stuntz says more than 400 digital health companies are headquartered around Massachusetts. Boston has also received the most National Institutes of Health funding of any other U.S. city for more than 20 consecutive years.
"There's this combination of real science around healthcare as well a huge tech infrastructure," Stuntz said. "Healthcare delivery in particular, and healthcare at large, including life sciences and digital health, are huge pieces of the Massachusetts economy."
Boston is, essentially, the equivalent of Silicon Valley, but for the medical tech field."
Emergency Breeds Innovation
Perhaps it is this culture and history that's led to the onslaught of healthcare innovation in response to the COVID-19 pandemic, starting from its early days in March.
Even before most of the United States went under lockdown, Biofourmis, a producer of AI-enabled health devices for remote monitoring, teamed up with the University of Hong Kong to monitor and treat COVID-19 patients there. Using the Boston-based company's technology and platform, these doctors can track metrics like body temperature and respiratory rate to get a comprehensive view of a patient's health without having to come into close contact with them — important when it comes to an airborne virus like the novel coronavirus.
Biofourmis isn't alone. Boston-area digital health companies have been consistently devising potential solutions to the pandemic in recent months. Sherlock Biosciences made history in May by developing the first CRISPR-based coronavirus diagnostic kit to be authorized for emergency use by the U.S. Food and Drug Administration. Buoy Health developed a digital triage tool to help companies provide their employees with daily coronavirus screening, potentially speeding up their transition back to in-person work.
Similarly, Sonde Health created a voice-enabled screening platform that can detect if a person may be sick with the novel coronavirus or not. While not a definitive diagnosis, the test can be paired with temperature checks and COVID-19 questionnaires to ensure only healthy people are entering the office, or an airplane or concert.
"In order for society to get back into some semblance of normalcy, people need some form of screening and it needs to happen pretty often," Sonde Health CEO David Liu told Built In back in July. "I think we just would like to do our part, a small part, in helping people get back to some version of [normalcy] sooner than later."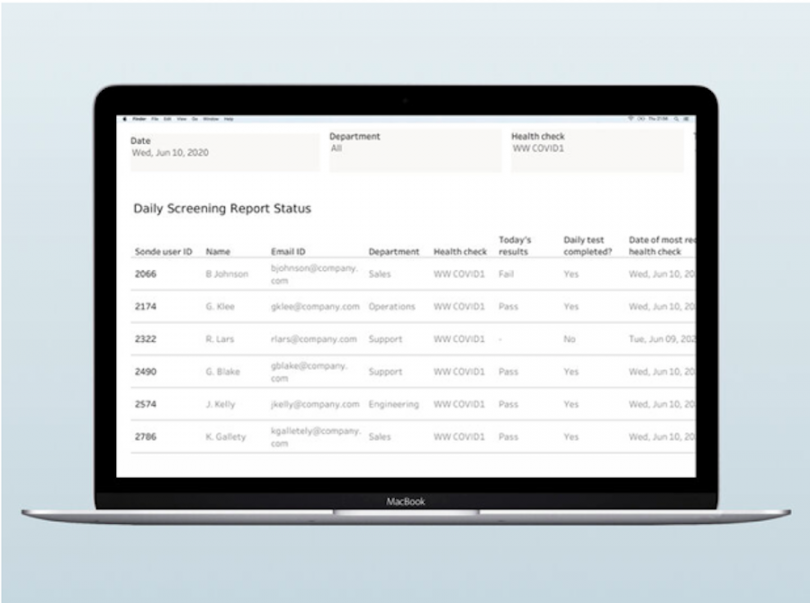 The pandemic has also led to a surge in demand among long-standing Boston companies, whose technology is just now becoming popular. A key area here is telemedicine and remote health monitoring, since distance is so crucial right now.
De Novi says that, while this technology may seem new to the general public, telemedicine is actually built on fairly "primitive" technology that is decades old. Meanwhile, Stuntz says he's spoken with organizations like Baystate Health, who have been offering telehealth services for years with very little traction. Now, they have as many as 3,000 users a day on their platform.
"In my conversations with healthcare providers, they are all talking about how they can deliver care in a way that doesn't contribute to the spread of infection," Stuntz said. "Digital health has become much more part of the conversation, particularly as a key piece of how we will deliver care in the future. I'm hearing a lot of excitement from Massachusetts digital health companies about what it could mean for their business in areas like remote monitoring and virtual visits."
It Doesn't Stop Here
This renewed excitement around telemedicine has led to the success of companies like Amwell, which filed to go public in September. It also received a $100 million investment from Google Cloud and will be entering into a multi-year partnership with the company to expand virtual healthcare services around the world, an indication that this technology is not going away any time soon.
This is also true of AR, VR and robotics in the medical industry, according to De Novi. Just over the summer, robotic surgery startup Vicarious Surgical raised $13.2 million, with participation from Bill Gates. And this could be just the beginning. De Novi says his own robotic surgery company XSurgical is getting newfound attention from investors too.
"Before COVID, investors were looking at my project and they were a little bit skeptical about it. Like, 'Will we really have the need for something like this?'" De Novi said. "Now, everybody's talking about virtual reality, augmented reality. Before, everybody thought this kind of technology was only for entertainment, not very much for real services or real products except for gaming. Now, everybody is developing in this space."
Looking beyond the benefits of telemedicine and VR-enabled healthcare amid the pandemic, what's on everyone's mind right now is a vaccine. As of October 28, there are 674 drugs and vaccines targeting COVID-19 currently in development, with companies like Pfizer and Cambridge-based Moderna leading the charge (and Pfizer appears to be getting close to the finish line).
However, trust among Americans about whether a vaccine will be safe is relatively low — only 58 percent of Americans said they'd be willing to get a COVID-19 vaccine as soon as one is available, according to a recent STAT-Harris Poll. Quality control is important. And with companies like Rapid Micro Biosystems and Affinivax raking in hundreds of millions of dollars in venture capital, Boston is poised to be a leader in this space too.