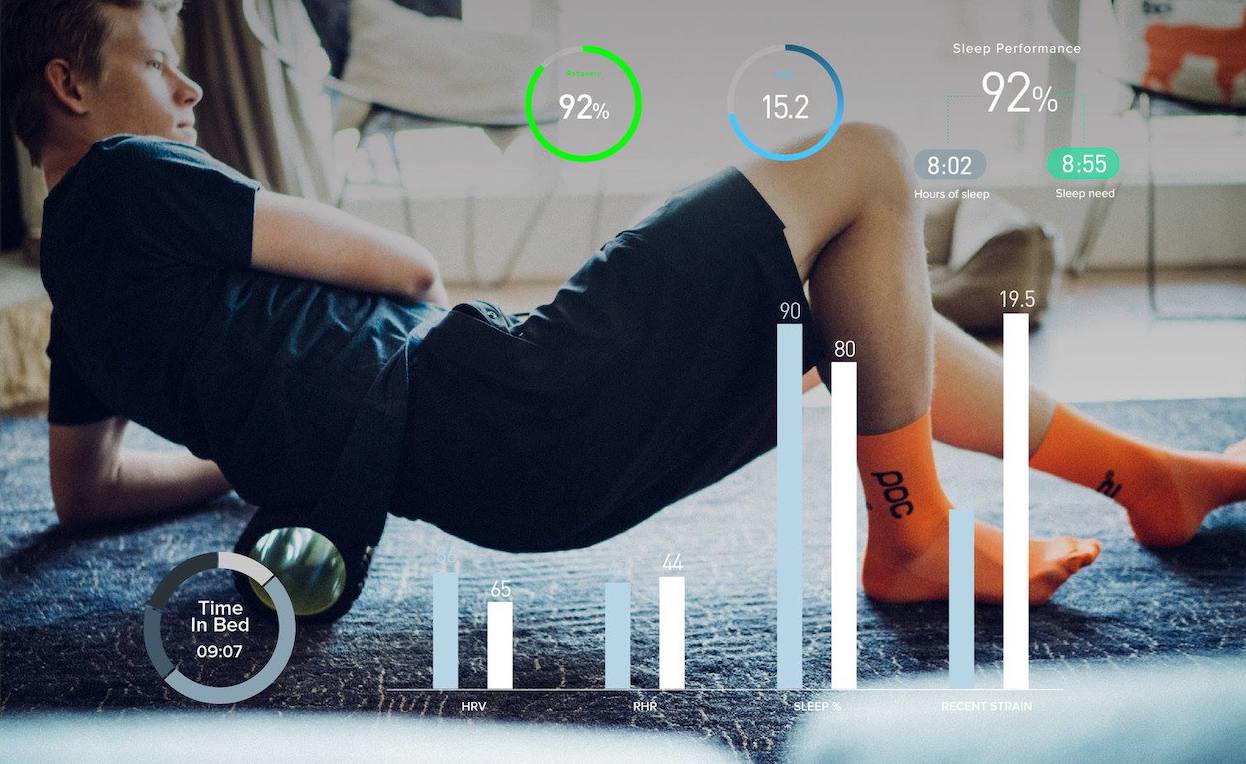 As of Wednesday, health monitoring startup Whoop is Boston's newest unicorn, thanks to a $100 million Series E funding round led by IVP.
Founded in 2012, Whoop's wearable technology and data-driven app allows users to track their sleep, fitness and recovery 24/7, and offers actionable insights designed to help the user improve their lifestyle and overall health.
In the end, founder and CEO Will Ahmed says that, after one just one year of using Whoop, members should experience better sleep, have a lower resting heart rate and exhibit healthier behaviors in general.
"We have the potential to help people meaningfully change and improve their health," Ahmed said. "It's very hard to live a happy, fulfilled life if you aren't healthy. So the promise of wearable technology and the promise of Whoop is that it can change your life."
Whoop's mission seems to be resonating with investors and users alike. This latest funding round brings the company's total valuation to more than $1 billion, and Ahmed says membership on the app has grown 5X in the last 12 months. He attributes this success so far to the company's singular vision to help people improve their quality of life through health tracking.
"Whoop is great at all the things that it does because of all the things we don't do," Ahmed said. "We're not a smartwatch, we're not going to send you push notifications, you're not going to make a phone call with your Whoop strap. But when it comes to health monitoring and health data, I think Whoop is the best."
Much of this growth has happened amid the COVID-19 pandemic, when people are more focused on maintaining their health. However, Ahmed says this paradigm shift is here to stay.
"If COVID-19 went away tomorrow, would our sales continue to grow? I think the answer to that question is yes," Ahmed said. "The idea that you can wear technology that can help you really understand your body is a phenomenon right now that's quite important. For those reasons, we expect our growth to continue."
To keep up the momentum, the company will use this fresh funding to further develop its product, expand globally to other English-speaking countries and ramp up its marketing efforts. Ahmed says Whoop is also looking to double its current headcount of more than 330 employees in the next year. These new positions will be across various departments, from hardware and design to marketing and sales.
Majority of these positions will be based out of the company's office in Boston.
"Boston is an emerging talent market at the intersection of everything we do at Whoop — leadership in the health and medical space, hardware, software, and consumer technology," Rob Case, Whoop's VP of talent, said in a statement shared with Built In. "We've worked hard to develop one of the best company cultures in the city and are excited for this new year of expansion."