Summer Tech Watch: 16 Boston Companies to Know
As summer is heating up, so too is Boston's tech scene. Check out 16 companies that reward their employees with standout perks and benefits.
Summer is finally here. Whether you're cheering on the Sox at Fenway Park, kayaking along the Charles River or taking a weekend trip to the Cape, it might also be a good time to catch up on the movers and shakers in your local tech scene — and Built In Boston has curated 16 noteworthy companies to get you started.
Boston is ranked as the fourth-best startup ecosystem in the United States, with $21 billion in total investment in 2022, according to TechCrunch. As a result, many of Boston's tech employers are unveiling upgrades to the breadth, depth and inclusion of their culture and perks.
The companies featured here are unique in many ways, but all 16 have one thing in common: They are exciting, people-first organizations worth keeping on your radar.
What Formlabs does: Formlabs builds 3D printers to put them into the hands of designers, engineers and manufacturers. Based in Somerville, Massachusetts, the company was founded in 2011 after its founders met at MIT. 
THE PERKS
Unlimited PTO

100 percent healthcare coverage

Generous parental leave
Forming inspirational teams: "I stay motivated by the teams around me: the team I've built, other leaders at Formlabs and so many of the people I work with cross-functionally," Shirley Paley, general counsel, told Built In Boston in March. "They all push me to do my best and learn every day."
What Anduril does: Anduril builds advanced technologies to solve some of the most important and complex national security challenges. In June, the company announced its acquisition of Adranos, a manufacturer of solid rocket motors.
THE PERKS
100 percent premium coverage for medical, dental and vision insurance, including coverage for Lasik eye surgery, for employees and their dependent

Annual vacation bonus

$25,000 stipend to support fertility planning and treatment, adoption, gestational carriers, fertility preservation and mor

e
Encouraging engineering opportunities: "A moment that accelerated my career was when I suggested a new sensor designed for a tethered unmanned aerial vehicle to my manager," Lauren White, software algorithms lead, told Built In Boston in November 2022. "I ended up working with my manager to get sponsorship for that project and then ran the development of the sensor from prototype to the first deployed sensor, eventually ending up with a patent."
What Cohere Health does: Cohere Health offers intelligent prior authorization solutions that drive better healthcare outcomes. The fully remote healthtech company aims to align physicians and patients with evidence-based care plans. 
THE PERKS
Generous PTO

Robust parental leave

401(k) matching
Coherent company values: "The team's passion for and commitment to enhancing healthcare is evident in their day-to-day work," Kevin Yan, engineering manager, told Built In Boston in June. "Cohere Health has managed to maintain its startup culture even as it continues to grow, allowing for a collaborative and supportive environment where everyone's opinions are valued."
What Upwork does: Upwork is an HR tech company that connects businesses to independent talent. Through its platform, Upwork helps clients ranging from one-person startups to Fortune 100 companies access freelancers. 
THE PERKS
Unlimited PTO and paid volunteer time, with the expectation that one percent of employees' time is spent giving back to the community

12 weeks of fully paid parental leave, up to $3,000 in reimbursements for eligible fertility or adoption-related expenses per plan year, and monthly $100 Trusted credits for backup and emergency child care services 

401(k), with Upwork matching 50 percent of every dollar up to $5,000 per year and the employers' match being fully vested after one year
Upstanding sales team: "I set expectations with the client, have them agree to a mutual timeline and work backward from there," Natalie Craig, strategic account director, told Built In Boston in February. "I am always honest with myself when I think deals will close and give myself wiggle room for unexpected delays that inevitably come up in a deal. This practice is important so you can be accurate in forecasting."
 
What Vicarious Surgical does: Vicarious Surgical is a Waltham, Massachusetts-based robotics company that works to improve the efficiency of surgical procedures. The company's human-like robots transport surgeons inside patients to perform minimally invasive surgeries, improving patient outcomes and reducing healthcare costs. 
THE PERKS
Unlimited PTO

Generous parental leave

401(k) matching
Revolutionizing surgeries: "As an embedded software engineer at Vicarious Surgical, I am contributing to the development of a next-generation surgical robotics system," Jeff Forsyth, a staff embedded software engineer, told Built In Boston in January.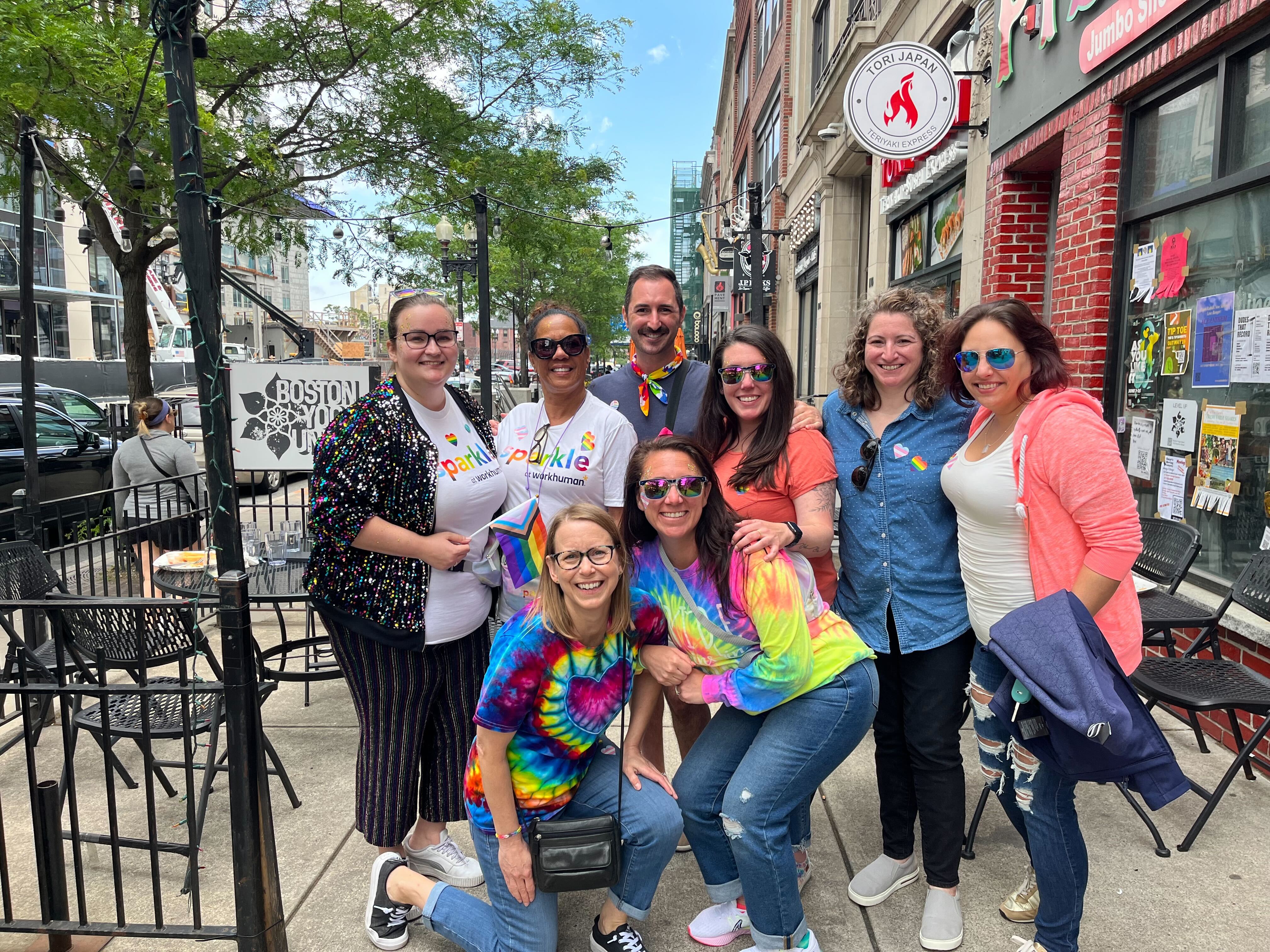 What Workhuman does: Through its secure SaaS platform, Workhuman helps companies meet human capital challenges and opportunities, including turnover, employee engagement and diversity, equity and inclusion. Co-headquartered in Dublin and Framingham, Massachusetts, Workhuman delivers a social recognition solution that leverages the power of human connection to build high-performing teams. 
In May, the HR tech company announced it had hired KeyAnna Schmiedl — who formerly held leadership roles at Mozilla, Wayfair and Santander — as its chief human experience officer. 
THE PERKS
Generous PTO and paid volunteer time

12 weeks of parental leave for primary caretakers and 4 weeks for secondary caretakers and new adoptive and foster parents 

Quarterly performance bonuses and ongoing employee recognition bonuses
Making work more human: "Our solutions lift people up and make them feel valued and appreciated," Whitney Vick, a corporate sales executive, said in an internal blog post in May. "That in itself makes it a joy to wake up every morning to share Workhuman's mission with HR leaders around the world."
What Mendix does: Mendix offers a low-code app development platform. In January, the software company was recognized by Gartner as a leader in the 2023 Magic Quadrant for Enterprise Low-Code Application Platforms for the fourth consecutive time. 
THE PERKS
Unlimited PTO

Generous parental leave, with a return-to-work program

401(k) matching
Measuring success: "Our outside-the-box metrics include Mendix Academy for training, including certifications; count of use-case backlog for additional Mendix applications and maturity and complexity of use cases to differentiate Mendix capabilities," Matt Katz, VP of customer success, told Built In Boston in February. "It's essential that our customers have evidence of business impact to continue their subscription."
What BlueConic does: BlueConic provides a customer data platform, separating marketers' first-party data from disparate systems and making it more accessible. More than 300 brands, including Hearst, Heineken and T-Mobile, use BlueConic to leverage unified, privacy-compliant data and drive growth initiatives. 
THE PERKS
28 days of annual PTO for U.S. employees

Generous parental leave

$500 home office stipends for remote employees 
Iconic inclusivity: "I try to inspire other women at BlueConic by showing them that they don't have to look, think or act a certain way for a role," Jackie Rousseau-Anderson, chief revenue officer, told Built In Boston in March. "I may not look or act like most other SaaS chief revenue officers, but here I am."
What Piaggio Fast Forward does: Piaggio Fast Forward creates intelligent mobility solutions for people and goods. Its two robots, "gitaplus" and "gitamini," were designed to carry cargo so people can travel farther on foot. 
THE PERKS
100 percent medical and dental coverage

Unlimited PTO

Generous parental leave 
Racing toward engineering solutions: "PFF is at the intersection of multiple engineering disciplines, including electrical, mechanical, robotics and software," Anup Vasudevan, senior full stack engineer, told Built In Boston in June 2022. "No task is the same, and no stream of work is the same."
What Jellyfish does: Jellyfish runs a management platform that allows engineering leaders to align their work with strategic business objectives. Through features such as its scenario planning tools, Jellyfish helps engineers communicate trade-offs to the business, set better expectations when planning deliverables and more. 
In June, the company was recognized as a leader in the software development analytics tools grid by G2 for the fourth consecutive quarter. 
THE PERKS
Flexible PTO

Generous parental leave

A new office overlooking Post Office Square and downtown Boston 
Swimming in curiosity: "We have several important cultural values at Jellyfish, but the one that stands out most for Jellyfish's research team is 'GLOW,'" Nicholas Arcolano, head of research, told Built In Boston in September 2022. "To us, GLOW represents the drive to always be a bright beacon of curiosity that is always learning, teaching and shining a light on what matters."
What Geode Capital Management does: Geode Capital Management is a systematic investment manager, providing exposures across a range of equity and niche asset classes. Founded in 2001, the fintech company uses a team-based, risk-managed approach, with focuses on liquidity and transparency.  
THE PERKS
Generous PTO and volunteer time off 

Paid parental and family leave, with adoption and surrogacy assistance 

Tuition reimbursement and student debt employer contributions
Leadership rocks: "Everyone from senior management to the individual team member is approachable and wants to help you succeed," Neelima Nair, director of backend engineering, told Built In Boston in September 2022. "We have a strong management team who is committed to transparency and actively participates in mentorship programs to encourage everyone to meaningfully contribute to Geode's growth."
What Funnel does: In pursuit of making marketers more data-driven, Funnel powers customers' reporting and analytics. The marketing technology company supports more than 1,800 clients, including Samsung, adidas and trivago. 
THE PERKS
14 weeks of parental leave at 100 percent compensation, with a "ramp up" return-to-work period

New hires are flown to Sweden to meet the Stockholm team and anyone can request a week-long chapter exchange 

"Camp Funnel," which is annual companywide trips abroad with the worldwide team 
Channeling standout values: "I was drawn to Funnel at first because it is a really interesting tool that was building out and shaping a newly emerging area in the market … I stayed because of the culture," Brian Benet, enterprise account executive, told Built In Boston in November 2022. "Funnel is the only company that I have seen that actually sticks to its stated values and uses them to guide decision-making."
What Cogo Labs does: Located in the heart of Cambridge, Massachusetts, Cogo Labs grows and launches companies. The startup incubator provides data, technology and analytics to help businesses accelerate and innovate. 
THE PERKS
Generous PTO, paid volunteer time and sabbatical opportunities

Robust parental leave, with a return-to-work program, adoption assistance and child care stipends 

Group yoga and meditation sessions, plus stipends for gym usage 
Ensuring engineering success: "We have an engineering handbook at Cogo and it's not only about our git and SSH configs; it talks about how to succeed as an engineer at Cogo," John "Geech" McGeachie, managing partner, told Built In Boston in August 2022. "That scales really well and helps people integrate quickly into our culture."
What Tamr does: With its data product templates, Tamr empowers customers to transform messy source data into clean, curated databases. Based in Cambridge, Massachusetts, Tamr employs a data mastering solution — combining machine learning with human curation — to ensure that data is usable for governance, analytics and modeling. 
THE PERKS
Unlimited PTO, plus 28 days of paid sabbatical after an employee's first seven years at the company 

18 weeks of parental leave for primary caretakers and 10 weeks for secondary caretakers

Tech budgets for all new hires that's refreshed every three years 
In the news: In October 2022, Tamr Co-Founder and CEO Andy Palmer was featured in a Boston Globe article about the local tech scene. 
In the article, Globe correspondent Scott Kirsner wrote, "Palmer also regularly makes angel investments in other startups. One female entrepreneur recently told me she thinks Palmer might be the most consistent backer of female founders in town; a list that Palmer sent showing seven recent investments included five founded by women."
What Crunchtime does: Crunchtime provides operations management software for the restaurant and food service industries. Since 1995, customers — now including Dunkin', Chipotle Mexican Grill and Domino's — have used Crunchtime to manage their inventory, staff scheduling, food safety and more. 
THE PERKS
Unlimited PTO

Generous parental leave

Continuing education stipends and tuition reimbursement
In the news: In February, Crunchtime announced it had appointed John Raguin as its new CEO. Raguin was previously the CEO and co-founder of Guidewire, and he held executive roles in marketing, sales and product management at Ariba, Seismic and other companies. 
"I'm excited to join the company during this period of rapid growth and innovation which puts us in position to partner with our customers across most of their strategic operations initiatives," Raguin said in a statement. 
What Mainstay does: Mainstay runs an engagement platform that works to boost retention and well-being at colleges and businesses. Through conversational AI, the fully remote edtech company messages personalized support for learners and employees while providing deep insight into their experiences with reporting and analytics. 
THE PERKS
Unlimited PTO

10 weeks of parental leave for primary caretakers and 6 weeks for secondary caretakers

401(k) plan, through which Mainstay contributes 3 percent of an employee's annual base salary, regardless of whether the employee contributes, with no vesting period  
Staying transparent: "Mainstay has committed to fostering a company culture of transparency through routine and systematized data sharing and reporting across all levels of our organization," Audrey Mattoon, senior director of revenue operations, told Built In Boston in June. "Monthly and quarterly, we produce a 360-degree business review for our internal teams across each of our functional areas … Weekly, we produce a focused business review for the executive team and our senior management."