The Future 5 of Boston Tech, Q4 2022
These emerging startups might be working on the next big tech innovations.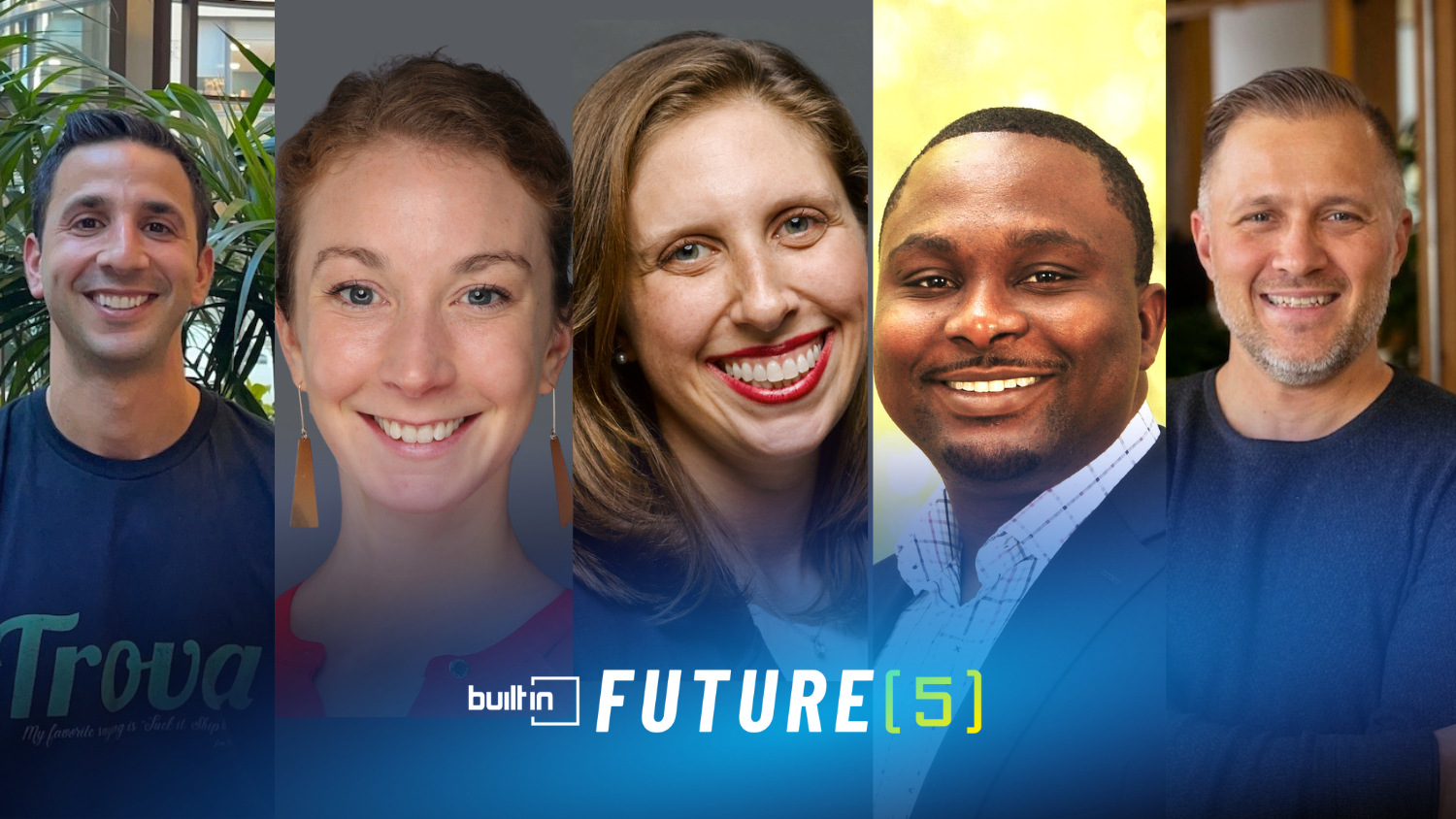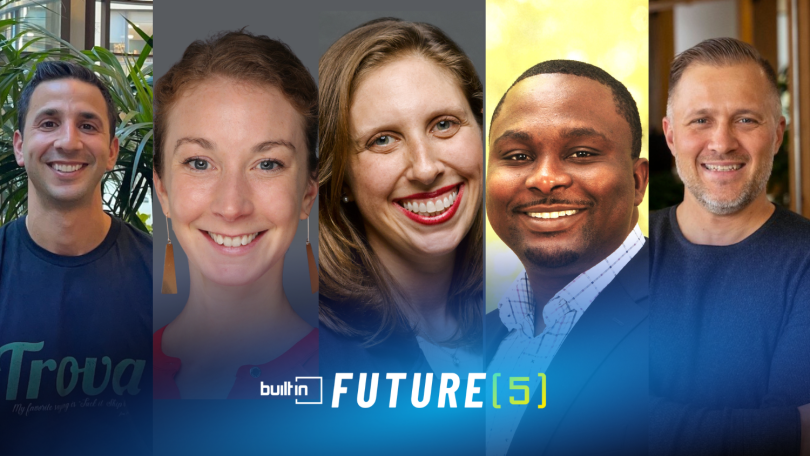 Sure the latest initiatives from the Teslas, Apples and Googles of the industry tend to dominate the tech news space — and with good reason. Still, the tech titans aren't the only ones bringing innovation to the sector.
In an effort to highlight up-and-coming startups, Built In has launched The Future 5 across eight major U.S. tech hubs. Each quarter, we will feature five tech startups, nonprofits or entrepreneurs in each of these hubs who just might be working on the next big thing. Read our round-up of Boston's rising startups from last quarter here.
* * *
Built In Boston's quarterly list of innovative up-and-coming startups is here to shine a light on some hidden gems in the Boston tech scene. We highlighted a retired ballerina who is using artificial intelligence to help professionals improve their Zoom presence. We also talked to a pharmacist who is offering price transparency and nationwide medication delivery to healthtech companies and a company on a mission to prevent food waste. Keep reading for our Q4 installment of Boston's Built In Future 5 series.
Built In's Future 5 Up-And-Coming Boston Startups, Q4 2022
Divert (Greentech)
Health Haven Rx (Pharmacy)
Scroobious (Consulting)
Trova (HR Tech)
Virtual Sapiens (Artificial Intelligence)
Greentech startup Divert works with big retailers like Kroger, Albertsons, CVS and Target to help divert food from landfills by sending unsold food to food banks or by anaerobically digesting expired food into renewable biogas.
More than 5,400 retail stores in the U.S. send their discarded food to Divert's 10 facilities. These facilities process 232,000 tons of wasted food per year, according to Divert.
The Concord-based startup also uses a variety of tech tools to address issues higher up in the food supply chain that can cause items to rot or be unnecessarily thrown away. The company has trained neural nets to identify and document discarded food so retailers can learn what types of products are being unnecessarily discarded and which items could be donated.
Health Haven Rx provides white-label pharmacy services to digital health companies via APIs. Instead of prescribing the first medication that comes to mind, doctors using these digital health platforms are able to see the true prices of all the available medications and prescribe the most affordable option for low-income customers. 
Health Haven Rx has pharmacy licenses in all 50 states, so it is able to provide nationwide medication delivery for digital health platforms. Health Haven Rx delivers from its pharmacy in New Hampshire, so it can take four or five days for deliveries to reach digital health customers on the West Coast. The company is working to reduce those delivery times by partnering with independent pharmacies throughout the country that could deliver medications on its behalf.
Health Haven Rx currently has contracts with six digital health companies and is actively powering the pharmacy service of two digital health companies. One of Health Haven Rx's current partners is focused on affordable healthcare and the other is replacing single-use pharmaceutical containers with a biodegradable alternative.
Scroobious' platform helps early-stage startup founders hone their investor pitch with short videos, templates and other educational materials. Founders who choose Scroobious' most advanced plan can get asynchronous feedback on their pitch deck and get a real-time, one-on-one review of their investor pitch on a video call.
More than 350 founders have used the startup's program. Scroobious founder and CEO Allison Byers said the program has helped founders raise funds, get admitted to prestigious accelerators and, in some cases, go public.
Scroobious is in the process of building out a tool that will connect startup founders to angel investors through a predictive algorithm that highlights companies aligned with an investor's interests. To create the investor discovery tool, Byers said she plans to raise a pre-seed and seed round.
After years of struggling to find coworkers to hike or play soccer with, Michael Fodera launched Trova, an app and Slack integration that connects people based on their shared interests. 
When signing up for the platform, users will be asked if they watch sports, play video games or listen to music. They are then prompted to answer follow-up questions about what teams they root for, what games they play and which musical artists they listen to. They are also asked about their hobbies, pets, what college they attended and what city they live in.
Trova allows users to filter their coworkers by shared interests, location and other factors to spark authentic conversations based on shared interests. Trova also uses artificial intelligence to match employees with shared interests and encourages them to talk with each other. 
After 10 years as a professional ballerina, Rachel Cossar took what she learned about body language, as well as additional research about nonverbal communication, to coach business professionals through her consulting firm.
When Covid-19 struck, she reshaped her consulting business to help people improve their Zoom presence. The shift to video also inspired to her rethink the possibilities of her business. She collaborated with a technical co-founder and a behavior analysis expert to develop Virtual Sapiens, an AI tool that can provide feedback about a user's posture, facial expression and hand movements.
After completing a five-minute video session with the AI technology, users are sent an analysis of their Zoom presence. They can then sign up to access the company's Sidekick software, which analyzes a user's video presence in real-time. The software can tell users to straighten their posture, look at the camera lens or show signs of active listening.