Goldcast Gained $28M, Mantel Launched With $2M, and More Boston Tech News
Boston-based startups were making major strides last week. Here's what you may have missed.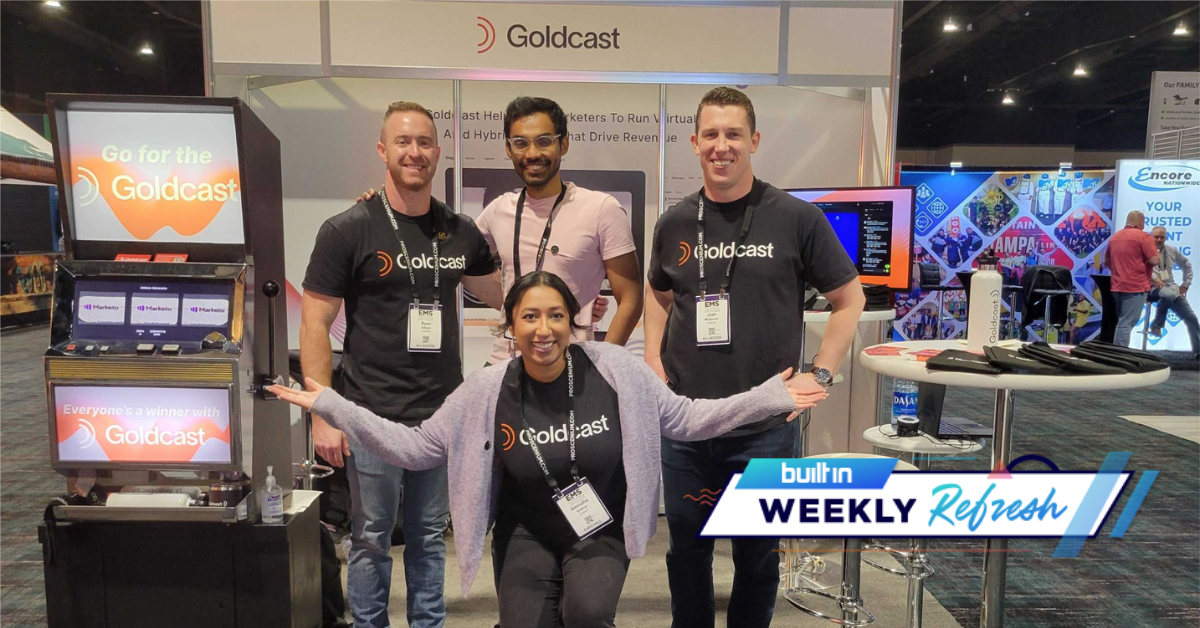 Summer is coming to a close, but that isn't stopping the heat coming from Boston's tech ecosystem. Local startups are on mass hiring sprees, pulling in capital and expanding telehealth resources to combat monkeypox outbreaks. Read on to see what you may have missed. This is the Built In Boston Weekly Refresh.
Goldcast raised $28M. Goldcast, which was featured in our Future 5 series last quarter, raked in $28 million last week in a Series A round led by WestBridge Capital. The raise comes just six months after the hybrid video events platform raised $10 million in seed funding. With its new funding, Goldcast will bring on new executive hires, fuel marketing initiatives and invest in developing its product use cases. [PR Newswire]
Mantel launched with $2M. Carbon capturing startup and MIT spinout Mantel launched early last week with $2 million in funding led by The Engine, an early-stage venture firm that also spun out of MIT. Mantel's technology creates molten salt that captures carbon released from industrial machines like boilers, kilns and furnaces. With its new capital, Mantel will be investing in product development. [Built In Boston]
Kin was featured in the Future 5 series. After realizing that the physical therapy patient experience hasn't changed much since the last time he visited an office 20 years ago, Kins CEO Dan Smith sought to find a way to modernize the industry. Smith built Kins to operate as a digital-first, patient-centered physical therapy platform that offers a hybrid approach to physical therapy sessions. On the platform, users can receive virtual and hybrid care to treat things like back pain, sports injuries and chronic pain. [Built In Boston]
Boston Tech Quote Of The Week
"The LGBTQIA+ community has long struggled to access affirming and expert care and has a history of being unfairly blamed for the spread of viruses, as was the case during the beginning of the HIV/AIDS crisis. As monkeypox began to spread, we felt it was our duty and responsibility as a queer and trans healthcare provider to quickly mobilize and serve as a source of truth in a sea of misinformation." — Liana Douillet Guzmán, CEO of FOLX Health
FOLX Health launched monkeypox offerings. Boston-based FOLX Health, a healthtech startup catered to the LGBTQIA+ community, announced it is now offering services to help users consult with physicians about monkeypox. Through the telehealth platform, members can receive virtual care and consultations regarding concerns about monkeypox while also receiving help finding a vaccination center. [Business Wire]
Divert announced business growth. Tech-fueled waste management company Divert added 1,500 new retail partners to its customer base in the last two years. Prior to Divert's expansion, it already had existing partnerships with big-name retailers like Kroger and Target. Divert's technology helps retailers eliminate and manage waste with its trackable food waste bins that help customers monitor waste and figure out how to prevent it. If the food must go to waste, Divert's technology is able to convert wasted food into renewable energy. [Built In Boston]
Jamyr made the Built In NYC Future 5 roundup. Built with a mission to provide more personalized experiences to HR recruitment, Jamyr says video-first is the way to go. Launched in 2021, Jamyr's technology allows HR representatives to film and edit videos that help them communicate with new hires. Hiring executives can also add customizable playbooks to videos and have the option to integrate video content from Jamyr on the company's social media platforms and career sites. [Built In Boston]