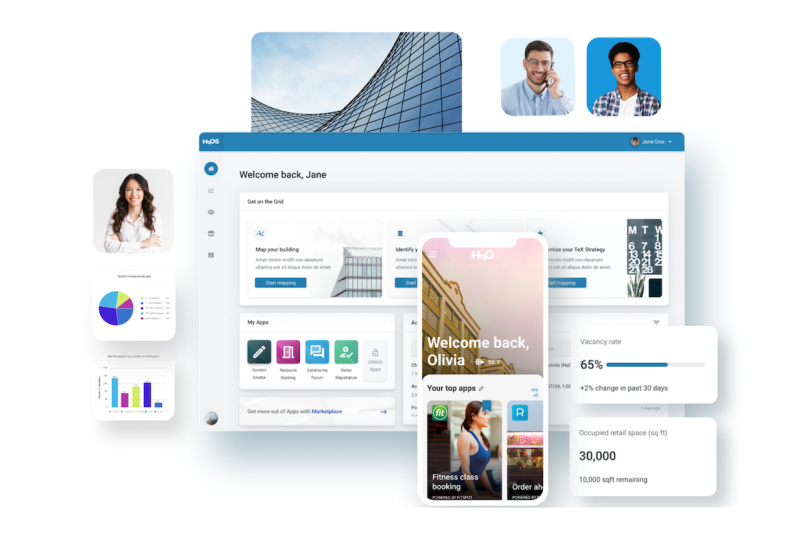 HqO, a Boston startup that claims to be the "undisputed leader" in tenant experience technology for commercial properties, announced Wednesday it closed on a $60 million Series C funding round. This, following a $34 million Series B the company announced in 2019, brings its total capital raised to nearly $107 million.
Major names in the venture capital and commercial real estate spaces, including Insight Partners, PruVen Capital and Cushman & Wakefield, participated in this latest funding round — an indication that HqO's technology could be instrumental in the future of physical offices.
"The commercial real estate industry is in the process of shifting the value equation away from the physical nature of the buildings to the tenants and employees who occupy them. We believe that a world-class tenant experience platform will help satisfy this shift," PruVen Capital partner Travis Skelly said in a statement. "Their best-in class technology has made HqO the preferred platform for landlords."
Launched in 2018, HqO's platform "blends the physical and digital office experiences," allowing landlords to communicate with tenants, market their spaces, grant security access and more. This engagement also provides landlords with important insights they can use to better address the needs of their tenants.
HqO says it is active in more than 150 million square feet in seven countries, working with more than 60 commercial real estate companies including Columbia Property Trust, Nuveen Real Estate and J.P. Morgan Asset Management.
Of course, it bears mentioning that this past year has been relatively office-free due to the pandemic. An analysis recently published by Cushman & Wakefield found that global office vacancy will rise from 10.9 percent "pre-crisis" to 15.6 percent in 2022, and does not foresee the sector bouncing back fully until 2025.
However, despite the pandemic, HqO says it has tripled revenue in the last year and doubled its headcount. AJ Malhotra, a principal at Insight Partners, attributes this success to HqO's model, which he says is "crucial" for the success of commercial real estate going forward.
"HqO is empowering office owners to bring their assets into the future through tenant experience, technology partnerships, and advanced data and analytics capabilities," Malhotra said in a statement. "Customer demand for HqO's offering continues to be extraordinary. The company helped landlords, property teams, and tenants alike adjust to the changes of the pandemic around the world."
HqO says it will use this fresh funding to further scale its business, with plans to expand its existing footprint in Boston, NYC, London and Paris, as well as open new offices in Toronto, the Midwest and the west coast regions of the United States.