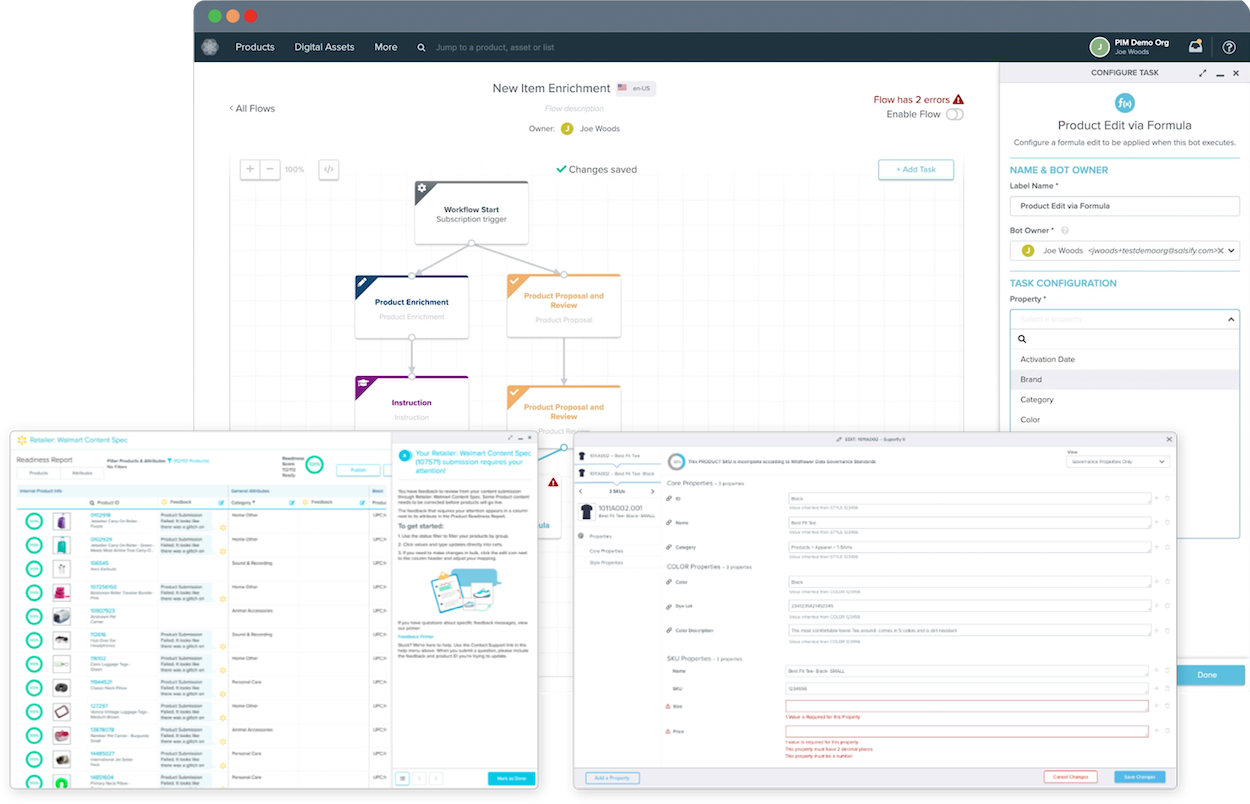 Salsify, a Boston software startup that helps brands manage their "digital shelf," announced Wednesday it closed on a $155 million Series E round led by global investment firm Warburg Pincus. The company says it will use this fresh funding to accelerate the development of its commerce experience management platform and fuel further international growth, particularly in Europe, the Middle East and Africa.
Co-founder and CMO Rob Gonzalez says the digital shelf is more than just digital, it is a collection of the various touch points shoppers use to engage with brands everyday in order to find, research and purchase products. This includes everything from large retail sites like Amazon to social media to brick-and-mortar stores.
Salsify helps companies manage all of this, providing a space where they can store and analyze all their inventory, marketing and sales information in one place.
"Managing the experience consumers have across all these touchpoints can be an incredibly burdensome and complex process for brand manufacturers," Gonzalez told Built In via email. "That's where Salsify comes in. By integrating all the capabilities brands need to support and transact commerce experiences through one technology stack, our commerce experience management platform enables brands to move faster than their competition to optimize every digital touchpoint for discovery, conversion, and brand affinity."
Since its last raise in 2018, Salsify says it has seen consistent growth both in terms of existing partners and its position in the global enterprise sector. The company currently boasts a more than 120 percent net revenue retention rate, and 225 of its 800 customers have more than $1 billion in revenue.
Like other similar companies in the e-commerce space, this growth has been further accelerated by the conditions caused by the pandemic. Although its progress was a bit rocky in the beginning, Gonzalez says the recent increase in web traffic on retail sites and growth in direct to consumer businesses has been good for Salsify and companies like it.
"The past six months have seen a rapid acceleration in online shopping by consumers. Offering an exceptional omnichannel experience has quickly become a top priority for brand manufacturers," Gonzalez said. "The result is that platforms like Salsify are becoming central to modern commerce technology stacks."
To keep up, Salsify will be growing its team. Gonzalez says that, while exact hiring plans are still being ironed out, the company is mainly looking to make new hires in its customer success and product development teams. Salsify's jobs board currently lists a handful of open positions at its Boston headquarters and various offices around the country and world.
"This is a new era of the digital shelf. I believe 2020 will be seen as the turning point where now every single purchase made by a consumer is digitally influenced," Gonzalez said. "What excites me most is that many of our customers are on the bleeding edge of how brands should interact with their target audiences in this new era. Being able to partner with them and develop new products and capabilities with them at our side means that we will also continue to be at the forefront of digital commerce as we move forward in this new decade."