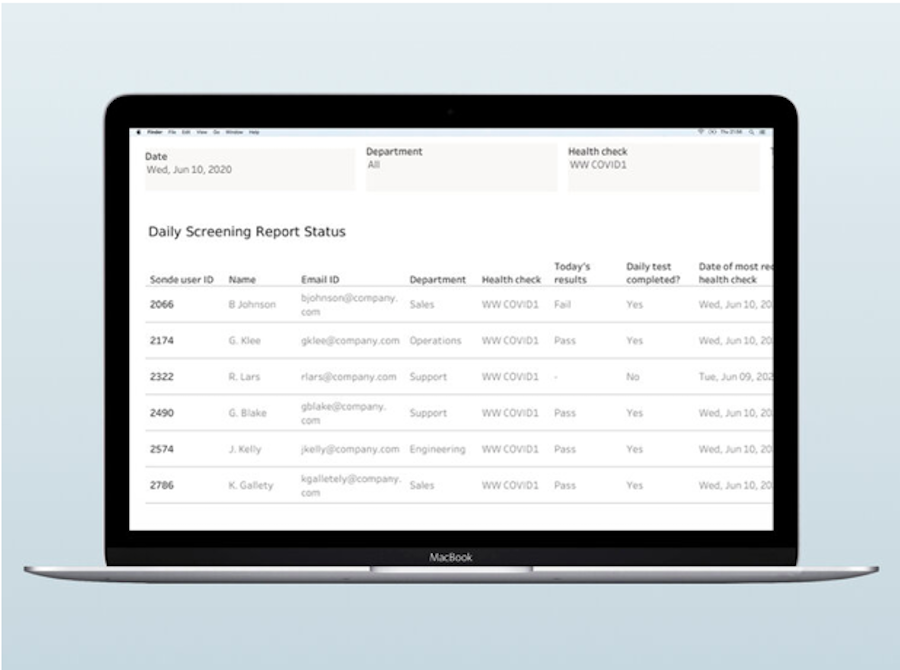 As the country grapples with ways to safely open up the economy and get employees back in the office amid the COVID-19 pandemic, Boston's Sonde Health is offering its voice-enabled health screening platform as a potential solution.
With a single six-second voice sample recorded via the company's smartphone app, Sonde One can detect if a person may be sick or not. The app does this by tapping into the company's repository of 300,000 voice samples collected from more than 50,000 individuals, and then uses machine learning to compare differences in things like breathing and timbre, or frequency of one's voice. In the end, Sonde Health says its tool can detect conditions related to respiratory health such as asthma, chronic obstructive pulmonary disease, and, now, COVID-19.
To be clear, Sonde One cannot be used for a definitive diagnosis. It simply detects respiratory symptoms that are related to COVID-19, such as coughing and chest tightness. Its results don't mention COVID-19 specifically, instead the tool simply makes a suggestion on whether the user should stay home or not. The idea is that, by pairing this test with temperature checks and Centers for Disease Control and Prevention-informed COVID-19 questionnaires, employers can screen employees ahead of them coming back to the office to ensure everyone is healthy. If a particular employee doesn't meet a certain health threshold that has been determined by their employer, then they are told they need to stay home until further notice.
Sonde Health CEO David Liu says the company has been using a version of this technology for years in hospitals and other healthcare facilities for research purposes, but decided to do more when it became apparent that the effects of this pandemic would not be going away any time soon.
"We went ahead and produced a new version of this application because we knew that, at some point, there would be different parts of the country and world that would be recovering and getting back to opening again, and then there would be other parts of the country and world that would be peaking again," Liu told Built In. "I think there are going to be these waves for quite some time."
While Sonde Health innovated its tool with employers in mind, Liu says Sonde One has the potential to be used in many more spaces, from schools to even live events.
"I do think that, because this'll be around for a while in different ways, people will want to know on a daily basis if they are safe and if they're good to go. It's almost like getting cleared at an airport," Liu said. "In order for society to get back into some semblance of normalcy, people need some form of screening and it needs to happen pretty often. We were always built for mobile applications because it's the least invasive, it's the most convenient because everyone has a smartphone and it is the fastest way to do it."
Sonde One isn't perfect though, it will not give you the definitive results of a COVID-19 nasal swab and it will not tell you how to treat your symptoms. The company also doesn't share any information or results with the CDC. Plus, because Sonde One is not a diagnostic tool, it does not have any sort of approval from the Food and Drug Administration. However, Liu says there's a chance that may change.
"We are actually in the process of looking at and researching what it would take for us to be a diagnosis tool for COVID-19 using voice," Liu said. "But there are a lot of steps required there."
Liu also says Sonde Health's tool has the potential to detect health risks beyond just COVID-19 or even respiratory diseases. The technology can also be used to monitor cardiovascular issues like congestive heart failure or hypertension, mental disorders like depression or even detect if someone has been drinking too much. COVID-19 is just one area the company felt compelled to help with.
"I think we just would like to do our part, a small part, in helping people get back to some version of [normalcy] sooner than later," Liu said. "It is a really pressing, urgent issue that we applied our technology to."