The following eight Boston tech companies may not overlap across their industries, but they certainly share in common the desire to make a serious impact on those they serve. For most of these teams, that means investing in research and development, predicting trends before they begin to unfold and putting the end user first.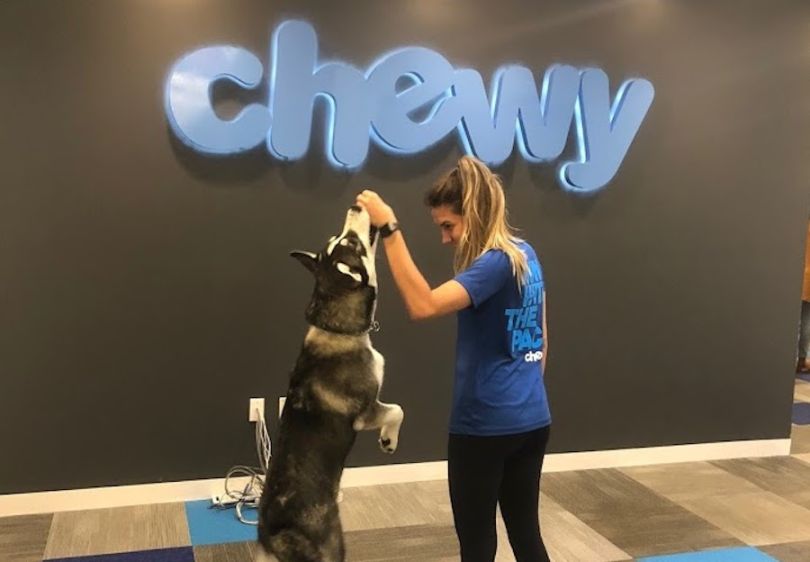 Gone are the days when pets played a secondary role in the family. Today, more than ever, our animal friends have earned full-time family status. For Chewy, that's meant the pet tech company has had to regularly innovate new ways to make it easier for pet parents to shop and take care of their fur babies. VP of Software Mike Surilov has the scoop. 
How has Chewy set itself apart as a leader in your industry?
Chewy is the destination for pet owners to shop for their pets. Once a pet parent discovers Chewy, there is an immediate realization of the exceptional level of service and convenience that Chewy provides and how driven this company is to make people and pets happy — that's the true measure behind Chewy's success.  
Having the phone answered in just a few seconds by a live, knowledgeable service agent, delivering orders in one to two days, and ensuring a great assortment of products are just some of the ways Chewy accomplishes its mission of being the most trusted and convenient online destination for pet parents. 
What do you think will be the next big tech trend in your industry? How do you plan to stay ahead of that trend?
Pet owners share a special bond with their pets and think of themselves as parents, hence pet parents. The passion and love for their pets translates into a constant concern for their health and wellbeing, which has greatly fueled the pet health category. 
A year ago, Chewy entered the pet health market with the launch of Chewy Pharmacy, which provides customers with an easy and convenient way to shop for their pet's prescriptions and health and wellness products. Launching new capabilities at this scale with the latest technologies available in the industry is a dream for any technologist. To help ensure every customer has the best experience possible, there are a few must-haves for any of our tech solutions: they must always be easy to use, work at a large scale from day one and can never have downtime. Our priority is using innovative ways to improve the customer experience. These guidelines are essential in helping us create tech solutions customers want and need.  
Today, we learned a new unit of data measurement called "exabyte." One exabyte is equivalent to one billion gigabytes. Multiply that by 2,300, and you've got how much data the healthcare industry is expected to see by the start of 2020, according to BHE's CTO Jordan Menzin. Here's how BHE helps healthcare analytics team make use of that vast amount of data. 
How has BHE set itself apart as a leader in your industry? 
Healthcare data is hard to work with and not standardized. Our platform, IHD, brings analytics within reach and augments the capacity of existing healthcare analytics teams. What used to take months or weeks now takes days or hours. This is why we're used by more than 25 of the largest life science companies in the world. It's an exciting time at BHE — we just took our first funding of $78 million to continue this expansion.
What do you think will be the next big tech trend in your industry? How do you plan to stay ahead of that trend?
The accessibility of analytics and the increased use of machine learning are two key trends that motivate us. Healthcare analytics has been the domain of specialty researchers. We aim to continue to support these experts but also put this power within the reach of many other teams. 
 Predictive analytics can be advanced through machine learning, which is becoming increasingly important in healthcare to help improve quality and reduce costs. We are creating and piloting new tools in this space which will serve our existing customers and accelerate our expansion into the payor and provider sectors.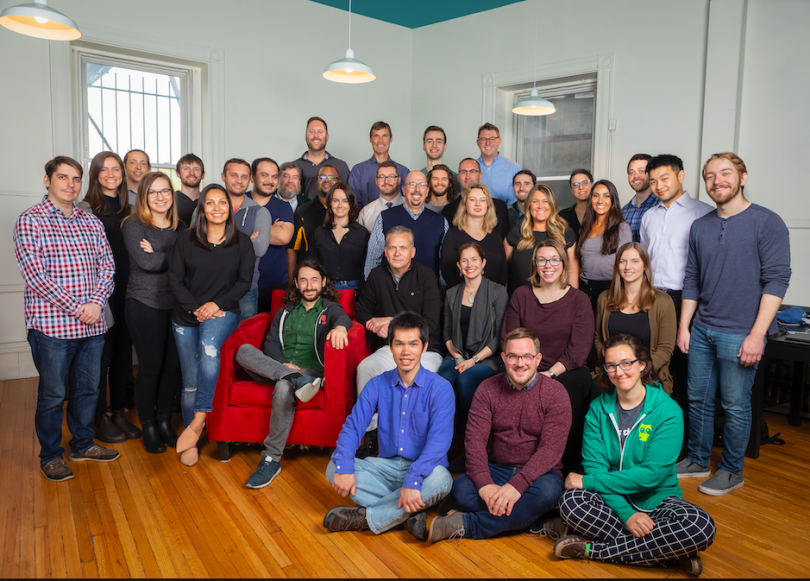 More than 52 percent of employees work from home, according to Owl Labs. That's more than half of the workforce tuning in to virtual meetings via webcam, patiently awaiting for the right time to awkwardly chime in. Owl Labs wants to change that with its video conferencing solution, which makes meetings seamless and clear for all participants regardless of location. Andy Sweezey, senior engineer of product development, told us how their product is changing the game for them and their clients. 
How has Owl Labs set itself apart as a leader in your industry?
The team is focused on solving problems for millions of people — ourselves included. The Meeting Owl, the first intelligent 360-degree video conferencing camera, was created to foster high-fidelity and exceptionally productive meetings for remote workers and hybrid teams. Our employees have all felt the frustration that comes with being remote meeting participants over the course of their careers. We're a hybrid team ourselves, with employees working remotely, in the office, or a combination of the two, so we're all-in on solving this problem. The team is so passionate and motivated by the work we're doing because we know it's helping people live and work more productively.
What do you think will be the next big tech trend in your industry? How do you plan to stay ahead of that trend? 
We're betting one of the next big tech trends in our industry will be the evolution of office space. As more companies embrace remote work and distributed teams around the world, office space will need to be designed to foster productive collaboration within the office and across different locations. This will mean more huddle rooms, more phone booths, smart whiteboards, and video conferencing technology that supports better virtual collaboration that puts the remote or distributed worker on equal footing with their co-located teammates. Owl Labs is all about innovating for the future of work, so we're excited about creating products that meet the needs of the offices of the present and the future.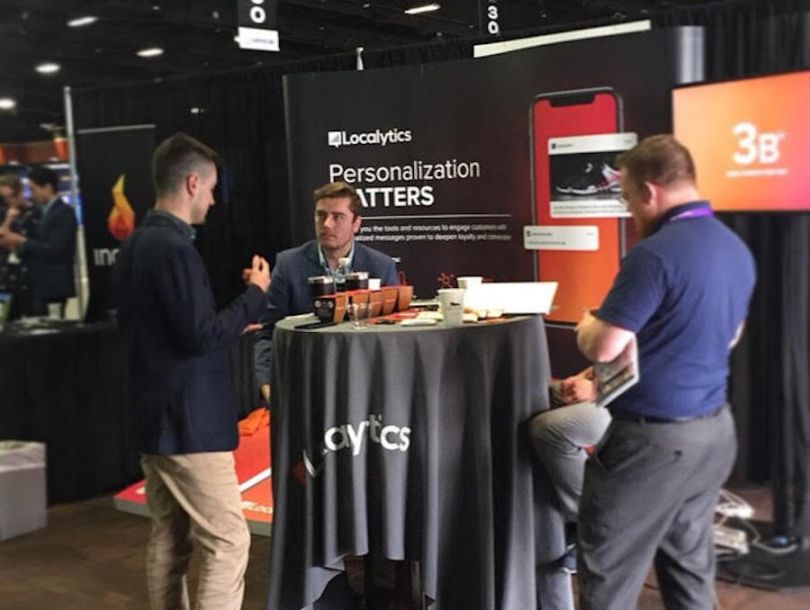 Leveraging 3 billion data points every day, Localytics helps brands get to know their customers on a deeper level across industries like retail, entertainment, financial services and travel. VP of Product and Strategy Stephen Mello shared how AI is the future of digital marketing, and how Localytics is already planning ahead. 
How has your company set itself apart as a leader in your industry?
It's our data. Since our inception, we've always been about big data, and today we collect over 3 billion data points and deliver over 100 million notifications per day. All of this activity allows us to gain a deep understanding of our clients in terms of their profiles, sessions and behaviors, which in turn allow our clients to deliver highly segmented campaigns and messages.
What do you think will be the next big tech trend in your industry? How do you plan to stay ahead of that trend? 
We believe that digital intelligence will be key both in the mobile space as well as across marketing tech. We've gotten to the point where the amount of data and expectations for personalization delivered in real time are making it impossible for humans alone to make decisions regarding how they engage with their customers. Key personalization decisions like when to engage, through which channel a brand should engage, and how often a brand should engage to reach a goal but not annoy a customer need to be at least partially made by AI and machine learning-driven platforms. For this reason, digital intelligence is a major focus for us as we look to maximize our value to brands around the world and in a variety of industries.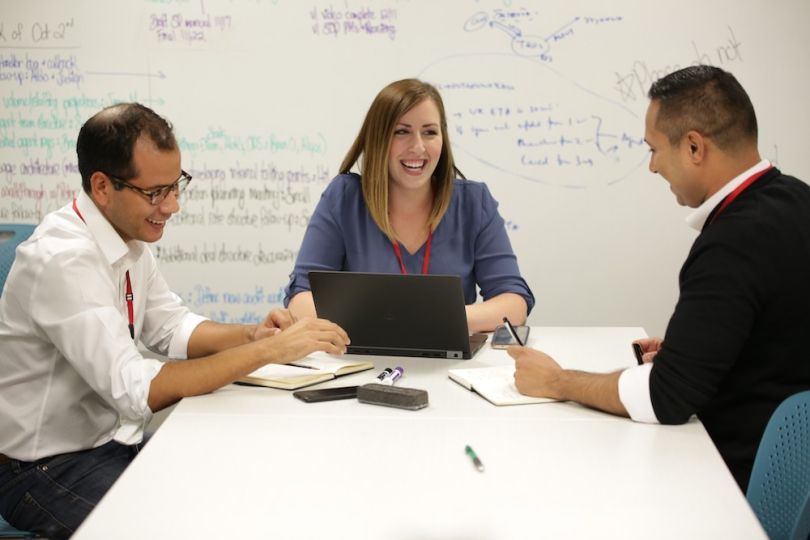 Supporting more than 115 million customers and responding to over 12 million service calls annually, Agero provides software-enabled driver assistance services. Senior Product Manager of Accident Management Candy Boschard highlights how experience in the industry has helped shape their platform. 

How has Agero set itself apart as a leader in your industry? 
Agero delivers one of the most comprehensive accident management solution suites in the market that harnesses technology and automation, combined with extensive human expertise, to simplify a highly complex process. Our more than 14 years of accident recovery experience has enabled us to build a software-enabled platform and set of configurable, data-informed services for insurers that provide end-to-end support during the accident event and downstream claims process.
With a cloud-first platform and AWS serverless environment, we securely and flexibly scale our products to meet the configuration and deployment needs of our clients at each step in their digital journey. The result is cost and time efficiencies that help insurers contain losses and build stronger relationships with policyholders.
What do you think will be the next big tech trend in your industry? How do you plan to stay ahead of that trend?
Insurance carriers are challenged with balancing excellent, cost-effective customer service with rising parts and repair costs, and the availability of  IT resources needed to address these issues is tight. The next big trend to address this is the integration of technology partners across the claims value chain into a formalized partner ecosystem. This independently established network will enable partners to optimize for the insurance carriers, allowing the latter to flexibly automate components of their claims and repair process without the need for multiple integration points or extensive IT resources. 
We're utilizing our deep understanding of the components needed to reduce insurers' claims loss costs to identify the right partnerships and integrations that will create better data exchanges and enable more cooperation.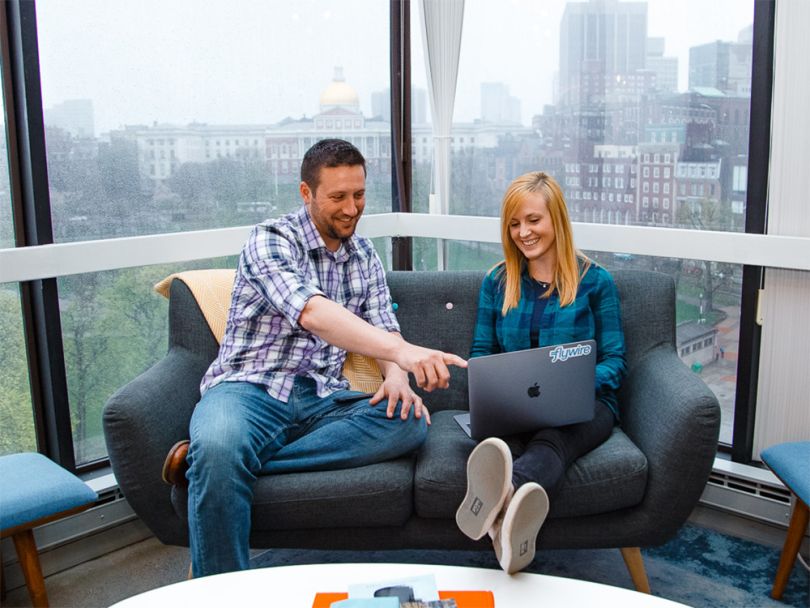 In the world of online payments, a one-size-fits-all solution doesn't necessarily work. That's why Flywire individually tailors each of their payment platforms for the industry they are serving. Director of Global Payments Kate Moran discussed how their market-specific investments in research and development has played a major role in their success. 
How has Flywire set itself apart as a leader in your industry? 
Through our thoughtful approach to building out our payment network, Flywire's platform is uniquely suited to solve customer needs across any number of industry verticals. We invest heavily in understanding how to best address the needs of a market before designing a solution. By leveraging our deep understanding of the regulatory framework, the preferred payment methods for consumers, and our partnerships with reputable banks and partners, Flywire ensures that our payment solution is built for scale, convenience and reliability in each of the markets where we operate.
What do you think will be the next big tech trend in your industry? How do you plan to stay ahead of that trend?
Consumers continue to demand a frictionless payment experience, which means Flywire needs to constantly be adding the most innovative payment methods to our platform. Gone are the days where payers accept archaic, paper-based methods of sending and receiving funds cross-border. Over time, our expectation is that the underlying transaction will become less and less prominent in the checkout process, allowing the payer to remain focused on the actual service that transaction is facilitating. Flywire closely tracks industry trends around open banking, push payments, and wallet-based payments, evolving our payment offering as needed, which allows us to continue driving value back to our customers.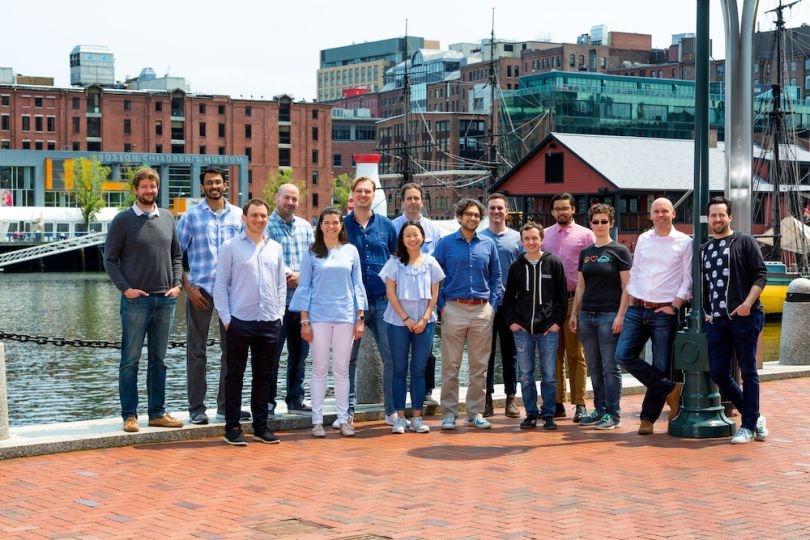 Fact: The future of mobility is in self-driving vehicles. Even though the technology has proven itself to be safer than human-controlled driving, startups like Perceptive Automata hope to make it even more safe. Senior Full-stack Engineer Alla Hoffman shared how her company is making an impact on the industry.
How has Perceptive Automata set itself apart as a leader in your industry?
We combine behavioral science, neuroscience and computer vision to give autonomous vehicles the ability to understand the world around them the way humans do. This interdisciplinary approach has helped us win "Best Behavioral AI Solution" in the 2019 AI Breakthrough Awards, as well as the recognition as a 2019 Technology Pioneer by the World Economic Forum. We also recently collaborated with Volvo Trucks North America and DHE on a project aiming to strengthen safety capabilities for the trucking industry via automation.
What do you think will be the next big tech trend in your industry? How do you plan to stay ahead of that trend?
A big trend we have seen in the computer vision space is an increase in the use of thermal imaging, which was previously mostly used in the defense and security industries. Our current models output real-time data on the state of mind of pedestrians, cyclists and other human-operated motorists with the assistance of regular cameras. Thermal imaging would give us access to an extra layer of information that's likely to provide insight beyond what we could derive using standard camera systems. We are planning to start testing with thermal imaging by the end of 2019.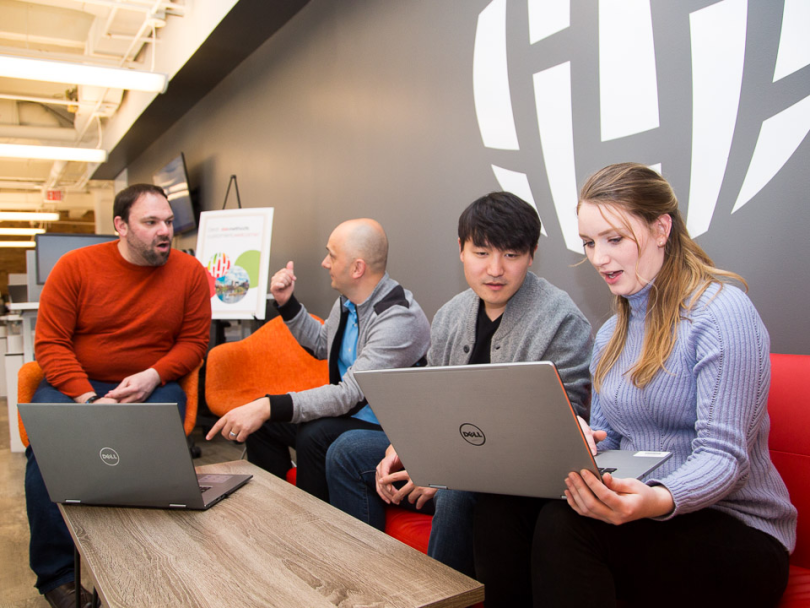 With more than 12,000 users across more than 130 global enterprises, riskmethods has established itself as an industry leader in supply chain protection. Kelly Grace-Weaver, riskmethods senior manager of marketing communication, shared how an early adoption of AI has kept them ahead. 
How has riskmethods set itself apart as a leader in your industry? 
Although supply chain risk management is still an emerging discipline, riskmethods' early entry into the market, and our continued presence as a leader in the space, clearly shows that we've set ourselves apart from the competition. How have we done it? By having the best vision, supported by the best tools. Our AI and machine-learning technology, coupled with our easy-to-use solution, gives our customers everything they need to identify, assess and mitigate the supply chain risk that threatens their businesses. 
What do you think will be the next big tech trend in your industry? How do you plan to stay ahead of that trend?
The next big tech trend in the supply chain industry is artificial intelligence. Everybody's talking about it, but very few companies are using it. AI is currently cutting edge and is giving early adopters a leg up on their competition, but it's only a matter of time before this kind of tech is going to be absolutely mandatory for any companies who want to stay in the game. Fortunately, riskmethods is already on top of it — AI has been the core of our solution from day one.