Boston tech companies are home to tight-knit groups of employees working toward a common purpose.
Today's job hunters want to ensure that they're the right culture fit for these cohesive teams before showing up for work on their first day. To add transparency to that piece of the hiring puzzle, we've spoken with nine Boston tech companies to learn about the traits that they're seeking in new hires — and the coolest perks they have to offer.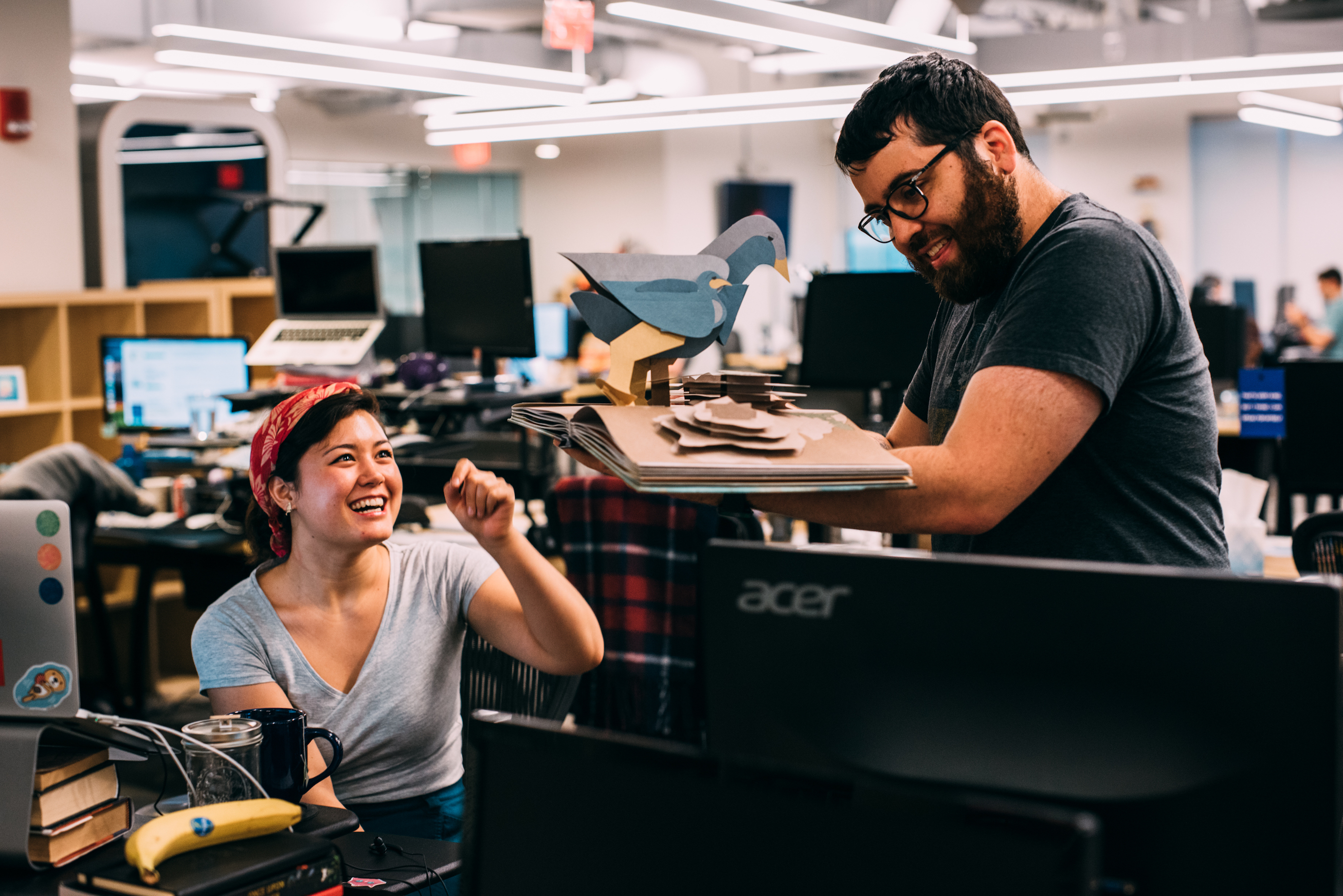 BookBub helps millions of bookworms and countless publishers discover the next J.K. Rowling and other new, exciting authors.
Jordan Weiner works in people operations and explained to us how BookBub is not only an advocate for writers, but for their employees as well.
What does your company look for in prospective hires? Are there unique skills, traits or attributes?
We truly believe there's no single profile for BookBub, and we're excited to connect with candidates who could bring a variety of experiences and perspectives to our team. As a company, we value curiosity, empathy, and analytical thinking. We look for candidates who are eager to grow individually and as a team, who can understand and appreciate the perspectives of coworkers, partners, and users, and who thrive in a collaborative, data-driven environment.
Tell us about your exciting perks and benefits.
We believe that BookBubbers are people before they're employees. We trust individuals to design their work schedule in the way that works best for them. In addition to offering competitive benefit options (including medical, dental, vision, 401(k), and paid parental leave), we encourage a personalized work culture through flexible hours, ability to work from home, and take-what-you-need paid time off. We host regular educational and social events, ranging from professional development workshops to monthly birthday outings to an annual offsite retreat. As part of the Cambridge Innovation Center (CIC), we also enjoy lots of snacks, wellness options, and ample opportunities for networking with other startups.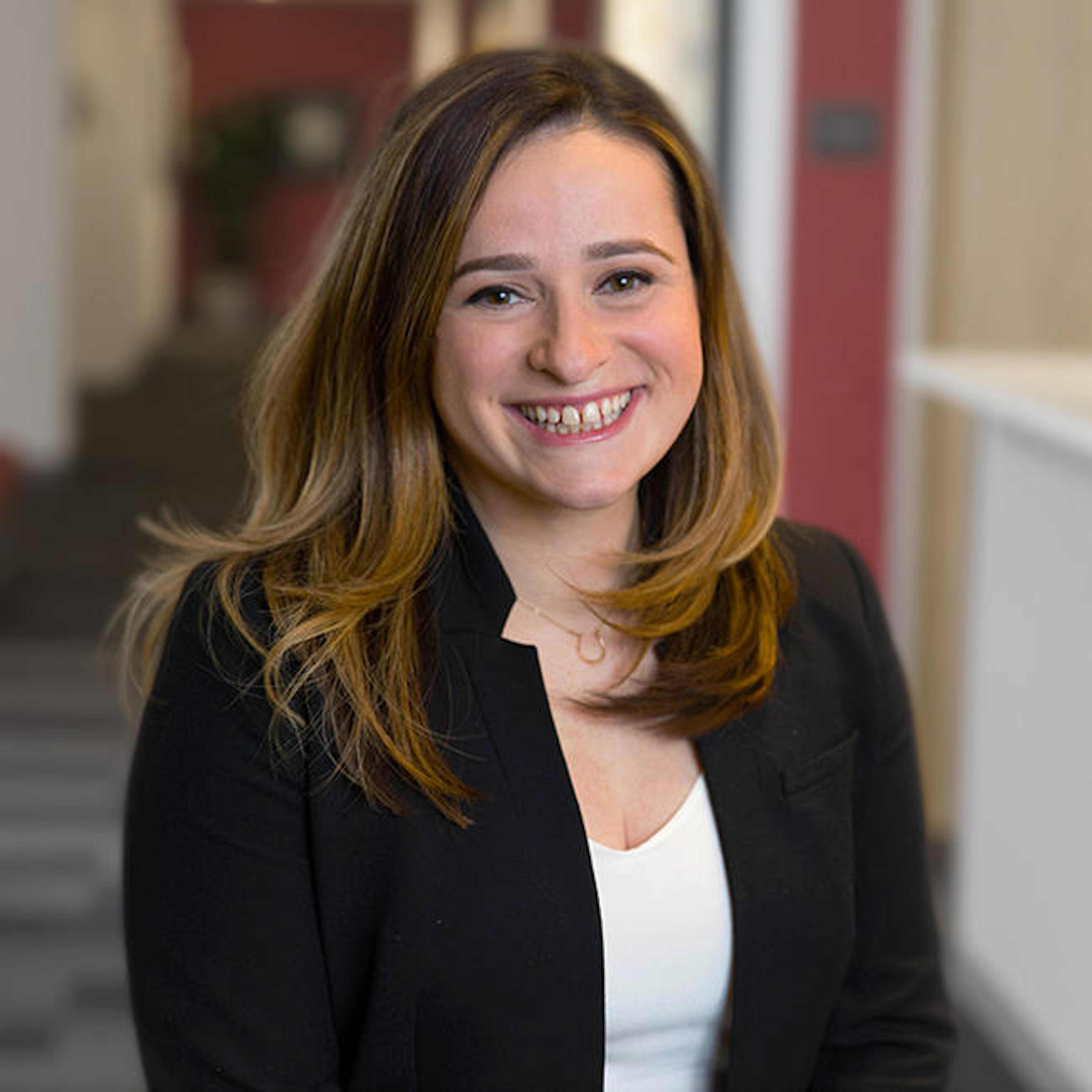 Fintech company Intralinks creates a safe, simple and smart environment for financial transactions.
Chief People Officer Sofia Kaufman has been with the company for over two years and told us about the type of job candidate they're looking to hire.
What does your company look for in prospective hires? Are there unique skills, traits or attributes?
We look for people who want to bring their whole selves to work. Everyone is a sum of their experiences and those collective experiences make Intralinks win.
We look for people who display our leadership qualities in everything they do. Transparency, collaboration, decisiveness and integrity are not just words on a slide here – we interview for these qualities and hold each other accountable to them. We want employees who defy the average because not only will we help them grow to be the best version of themselves, but also they will ultimately fuel Intralink's culture. We are hiring across all functions and in all locations.
Tell us about your exciting perks and benefits.
We recognize that our employees have full lives outside of work and we truly mean it when we encourage work-life balance. To that end, we offer unlimited PTO to our U.S. employees. We encourage our employees to think like owners and take into consideration what is best for them and the company. Allowing employees flexibility to manage their own vacation encourages accountability and builds trust, strengthening their commitment to the company and our shared successes.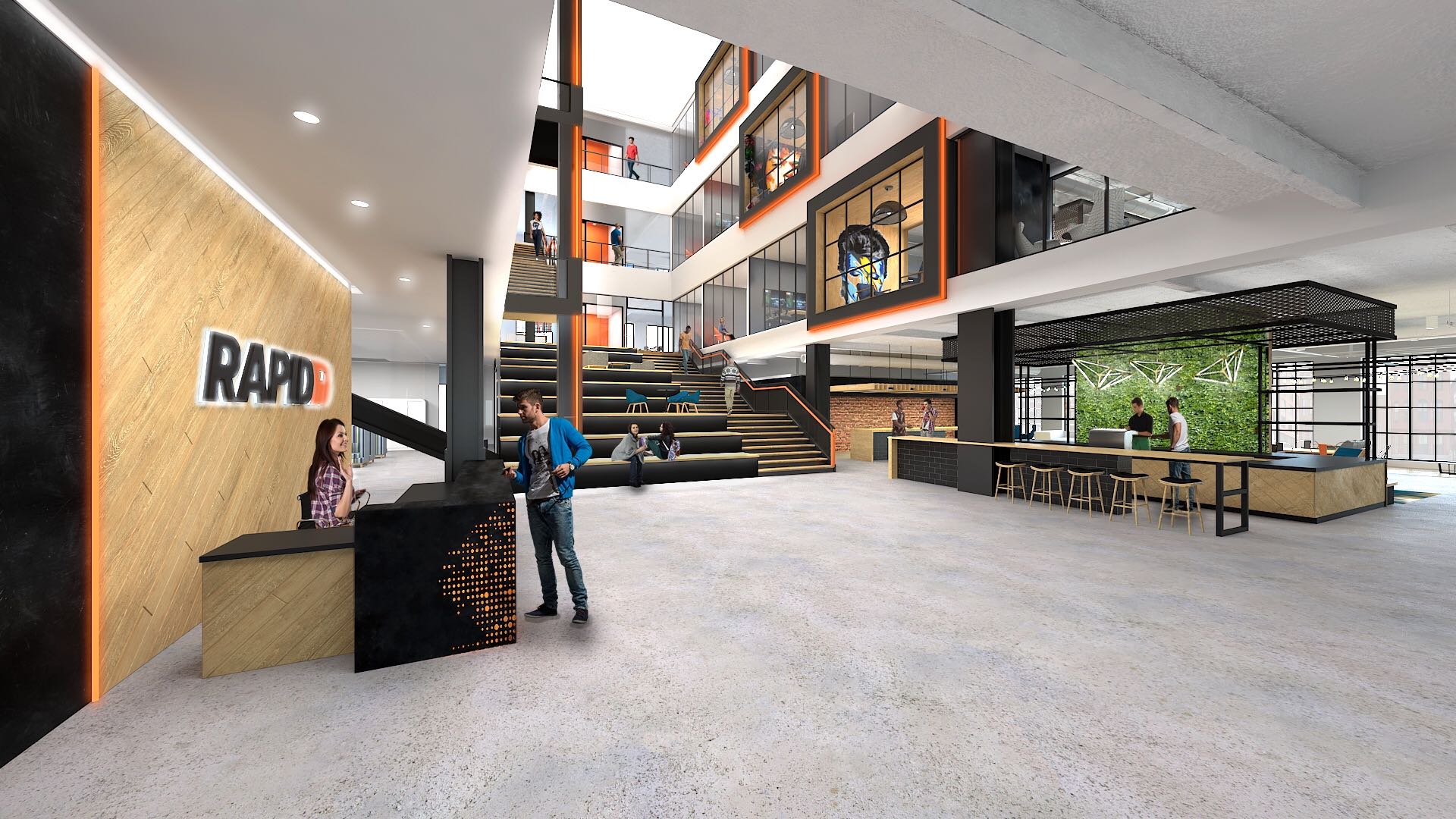 Cybersecurity company Rapid7 helps detect and contain attacks for businesses.
Director of Global Talent Acquisition Elizabeth Gormley is looking for candidates with a "roll up your sleeves" mentality and passion for collaboration.
What does your company look for in prospective hires? Are there unique skills, traits or attributes?
As a high-growth company, we are constantly evolving and look to hire people with diverse skill sets and experiences, so much so that one of our core values is "bring you." We roll up our sleeves across the company and pride ourselves on getting creative when solving business challenges. We look for people who have high degrees of integrity and who are passionate and focused on driving results. We love to challenge convention and create impact together as a team, so a collaborative mindset it key!
Tell us about your exciting perks and benefits.
Our most amazing perk is the opportunity to do amazing work with amazing people and to have an amazing career experience with Rapid7. We are moving to a new office next to the Boston Garden in July with a beautiful open design for collaboration and plenty of breakout space if needed. You won't go hungry or thirsty with the abundance of free organic fruit, snacks and beverages (barista station and speakeasy included!)
In addition to our perks, we have comprehensive medical benefits as well as a 401(k) and match program and a competitive employee stock purchase plan. Outside of our office perks and benefits, we host global monthly town halls with our executive team to ensure that we stay connected and create visibility into key initiatives for all employees. We believe in continuous learning and developing our people. We work to create opportunities to deliver the right learning, at the right time, for the right employee.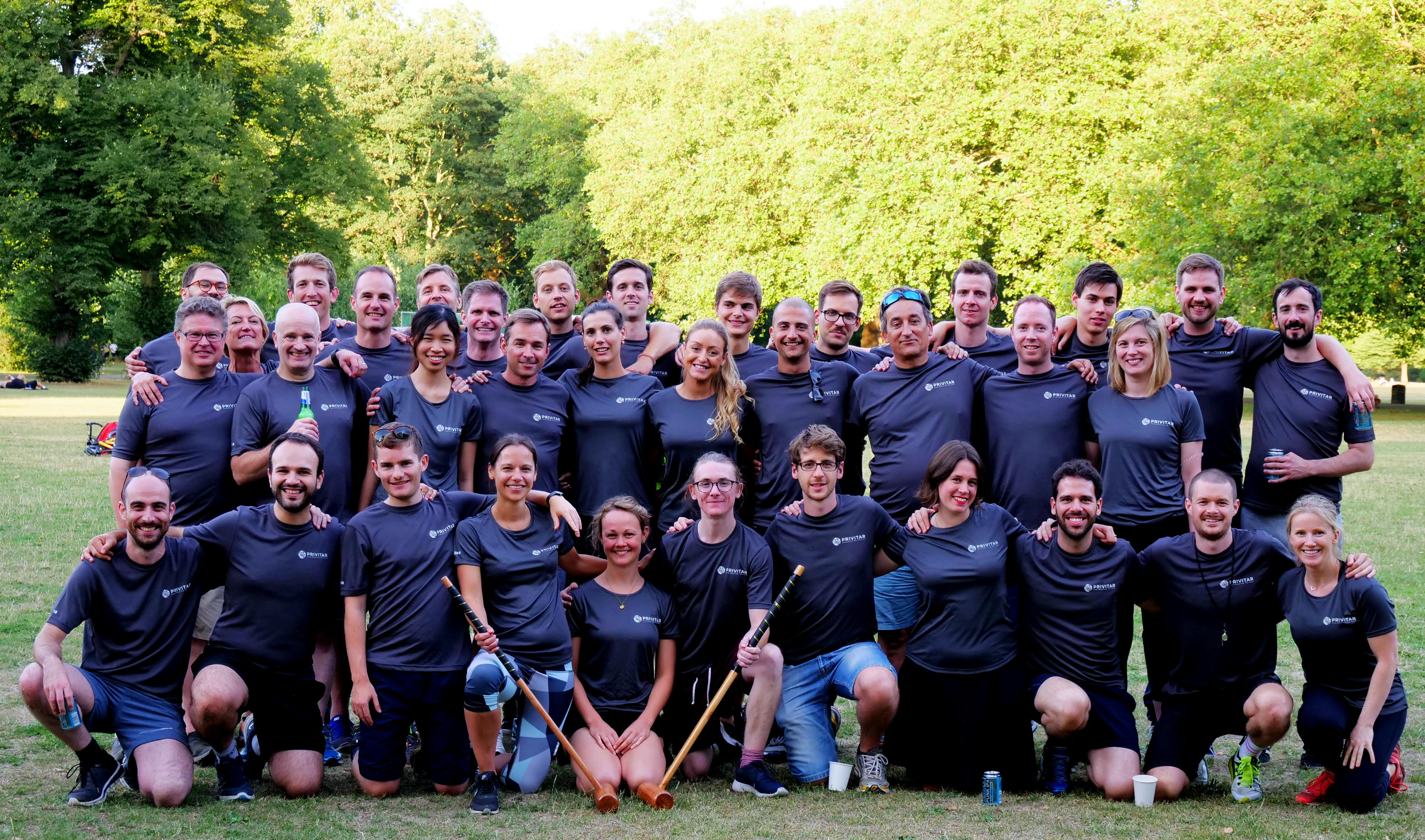 Enterprise software company Privitar enables customers to control, use and share privacy-enhanced data for advanced analytics and machine learning.
Head of People and Operations Charlotte Andersen is seeking data-driven pioneers to join the company.
What does your company look for in prospective hires? Are there unique skills, traits or attributes?
We're looking for pioneers who are excited by the idea of creating something great with the freedom to innovate, to excel as part of a team, and to genuinely make a difference in our data-driven world. Data privacy is the hottest topic today both at the dinner table and in the boardroom. Privitar is building a new category of software to solve a major global problem.  We're looking for those who relish the variety, challenges and fast pace of a dynamic start-up, will lead and inspire others, always look do what's right, and have fun along the way.
Tell us about your exciting perks and benefits.
We believe in our people and work hard to support them, not only in their careers but also in their lives, focusing on their well-being, their families and their happiness. What matters to them matters to us.
We provide real benefits that go beyond what you might expect from a young company, including  20 days of vacation, five percent 401(k) match, and platinum health benefits. That's also why we give our people the choice and the flexibility to do what matters most to them, whether it's volunteering, watching their kid in a concert or something else. It's just the right thing to do.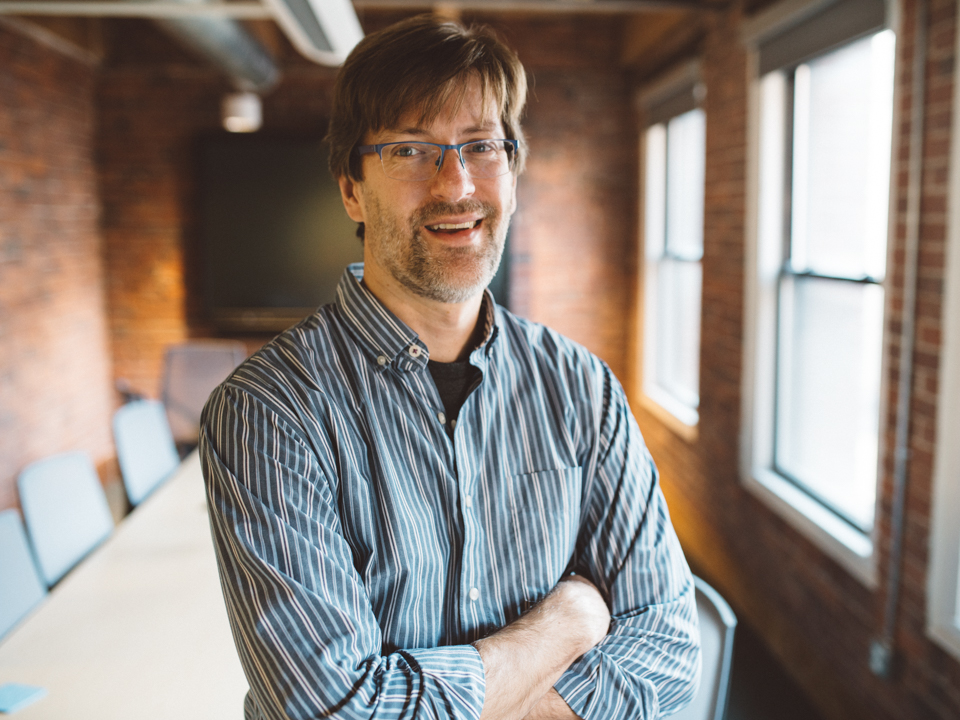 CrunchTime is used by thousands of restaurants to help manage food inventory, schedules, and more, with their restaurant management platform.
Vice President of Product Strategy Erik Cox has been with the company for 11 years and gave us the inside scoop on life at CrunchTime and the sweet perks.
What does your company look for in prospective hires? Are there unique skills, traits or attributes?
It's important that every CrunchTime employee has an eye for innovation and is not satisfied with the status quo. We look for people who bring new ideas to the table and won't be afraid to challenge current processes. That's the only way we can build truly revolutionary products. We also prefer people with foodservice industry experience. Before joining CrunchTime, I spent close to 20 years managing restaurants, and many of my colleagues have too. This lets us build the best products to solve common foodservice industry challenges, because we have faced those challenges ourselves.
Tell us about your exciting perks and benefits.
CrunchTime offers a number of fantastic perks inside the office including free bagels on Tuesday and free healthy lunches on Friday. We also offer many perks outside the office like subsidized gym memberships and discounted commuter passes. My team and I really appreciate these perks because anything CrunchTime can do to make it easier to commute to the office, feed ourselves, and stay healthy removes daily stress and allows us to concentrate on the work.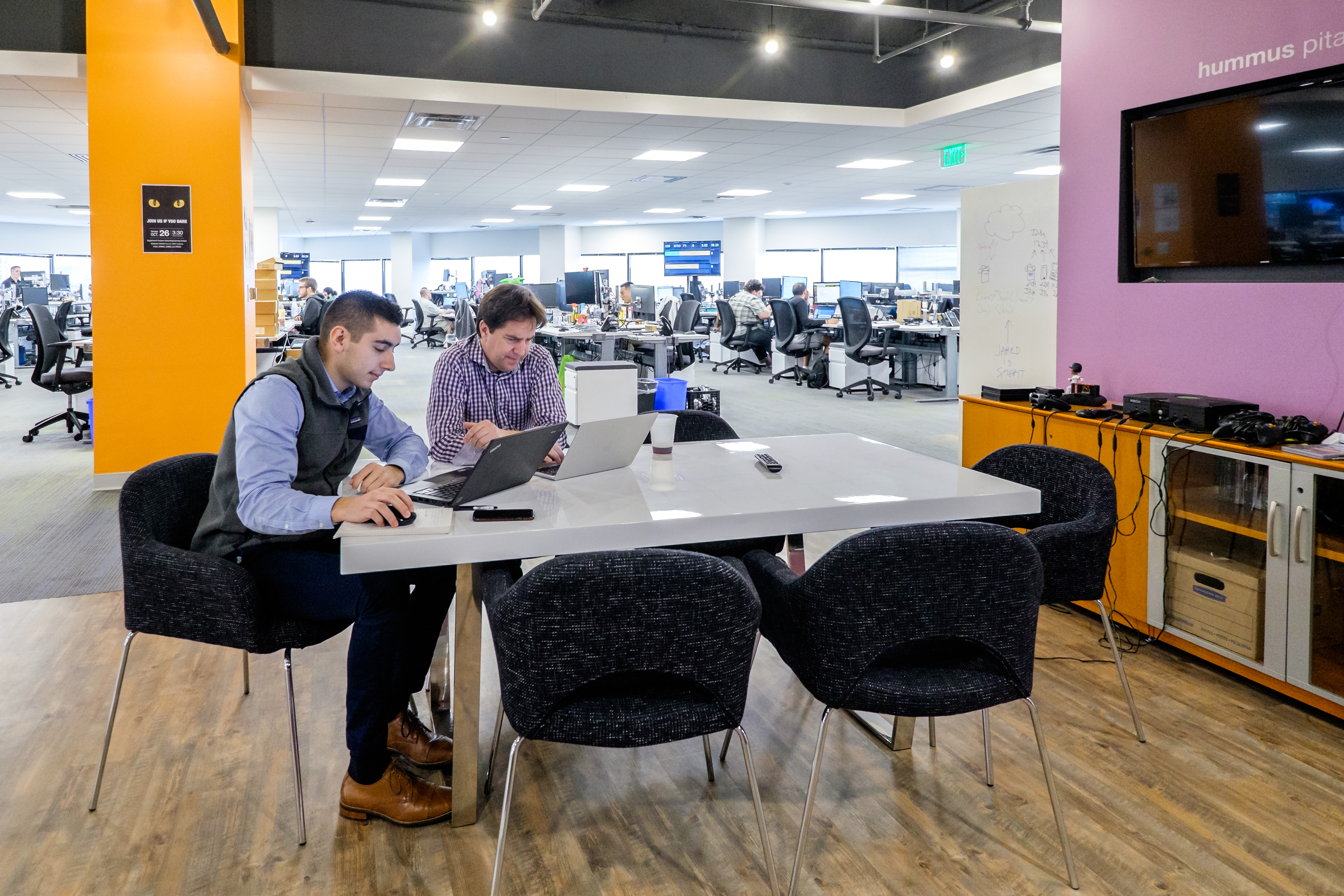 Fuze is a cloud-based communications platform that allows people to communicate from anywhere with any device.
Senior Director of Account Management and Customer Success Lisa Campopiano told us how employees use Fuze to soak up sweet perks like the ability to work from anywhere in the world.
What does your company look for in prospective hires? Are there unique skills, traits or attributes?
We look for people who are passionate about delivering excellent customer service and putting customer experience first. People who are go-getters, confident, happy, fun and high energy are the people who can excel in this group because they are willing and ready to take ownership of any requests from our customers. We look at what people bring to the table and how they overcome challenges. We like to hire people with an entrepreneurial spirit who take pride in their work. The team is empowered to try new things and take risks so we love to hire people who are creative and curious problem solvers.
We have a work hard, play hard culture on the team and celebrate accomplishments together with team breakfasts, lunches, or happy hours. We strive to learn from our successes as well as our failures. We encourage our team to try on new ideas and to bring up suggestions for ways to improve. We work collaboratively as a team and with our fellow colleagues to create improvements and learn from our mistakes.
Tell us about your exciting perks and benefits.
Fuze has a work-from-anywhere policy so all of our employees are encouraged to work with their managers to determine the right schedule and location to be the most productive. As a result, many of our teams are spread across multiple locations. We use Fuze to bring everyone together in group chats and video calls to celebrate wins together.
For example, there is a bell in the Boston office that we ring when someone closes a deal. We ring the bell every time, even if that person works from another location. We'll take a short video and post it to the group chat so everyone can be a part of the victory. We also have a few contests each quarter to reward the team. Sometimes the prize is something small like picking a prize out of a grab bag or going out to lunch, and sometimes it's something bigger like heading to a Sox game together. This quarter, if the team hits its main goal, we will take the team on a trip to London to celebrate.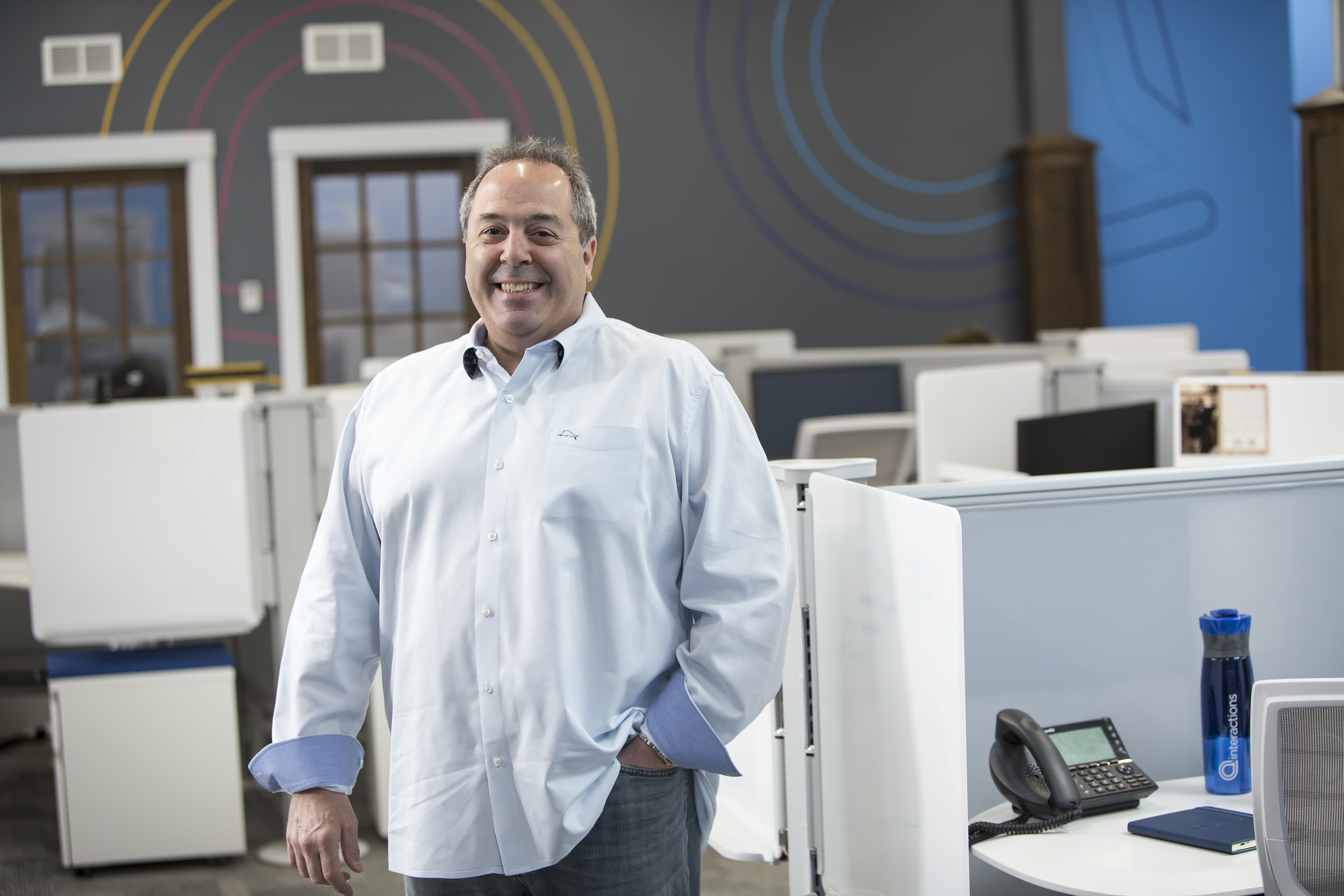 Interactions creates artificial intelligence technology that engages with enterprise customers on a deeply human level.
Director of Talent Acquisition Brigida Oskirko seeks candidates with a penchant for problem-solving to join the rapidly growing team.
What does your company look for in prospective hires? Are there unique skills, traits or attributes?
We're looking for talented, innovative, problem solvers who want to create amazing experiences for our enterprise customers by advancing our AI technology. This includes everyone across the organization, from engineering, application developers, sales to customer success and operations. Regardless of the role you're in, we're passionate about our customers and transforming their customer experiences to produce engaging and satisfying results!
Tell us about your exciting perks and benefits.
We have very rich medical plans, including: Blue Cross Blue Shield, dental and vision plans, and TeleDoc for when you need a quick doctor call. We have five weeks of time off, including all major holidays, as well as perks like free food and drinks, wellness programs, gym reimbursements and assistance programs with student loan debt to name a few.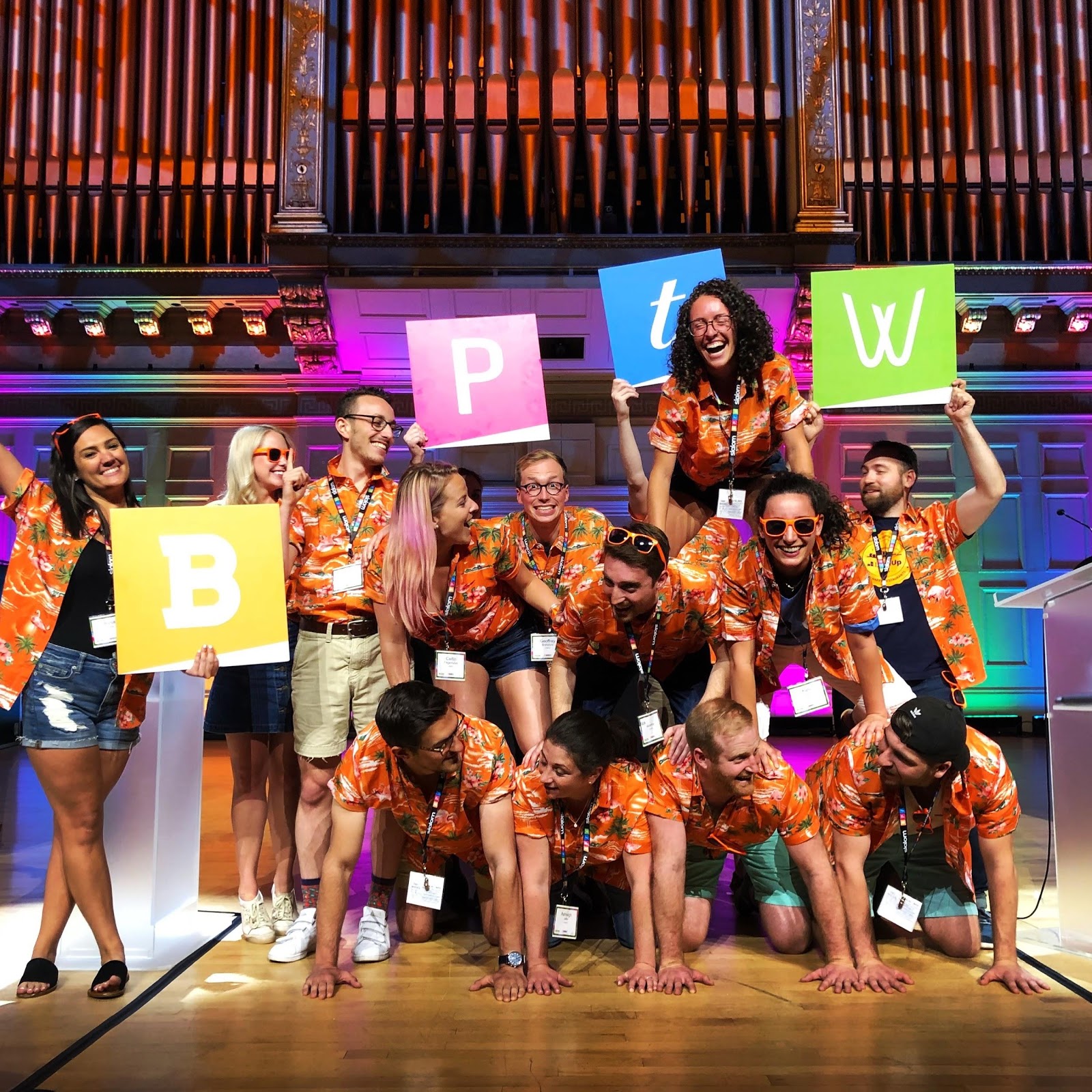 GrubHub provides an online and mobile platform for diners to order delicious eats from over 115,000 takeout restaurants.
Senior Director of Enterprise Operations Andrew Maher explained why curiosity and empathy are the keys to success for employees.
What does your company look for in prospective hires? Are there unique skills, traits or attributes?
Curiosity and empathy are two characteristics that are critical to success at Grubhub and LevelUp. While we look for an array of talents and traits in potential colleagues, diving in and reaching out are valuable ways to thrive in our environment. We're building a platform that connects millions of diners with more than 100,000 restaurants. Inherent in an endeavor of that scale is a deep level of ambiguity and adventure, which demands people who are eager to engage with hard questions and figure things out.
Learning new skills, applying creative solutions to problems, synthesizing disparate sets of information — this all requires teammates that are intrinsically curious. We're also a deeply collaborative and communicative bunch — we can't achieve goals this lofty as individuals. We care about our culture and work environment, and the ability to communicate thoughtfully and act in a way that's considerate of colleagues, clients, and diners goes a long way here.
Tell us about your exciting perks and benefits.
In addition to our unlimited PTO, robotic workshops, catered lunches, iced coffee and kombucha on tap, fancy espresso machine, bagel breakfast Mondays, snack pantry, summer outings, beer fridge, and recently installed hot sauce fridge (shameless, shameless plug), I'm probably most excited about our new office at Center Plaza in Government Center. Having experienced four of LevelUp's prior five office spaces which varied dramatically in size and layout, I'm psyched to move into a sprawling 75,000-square-foot space that will boost our incredible culture, optimize our ability to collaborate, and be our best office yet.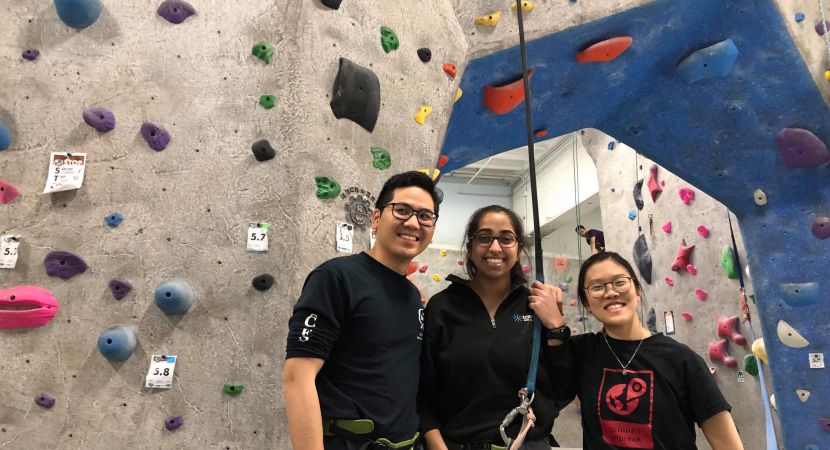 Tamr helps enterprises unify massive amounts of data, making data source connectivity fast, cost-friendly, scalable and accessible.
Lead Data Ops Engineer Luke Bilbro explained why prospective Tamr team members should be eager to learn and able to communicate complex topics to customers.
What does your company look for in prospective hires? Are there unique skills, traits or attributes?
We look for candidates who won't fold under pressure and remain honest with themselves and others when working internally and with our customers. We need people who actively want to learn, try new things and push the boundaries of our product. We also look for people with confidence who can communicate difficult topics to customers who might not be as technically savvy.
Tell us about your exciting perks and benefits.
In addition to the standard benefits, we offer an HRA (basically free money for healthcare) to each employee enrolled in our medical plans. We also have a top class parental leave policy, subsidized emergency backup childcare, a flexible work schedule, and a tech budget that's replenished every three years. We provide lunch every Monday and Friday from some of the best restaurants in the area. Each Friday, we end work early for Scotch O'Clock to gather for drinks, games, and hanging out in the office.