26 Boston Fintech Companies Shaking Up Finance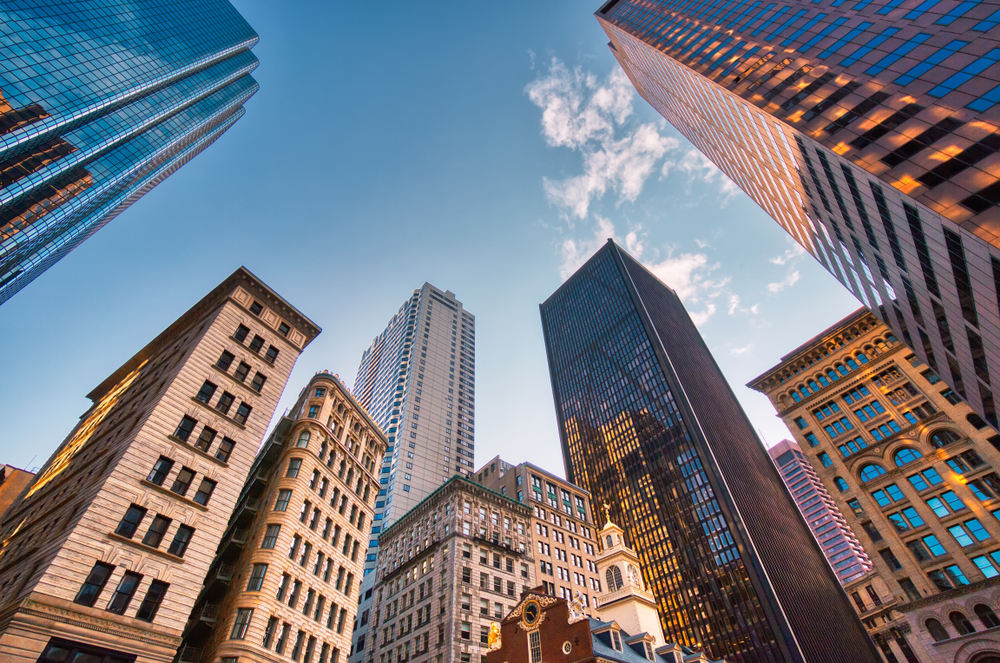 With its impressive spread of notable financial institutions such as Fidelity Investments and State Street Corp., along with numerous hedge funds and private equity firms, it's no surprise that Boston has a robust financial industry. But as the city continues to grow its reputation as a hub for tech and innovation, Boston is also becoming known for its impressive fintech space. 
Collaborating with the legacy financial sector, local entrepreneurs are creating new ways for people to invest, pay, save, and more. Many of these fintech startups are proving to be game-changers for areas like personal finance, cryptocurrency, investment management, trading, and lending. Below we've pulled out a number of fintech leaders, in addition to startups to keep an eye on.
Top Boston Fintech Companies to Know
Domeyard LP
Flywire
Forward Financing
Kensho Technologies
Vestmark
Quantopian
Circle
Federal Reserve Bank of Boston
Algorand
ProfitWell
What they do: Leader Bank provides financial services for consumers, businesses and government entities. Its offerings include video calls with team members to get banking assistance in a secure, face-to-face format, as well as homeowner, auto, boat and umbrella insurance options through its subsidiary Leader Insurance. 
How it's changing fintech: The Massachusetts-based banking company says it is  "committed to being the leading community-based financial institution by providing client-centric banking products and services."
Founded: 2002
What they do: Because subscriptions play a crucial role in a business' growth, ProfitWell is providing more in-depth information on this area. The company has developed a platform where organizations can track subscriptions and see which customers are contributing to growth trends. 
How it's changing fintech: Companies are able to understand why their customer bases grow or shrink with the tools of ProfitWell. As a result, businesses are able to foresee which customers are likely to join or leave, reducing churn and stabilizing their finances in the long run. 
Founded: 2012 
What they do: Algorand has created a platform where companies can compose digital contracts and approve blocks in a timely fashion. With the Algorand Virtual Machine, developers have the tools to craft smart contracts and signatures. 
How it's changing fintech: Algorand is developing technology that intersects traditional and decentralized financial models. With Algorand's platform, blockchain and fintech companies can finish transactions faster than ever while keeping every interaction secure. Plus, the Algorand wallet lets teams track operations while on the go for an even more seamless experience. 
Founded: 2018 
What they do: The Federal Reserve Bank of Boston is part of the Central Bank of the United States and seeks to facilitate financial growth and stability throughout the New England area.
How it's changing fintech: The bank is heavily involved in the fight against discriminatory lending practices and has supported growth in smaller industrial cities and rural towns, helping bolster citizens throughout the entire nation.
Founded: 1914
What they do: Vestmark provides SaaS technology for comprehensive portfolio management and trading solutions. 
How it's changing fintech: Vestmark is changing the financial advisory solutions industry with its innovative technologies and its clients currently manage over 5.4 million accounts with over $1.5 trillion in assets under management. 
Founded: 2001
What they do: Reggora is a Boston-based fintech company that has created software for appraising real estate. Anyone who has purchased a home knows that home appraisal is an important part of buying property. But home appraisals typically rely on manual processes or old technology, which makes Reggora an attractive option for appraisers.
How it's changing fintech: The company's software allows for quicker turnaround times and operational efficiency.
Founded: 2016
What they do: With over 160 years of experience providing its clients with insurance, retirement, investment and financial wellness services, MassMutual's network of finance professionals possess the expertise to drive big financial goals.
How it's changing fintech: The institution produces a variety of digital tools to allow individuals and families to plan for the future, continually making the process of money management simpler.
Founded: 1851
What they do: Kensho is a data analytics and machine intelligence company that combines natural language search queries and secure cloud computing to create analytics tools that a wide range of investment professionals can use.
How it's changing fintech: Basically, Kensho's super intelligent computer systems answer even the most complex financial questions in plain English.
Founded: 2013
What they do: Domeyard LP is a hedge fund that focuses on high frequency trading. 
How it's changing fintech: Domeyard uses advances in high-performance computing and data analysis to implement trading algorithms across assets like equities, futures, fixed income, energy and commodities.
Founded: 2013
What they do:  EverTrue empowers fundraising teams with web and mobile software that identifies and manages their prospects.
How it's changing fintech: Over 300 nonprofit institutions with a combined $17 billion of giving data rely on EverTrue's platform.
Founded: 2010
What they do: Flywire is a leading international payments processor that connects institutions with consumers on over six continents.
How it's changing fintech: Flywire has revolutionized how international students can pay for tuition and health care and is now welcomed in 900+ colleges around the world.
Founded: 2009
What they do: LevelUp is a mobile app that lets users order ahead and pay with their phone, connecting them to more than 150,000 restaurants in a single place. The company's mobile payment network also powers loyalty programs with rewards and promotions for frequented businesses.
How it's changing finance: LevelUp makes takeout easier for customers, while helping businesses grow their loyalty and rewards programs.
Founded: 2008
What they do: Forward Financing is a fintech company that provides fast, flexible working capital to US-based small businesses.
How it's changing fintech: They use own proprietary technology to provide same day funding to business owners who need quick access to working capital in order to succeed and grow. Since 2012, they have provided over $500m in funding to more than 10,000 small businesses.
Founded: 2012
What they do: Bondlink provides products for the Municipal Bond Market. Their platform enables investors and issuers to connect across any device and is currently being used by multiple state and city governments including Florida, Georgia, Chicago and Detroit.
How it's changing finance: Founded by a former issuer, Bondlink's platform is transforming the market and ensuring more transparency between issuers and investors.
Founded: 2015
What they do: Midaxo is streamlining the mergers and acquisitions process with its software, which helps companies avoid risks, develop better deals and improve collaboration.
How it's changing fintech: Over 500 companies rely on Midaxo's tech to improve the productivity of their mergers and acquisitions teams, giving them the tools to review and evaluate deals faster and get more value out of post-merger integrations.
Founded: 2011
What they do: Bison provides software that efficiently analyzes and monitors private market data and funds.
How it's changing fintech: Bison has built a new way for investors in private equity or venture capital to receive and review data from prospective and existing managers so that they don't have to spend countless hours making manual datasets.
Founded: 2011
What they do: Since its 1996 inception, the company has hosted more than $34 trillion financial transactions while averaging 7,600 mergers and acquisitions yearly.
How it's changing fintech: Their platform absolves some of the hardships that put M&As in danger by providing a single, secure cloud-based space — a virtual data room — for buyers and sellers to engage in real-time. With this, no signature goes unsigned, no documents are lost, and no information is compromised.
Founded: 1996
What they do: Plastiq makes it possible for business owners to use credit cards for virtually every payment (even for those that don't usually accept card payment) in order to boost points and better manage working capital.
How it's changing fintech: Plastiq's platform allows for business owners to pay everything from leases to taxes, freelancers and insurance with a credit card. All a business owner has to do on the platform is fill out payment information and Plastiq will relay their payment to the correct party via credit card.
Founded: 2012
What they do: LeaseQ connects customers with instant quotes on equipment leasing, along with sources of financing, which users can apply for online. Equipment ranges from commercial fitness and tech, to construction and medical.
How it's changing fintech: Equipment leasing quotes can take up to two days for customers to receive, so LeaseQ's online marketplace drastically reduces the time companies waste leasing commercial equipment.
Founded: 2012
What they do: Centage is the leading provider of automated, budgeting and planning software catered to small and mid-sized businesses.  
How it's changing finance: Centage's cost-effective and user-friendly solutions help companies move beyond Excel sheets and formulas, enabling them to produce more informed decisions and boost their ROI.
Founded: 2002
What they do: Using a combination of smart tech and human experience, online insurance agency Goji helps users find the right policy at the best price.
How it's changing fintech: Goji's licensed insurance agents guide users through their options of insurance companies, costs, and coverage levels in a matter of minutes.
Founded: 2007
What they do: Got Bitcoin? Alt-Options is the go-to platform for trading digital currency derivatives. Investors can use the startup's pricing algorithm to make smarter trading decisions.
How it's changing fintech: The founders of Alt-Options saw an opportunity to become an middleman in the emerging world of virtual currency. By connecting asset holders and investors with low-risk and low-cost strategies, Alt-Options solves the uber complex liquidity challenges virtual currency markets face.
Founded: 2014
What they do: Blueleaf uses clients' financial information to help financial advisors build profitable relationships.
How it's changing fintech: Financial advisors have struggled to keep up with the rate of change technology demands, but Blueleaf helps the wealth management industry keep up with other sectors.
Founded: 1999
What they do: Quantopian helps smart, talented people get paid for writing investment algorithms that work. In addition to a browser for writing code, the platform also features research and data sets, and hosts competitions each month for the best algorithms.
How it's changing fintech: The small startup has a novel approach to investing that encourages any nerd or hacker writing code to use their unique skillset to trade stocks or invest.
Founded: 2011
What they do: Trefis is an easy-to-use stock analysis service that breaks down a stock price by the contribution of a company's major products and businesses.
How it's changing fintech: By simply dragging lines on charts, users of Trefis can transform complex data models into visual interactives that forecast the future price of products and their future expected market share.
Founded: 2007
What they do: Circle is focused on creating a free and easy way to store and access money. They believe accessing and transferring money should be as simple as sharing media and messages over the internet. Headquartered in Dublin with offices in Boston, London and San Francisco, Circle has assembled a knowledgeable team hailing from JP Morgan Chase, Goldman Sachs, Amazon and Adobe.
How it's changing finance: Unlike other management systems that are closed or restricted, Circle uses internet open standards and protocol that enables them to offer a free and unrestricted service.
Founded: 2013