This week, Spyce, a robotic kitchen startup here in Boston that's been making headway in automating the food industry, confirmed it is being acquired by popular salad chain sweetgreen. The terms of the deal have not been disclosed, but some experts estimate Spyce's valuation runs between $50 to $100 million as of its $21 million Series A raise in 2018.
Spyce currently has two locations here in Boston, where its fast-casual salads and grain bowls are cooked using a robotic system. A bowl travels down a conveyor belt and various individually cooked and raw ingredients are dropped along the way through a series of funnels. The bowl is then packaged up at the end of the conveyor belt. These restaurants still have some human employees, but since the robots are doing most of the work, there are fewer of them than normal.
The company has also built its own delivery system, where its team of drivers carries food throughout the city on a fleet of zero-emission electric mopeds in custom carriers to keep the dishes at the right temperature. Since it hires fewer workers in its kitchens, Spyce puts those cost-savings toward higher wages for its delivery drivers.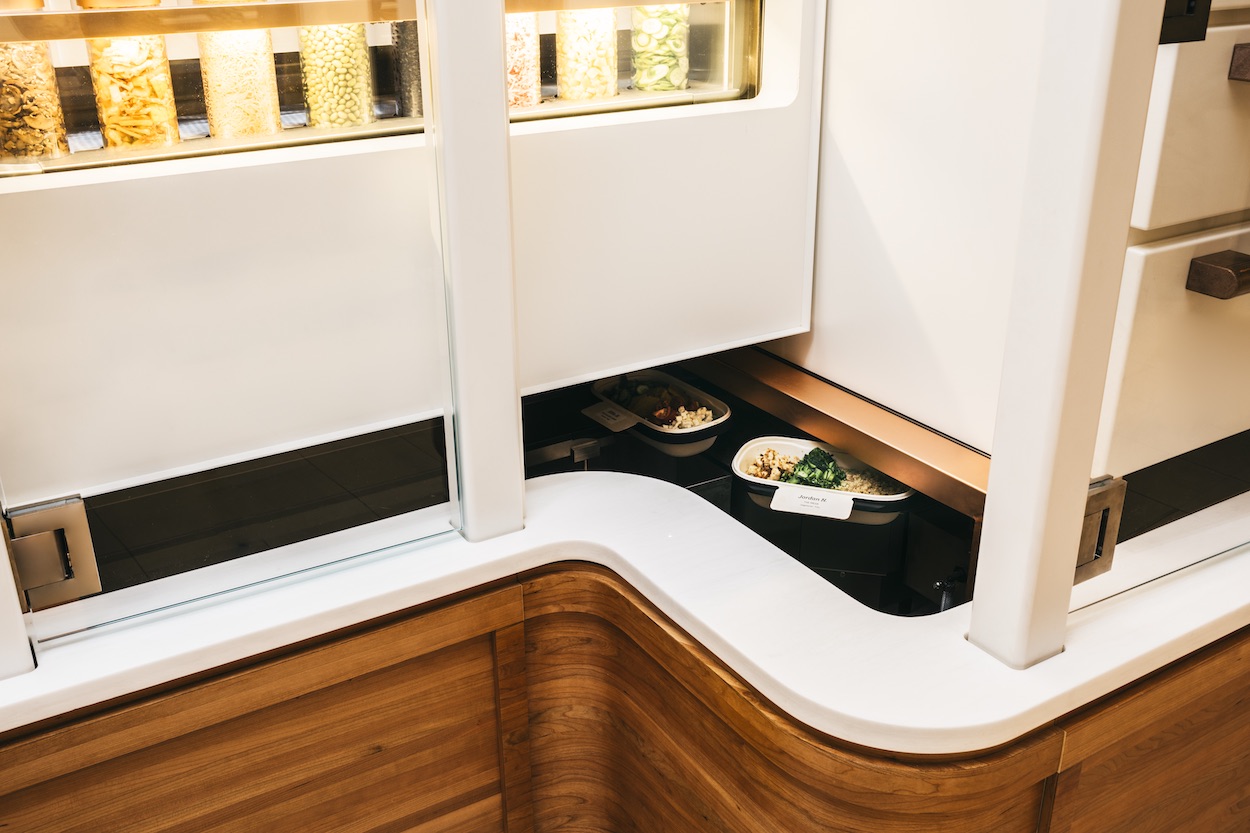 Although details are slim, it looks like sweetgreen plans to implement Spyce's robotic technology into its restaurants, of which it has nearly 130 nationally. The company said in a press release that the main drivers of the acquisition include allowing employees to focus on higher-level tasks and customers, and expanding its menu of healthy salad and warm bowl options without compromising on price and time. 
"Spyce and sweetgreen have a shared purpose," sweetgreen co-founder and CEO Jonathan Neman said in a statement. "We built sweetgreen to connect more people to real food and create healthy fast food at scale for the next generation, and Spyce has built state-of-the-art technology that perfectly aligns with that vision. By joining forces with their best-in-class team, we will be able to elevate our team member experience, provide more consistent customer experience and bring real food to more communities."
This deal is just one of many tech-related moves sweetgreen has made lately. In 2019, it also acquired Galley Foods, a meal delivery service with its own central courier network. Sweetgreen has been experimenting with new formats, too, and recently created a free delivery service for businesses and ghost kitchens called Outpost. 
Sweetgreen is also not the only player in the food industry dabbling in automation. Picnic, a Seattle startup that created a pizza-making robot, recently raised a $4.2 million Series A, joining the many other foodtech startups looking to streamline the repetitive tasks that so often bogs down meal preparation. And, thanks to the rise in contactless delivery, robots are also being explored as a means of getting food to customers directly. For instance, Grubhub recently announced a partnership with Russian tech giant Yandex to roll out a fleet of autonomous food delivery bots on U.S. college campuses this fall. 
Exactly how this latest deal will affect Spyce as a business remains to be seen, but the company does appear to be hiring at its Boston headquarters. Co-founder and CEO Michael Farid told Built In via email that Spyce viewed sweetgreen as "the best partner" in its goal of scaling its technology and making a "bigger impact on the world."
"We've long admired their brand, local supply chain and ability to scale their restaurants in various geographic markets, and they admired our innovative approach. We're thrilled to combine the best of sweetgreen and the best of Spyce to build and scale the future of healthy fast food," Farid said. "We're excited to reimage the role Spyce plays in the future of food with sweetgreen as our partner and through the power of automation."