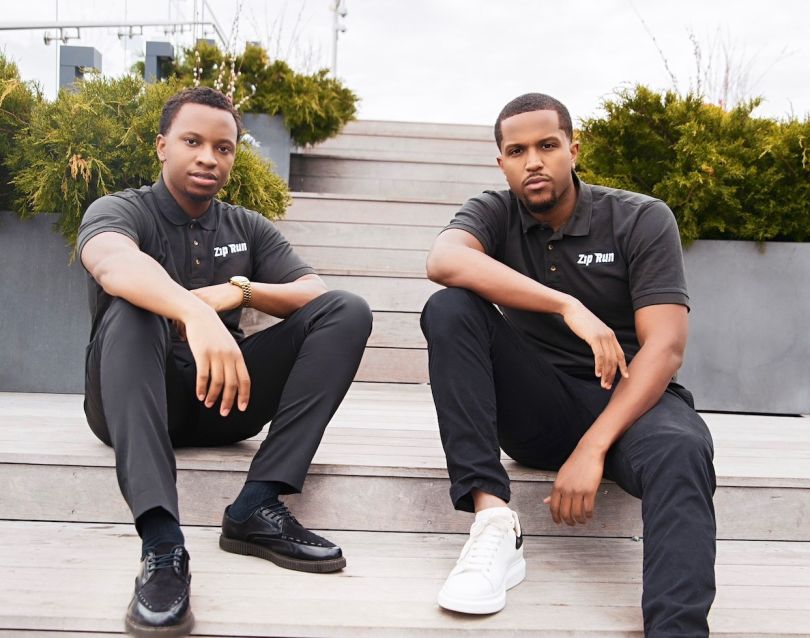 Recreational cannabis is a $1 billion industry here in Massachusetts, and has continued to thrive despite the economic impact of the pandemic. But amid this boom, old problems still lurk. Black and Latino people have historically been more likely to be arrested for cannabis-related offenses — a trend that has stuck around even after the product was legalized. Meanwhile, in the five years since its legalization, Massachusetts' cannabis industry has largely benefited white, male operators.
Here to help bring some equity to the industry is Zip Run, a cannabis delivery and pick-up startup founded by Boston native Gabe Vieira.
After earning his degree at University of Massachusetts–Amherst's Isenberg School of Management and working as a management consultant at Ernst and Young, Vieira became a member of the Massachusetts Cannabis Control Commission's social equity program, which is designed to enable folks who have been disproportionately affected by the criminalization of cannabis in the past to participate in the industry now.
From there, Vieira says he saw an opportunity to support disenfranchised communities in the state, and wanted to make a tech platform that would help him do that. So, he teamed up with his co-founders Michael Gordon, Christian Nicholson and Elis Omoroghomwan — all of whom are also Boston natives — to create Zip Run, a social equity company and cannabis delivery platform.
Zip Run claims to be the first company of its kind to create a cannabis delivery business. Now, with $2.3 million of fresh funding in its coffers, it is also on track to be the first to deliver adult-use cannabis here in Boston. This seed round was led by Mollitiam Capital, a cannabis-focused private equity fund.
"I knew that, by teaming up with the other co-founders, we had had a really good chance of creating a platform that can be both consumer friendly and advance our mission," Vieira told Built In. "For us, promoting social equity is more than just the stance, it's a way to positively affect people from disproportionately impacted areas within the Massachusetts region and beyond."
Zip Run's proprietary e-commerce platform is meant to be a "one-stop shop" that integrates with retailers' inventory, providing an easy way for consumers to purchase cannabis products directly off the website. The site also provides a way for like-minded dispensaries and other social equity entrepreneurs to connect with each other through delivery services and partnerships. Berkshire Roots, a cannabis cultivator and dispensary out of Pittsfield, Massachusetts, is Zip Run's first partner, offering a full menu of products at its East Boston store.
Pre-verification via Zip Run will be available for Massachusetts consumers beginning April 20, with pick-up set to launch later this week. The company is also completing final approvals for adult-use delivery of cannabis in Boston. Once complete, Zip Run will hold both courier and delivery operator licenses in Massachusetts, which means it will be able to pick up and deliver through dispensary partners and buy wholesale products from cultivators through a Boston warehouse set to open this summer.
So far, Zip Run has managed to accomplish all this with just five full-time employees. Now, as the company finalizes its platform in the coming days, it would like to grow its team, focusing on engineers and delivery drivers. Vieira says the company has already received about 1,500 driver applications in the last several months, and that the plan is to ensure that at least 50 percent of those hired will be from historically disenfranchised communities in the Greater Boston area.
Vieira also says Zip Run will use this fresh funding to further promote its brand, particularly as it relates to helping other social equity members get ahead in the cannabis industry.
"We plan to license our technology platform at a reduced rate to other social equity members within the state and outside Massachusetts," Vieira said. "From our standpoint, if we're a social equity tech platform, it makes sense to partner with those other social equity delivery courier members so that we can form a social equity alliance and push that message forward."
Although Zip Run is beginning this journey in Massachusetts, Omoroghomwan, the company's chief growth officer, sees its mission easily expanding across the country. After all, experts say cannabis is one of America's fastest growing industries. Now is the time to set up the groundwork that ensures the industry is fair and equitable for everyone, especially those who have been disproportionately affected by its troubled history.
"The war on drugs affected a lot of Black and brown communities across the United States of America — putting people in prison, destroying families. Now we have the opportunity to bring restoration to these same communities," Omoroghomwan told Built In. "Cannabis is one of the few industries that can actually enact immediate change to disenfranchised communities, so it's very exciting to get within this space and be one of the changemakers in this industry."