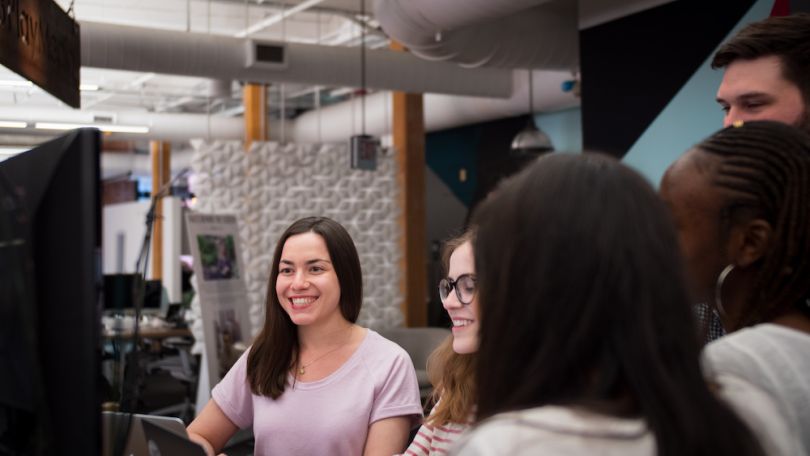 Elisa Edelberg is using her storytelling skills for good. As the content marketing manager for 3Play Media, her goal is to shatter stereotypes and spread awareness about individuals with vision and hearing impairments. Her work features interviews with deaf DJs, a blind photographer, a deaf-blind salsa dancer, and many more entrepreneurs and creatives.
Edelberg was first drawn to 3Play Media because of their mission-driven commitment to accessibility.
"Coming from the nonprofit world, it was important for me to find a marketing position where I could continue to make a positive difference in society," she said.
Edelberg found all of that and more with 3Play Media.
The company, nestled in the heart of the Seaport, provides closed captioning, transcription, translation and audio description services. Essentially, 3Play Media makes video content accessible to everyone.
Edleberg has been with the company for just over two years. In that short time she has already played a key role in major projects like the launch of Audio Description, a narration of visual video information for blind and low-vision viewers. The project signaled 3Play Media's shift to focusing on video accessibility as a whole beyond just captioning and transcription.
We caught up with Edelberg to learn more about life at 3Play Media, the company's mission, and other exciting projects that she's working on.
Describe 3Play Media's mission. How is 3Play Media's mission reflected in your own work?
3Play Media strives to make the web more accessible to everyone by providing high-quality captions, transcripts, subtitles and audio description at a fair price.
As part of the marketing team, our goal is not only to produce content about our services, but also to spread awareness about how to implement accessibility – and why that matters. We provide free educational content such as white papers, research studies, blog posts and webinars. We also offer our storytelling project, "Faces Behind the Screen," that highlights people who directly benefit from accessibility.
3Play Media strives to make the web more accessible to everyone..."
How does 3Play Media help people with visual and hearing impairments?
3Play Media offers video accessibility services, including captions, transcripts, subtitles and audio description. The accessibility tools accommodate individuals with total or partial hearing loss, and total or partial vision loss, on top of many additional benefits for all users.
We also spread awareness about the importance and benefits of designing, and creating with everyone in mind – creating accessibility no matter an individual's ability.
How would you describe 3Play Media's culture?
The team at 3Play is made up of incredibly talented and smart people who also understand the importance of taking time to relax and get to know each other. Our culture is laid back, fun and hard working. We have monthly social events and catered lunches, as well as a number of different activities throughout the year. We also have a fully-stocked kitchen, game room, and our sweet office dog, Bo!
What does 3Play Media seek in new hires?
It's important for anyone coming on board to be super excited about learning and growing — both individually and as a company. There's a lot of opportunity here as we continue to grow. We have a lot of really smart and driven people. New hires should be team players who are able to collaborate with a diverse team, and get excited about our mission.
How does 3Play Media set individuals up for success? How do you and the company help individuals consistently improve?
Communication is key to success at 3Play Media. Employees have weekly check-ins with their managers, which keeps communication open and allows individuals to stay on top of goals. Additionally, everyone at 3Play completes a roadmap to talk about skills they're interested in learning, and career growth. From there, it's easier to strategize with your manager on how to achieve those goals.
What cool projects have you recently completed or are currently working on?
I lead a marketing initiative called "Faces Behind the Screen." It's a storytelling project where we interview individuals who benefit from an accessible world and web. The goal is to share their stories, shatter misconceptions, and spread awareness about real people who benefit from accessibility, and the work that we do. We've interviewed several deaf DJs, deaf actors, a blind photographer, blind entrepreneurs, a deaf-blind salsa dancer, and more. These people are incredible, and it's an honor to have the opportunity to learn and share their stories.
What is a big challenge that your team has faced or is currently facing? How do you overcome that?
3Play has been experiencing rapid growth. This is an incredibly exciting challenge. It's really allowed us to focus on new areas of our business and bring on new and talented team members.