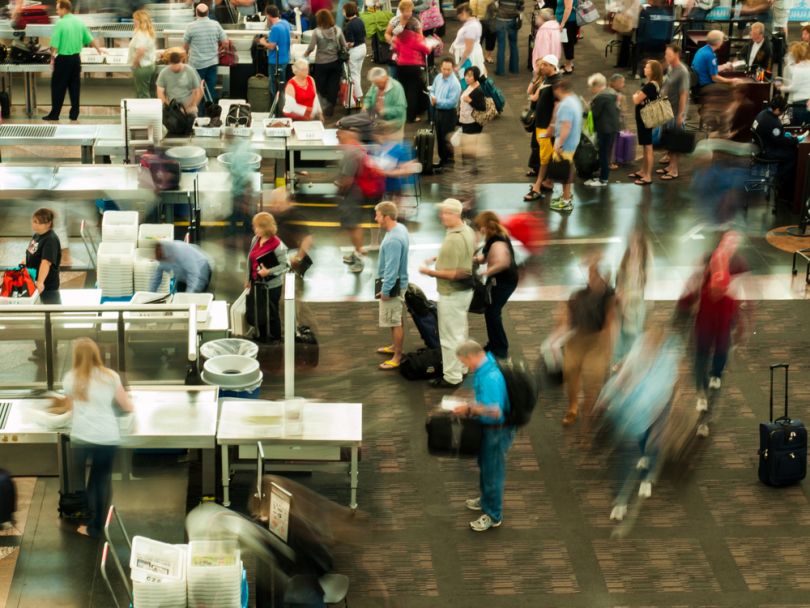 If you read the headlines every morning, it can feel like a pretty scary world. With attacks occurring in places like schools, transportation hubs and sporting venues over the last few years, private and public spaces might not feel as safe as they used to.
Security companies like Waltham-based Evolv Technology are working hard to prevent this from becoming the new normal.
We knew we needed to rethink how physical security and threat detection was done."
To adapt to the ever-changing threat landscape, Evolv has developed a threat detection and prevention platform that uses a combination of artificial intelligence, sensors and facial recognition technology to locate threats in real time — and stop them in their tracks.
"When we first started Evolv, we wanted to bring the best innovative technologies to bear on the physical security industry," Anil Chitkara, co-founder and president of Evolv, said. "We knew we needed to rethink how physical security and threat detection was done."
One of the first opportunities Chitkara saw was at airports: "We've been walking through metal detectors that have been around since 1986," Chitkara said.
Evolv's first product, "Evolv Edge," aims to expand security perimeters and offer another layer of security before visitors even get to the airport checkpoint.
Evolv Edge will not be used to replace metal detectors or security checkpoints, but rather provide extra security via its fully automated visitor screening solution, which integrates walkthrough firearm and explosive detection with facial integration. The best part? Evolv Edge systems can process more than 600 people per hour, taking less than one second to process facial recognition results.
For anyone who's ever been to Logan Airport around a holiday, this solution sure sounds like a godsend.
"Evolv Edge will clear a person using algorithm-based sensors, or it will create an alarm that will isolate a person where they need secondary screening," Chitkara said.
The company, which has raised nearly $30 million to date, is led by veterans of the physical screening industry, representing the TSA, FBI, CIA, Secret Service and Homeland Security. This makes Evolv well-poised to help government agencies and private businesses protect soft targets and hard assets.
Evolv was piloted across 30 locations in 2017, and the company started selling its product in the fourth quarter of 2017. So far, Chitkara said they have over 30 different customers, with nearly 100 units in use around the world.
Chitkara envisions Evolv Edge being used in more locations than airports: sports stadiums, entertainment venues, performing arts centers, special screenings and public transportation hubs are all rich environments for their technology, he said.
Evolv currently employs 45 people, with 35 employees sitting in the company's Waltham office. Chitkara said they look to hire 15 more people over the course of 2018 with a focus on engineering, sales and marketing.