In May 2018, the U.S. Supreme Court ushered in a new age of sports betting by striking down a federal law that banned the practice. Almost overnight, an era of bettors placing wagers with under-the-table bookies or making bets during business trips to Las Vegas ended.
Now, as a direct result of this newfound legality — and the convenience of sports betting that's as easy as placing a delivery order — DraftKings has expanded beyond daily fantasy sports (DFS) to sportsbook and casino operations. 
The evolution was inevitable, and a team of tech professionals behind the company's expansion was only made possible through its engineering, analytics and product teams creating, testing and iterating products in a race against a constantly churning sports culture. 
We talked with some of the team members that make sure DraftKings products give every fan a chance to win big.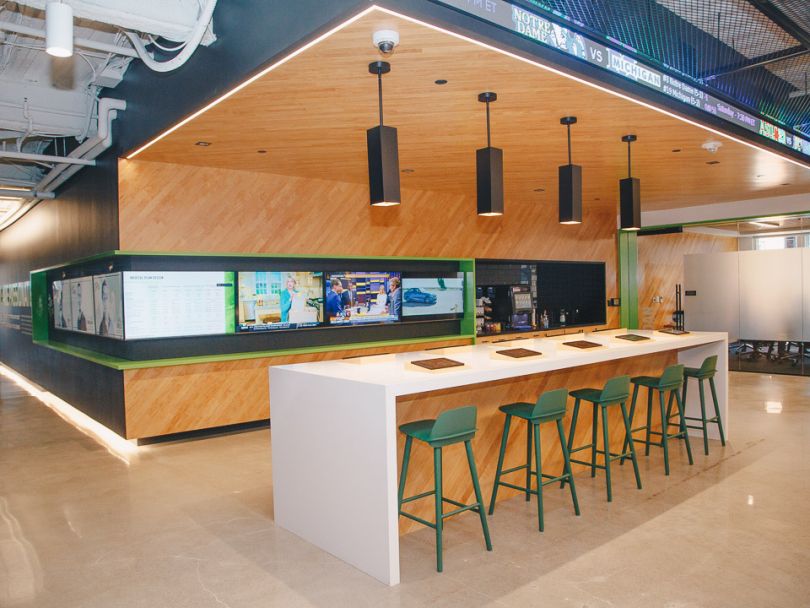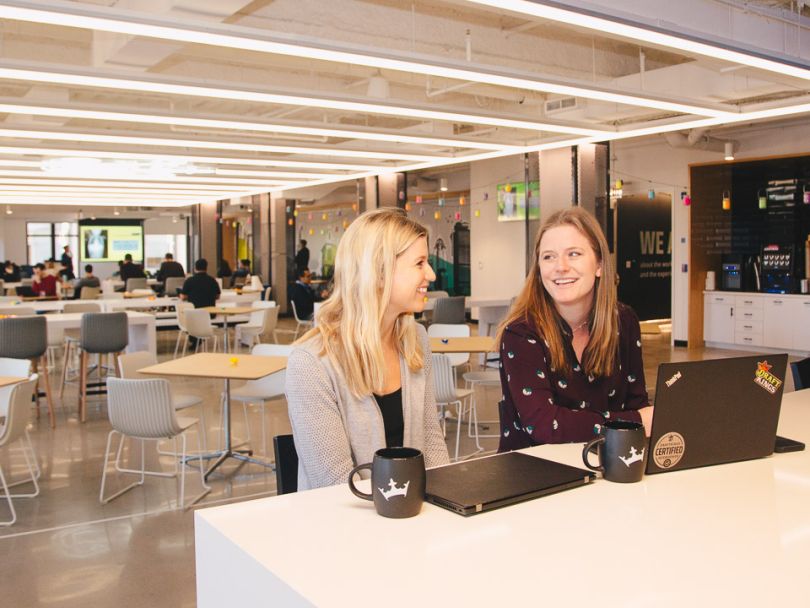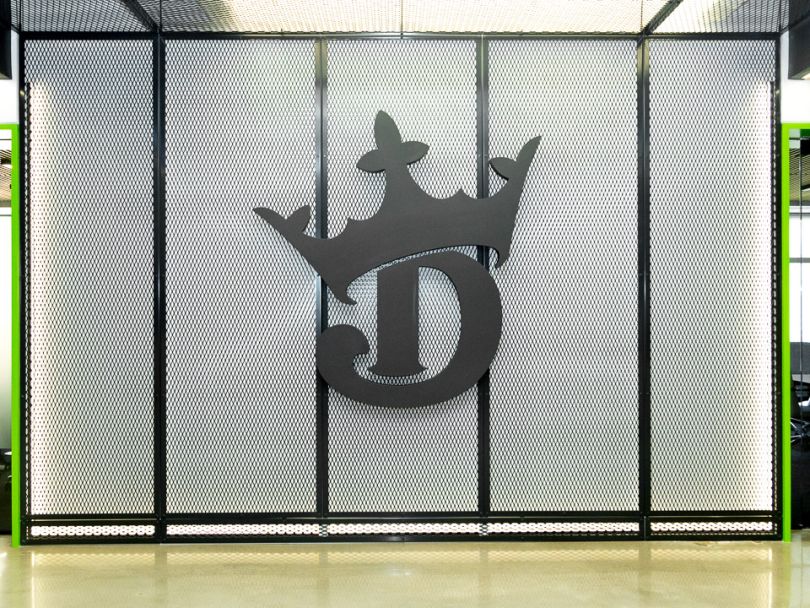 FOUNDED: 2012
EMPLOYEES: 850+ 
WHAT THEY DO: DraftKings makes life more exciting by responsibly creating the world's favorite games and betting experiences.
WHERE THEY DO IT: Headquartered in Boston, with offices in New York City, San Francisco, Las Vegas, and Hoboken, New Jersey.
PLAYER POP-UPS: Professional athletes can be seen occasionally roaming the halls after visits on DraftKings' daily fantasy show, "The Sweat."
PERKS & BENEFITS: It's not just flexible PTO at DraftKings (although there's that, too). Take advantage of the company's other perks and benefits, including mani-pedis, haircuts, blowouts, massages, free snacks and drinks, catered meals, lunch and learns, and many more.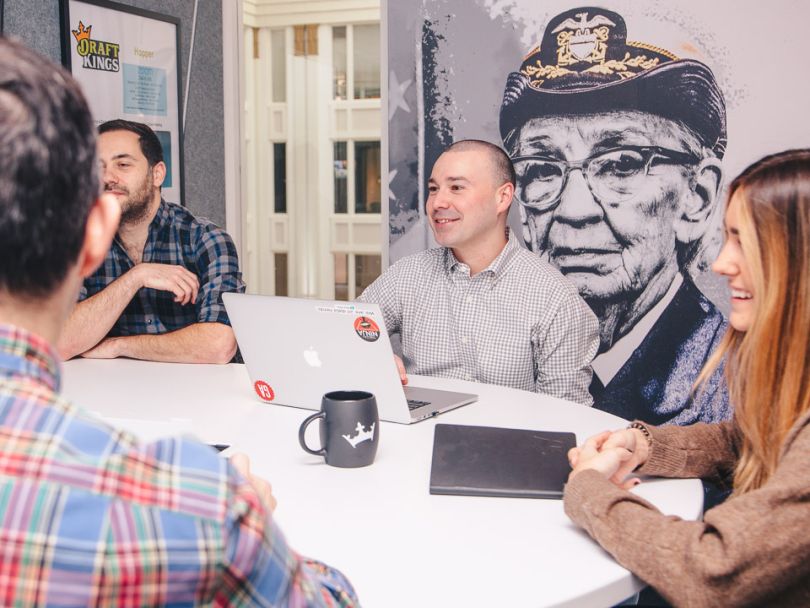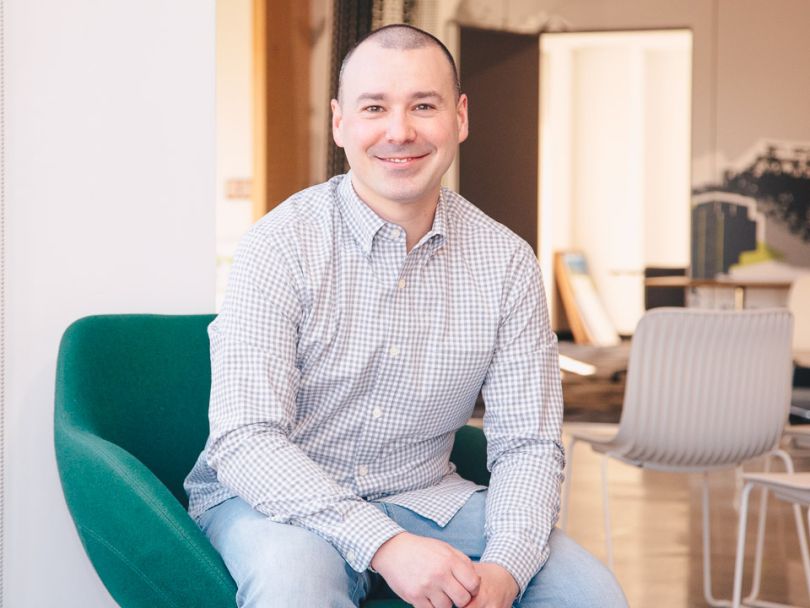 JB Hruska, Product Operations Manager
JB and his team are specifically focused on DFS and use the product constantly so that he and his team can figure out how to make it better. 
What are some of the unique opportunities you've been exposed to while working at DraftKings?
I value how much DraftKings supports experimentation and innovation. When I first started, I was part of the web team, and we experimented with moving our site from model-view-controller over to React single-page applications. That played out well, and now new features are by default responsive React pages.
On the native app side, we've also experimented with using Xamarin and React Native, ultimately using Xamarin for our Sportsbook app last year. Over the summer, for the DFS app, the team worked on creating a native app configuration in Firebase that allows us to control certain features and settings for both iOS and Android without having to go through the full app store release cycle.
I really appreciate that the company supports and encourages not only user-facing testing for features but also internal innovation and exploration of new (or new-to-us) technology.
DraftKings has grown a lot in the past few years. What changes have you seen since you joined?
The biggest change for me has to be in the scope of opportunity. When I joined, DraftKings was a DFS-only company. Since then, we've expanded into casino and sportsbook products, as well as iterated on how we handle content and media. When it comes to the skin-in-game experience, I know that the leadership team is wide open to new possibilities to explore.
For product and engineering, this creates a great mix of greenfield development and working on robust, battle-tested systems. There are advantages to both, and I love that the same company can offer opportunities in each.
 
I really appreciate that the company supports and encourages not only user-facing testing for features but also internal innovation and exploration..."

What would a typical day at the DraftKings offices be like? How would you describe the environment?
The Boston HQ is the perfect Goldilocks — not too quiet, not too rambunctious. Whether due to the extra energy or some innate quality in the people we hire, the office usually has a healthy buzz. It's not uncommon for people to stop when passing each other's desks to chat for a few minutes and catch up on a project or to hear about each other's weekend activities. At the same time, I'm always able to focus at my desk when I need to get my work done.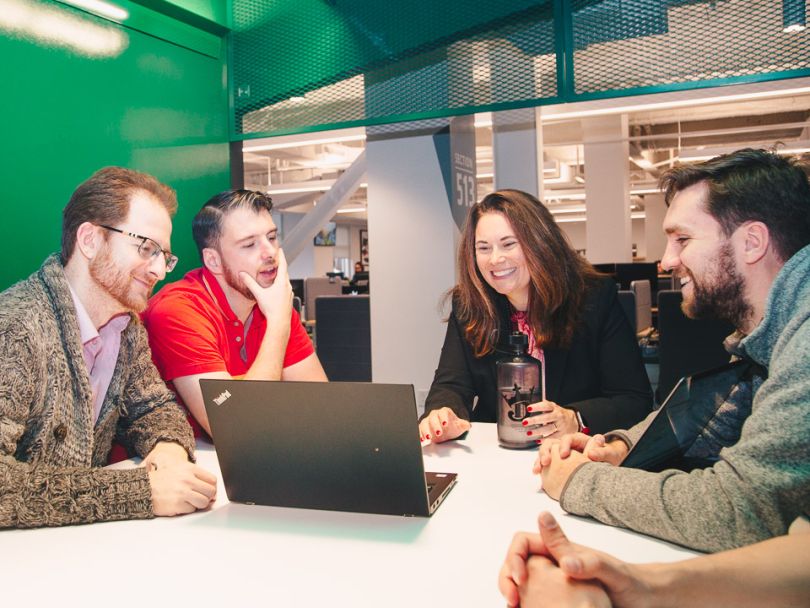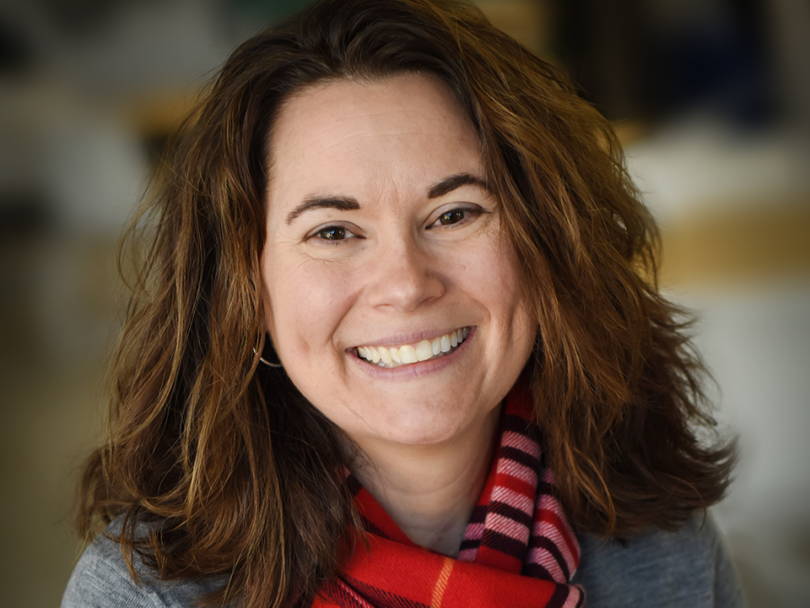 Carli Hairston, Senior Software Engineering Manager
Carli manages engineers on the finance and currency team at DraftKings and ensures the accuracy and integrity of the financial ledger for its customers — but her role extends far beyond that. "My role in the company, among other things, is to help develop the careers of engineers at all levels by providing continuous feedback and opportunities for growth," she says. 
What was your impression of DraftKings once you got into the office and joined the team?
My first impression of DraftKings was that it was a very supportive environment focused on helping me succeed. I felt welcomed and appreciated by my management and my teammates even before I stepped into the office. The pace is quite fast at DraftKings due to the nature of working in a competitive and emerging market. However, every single member of the team took time out of their day to help acclimate me to the business, the technology and everyday life at DraftKings. It truly was one of the best onboarding experiences I have had in my 20 years in software.
Women in tech are, on the whole, underrepresented. What steps would you say you've taken to create your own success and reach this stage in your career?
I first had to understand what success meant to me. For me, the definition of success evolved over the years from tangible accomplishments of ascending the career ladder, managing projects through to public release, and completing a master's degree to the less tangible of leading teams through triumph and failure while managing with compassion.
I sought people who were willing to advise me on how to grow as a person and listened carefully to their feedback so that I may be a better leader. I learned how to be an advocate for myself and ask for what I wanted. I have also realized that the journey is as important as the end result. The common thread here is continued education, whether that is formal education in the form of pursuing a master's degree or the informal education attained by seeking knowledge to become a better, more compassionate leader.
 
I felt welcomed and appreciated by my management and my teammates even before I stepped into the office."

What unique challenges do you face working for DraftKings that you wouldn't have encountered at previous employers? 
One of the major challenges working for DraftKings presents versus working for my previous employers is that the sports industry is a 24/7 operation. My team's mission is to provide a financial platform that is scalable and will support future expansion into new sports betting markets. This requires that we have zero downtime to ensure our customers have the best experience by providing accurate account balances and secure tax information. As a team, we have to carefully design the systems to be resilient, scalable and reliable while developing at a fast pace. We have to create services that are able to react well in an anything-can-happen-at-anytime game.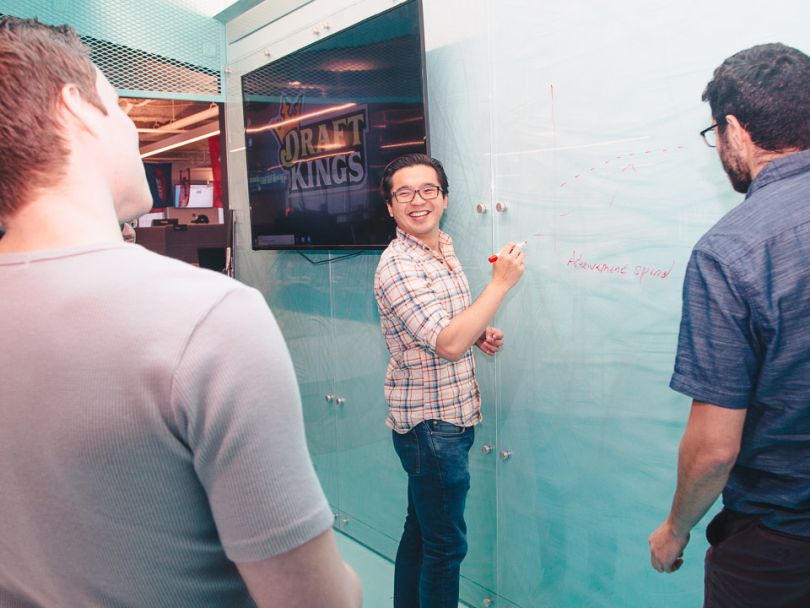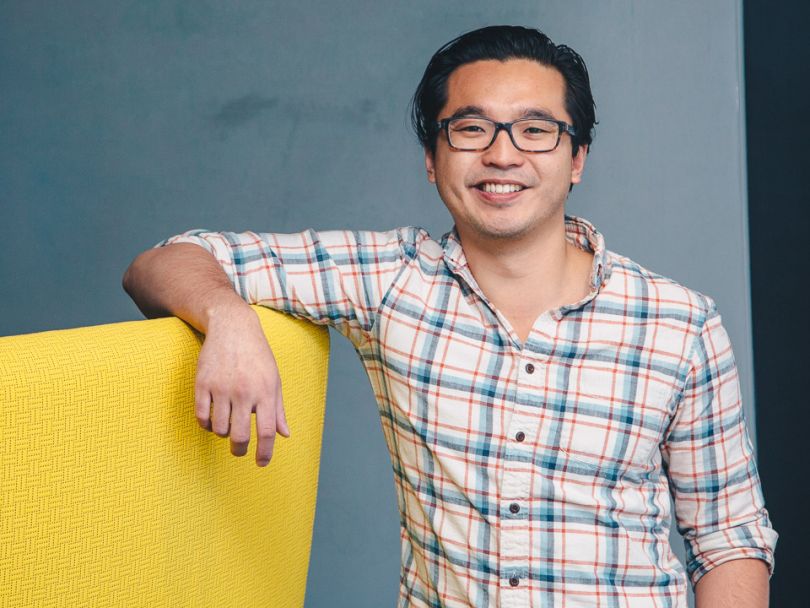 Penn Chou, Senior Analytics Manager
Penn's job is leading the team that operates and assesses the promotions budget. In other words, he gets to come up with fun and engaging ways to interact with users in the most efficient way possible. 
In your position, how do you play a role in achieving DraftKings' overall mission and goals?
Our team's role is to effectively allocate the entire promotions budget across our products, which includes figuring out how much we want to spend for different initiatives and programs such as daily rewards, CRM offers, sitewide promotions and VIP player development. By building transparency — "How much did we spend on what?"— and a creating a culture of continuously improving our return on reinvestments, we aspire to help DraftKings become number one by outpacing our competitors!
 
The most unique problem that I get to try and solve for is the way that information is created and distributed across the organization."

You spent about a decade at your previous company. How does DraftKings differ culturally from your previous experience?
Other than some of the surface differences — our office perks, food, drinks, snacks, and TVs always playing sports — what stands out to me most is the way we make decisions as an organization and the speed at which certain decisions are made. In contrast with my previous company, we tend to use the data we have to make a decision by a certain date (usually dictated by the sport calendar), rather than use the "right" method or data to make a decision in a reasonable amount of time.  
What are some of the unique problems you get to solve in your role? 
The most unique problem that I get to try and solve for is the way that information is created and distributed across the organization. This is particularly pronounced in the reinvestment space.  
Previously, as a smallish single product company, a small group of individuals held all the information needed to "steer" the budget and had the sole goal of driving DFS success. In this sort of environment, we could rely on osmosis getting the right information into the right people's hands in a reasonable amount of time.  
However, with the sports betting and casino verticals maturing, we now are trying to maximize enterprise value — which may involve trade-offs across verticals — and trying to coordinate across a much broader group of individual decision-makers.