VR Game Developers Rethink Remote Work With Tangle Workspace App
Tangle is currently limited to invite-only users, but it's expected to be released in the near future.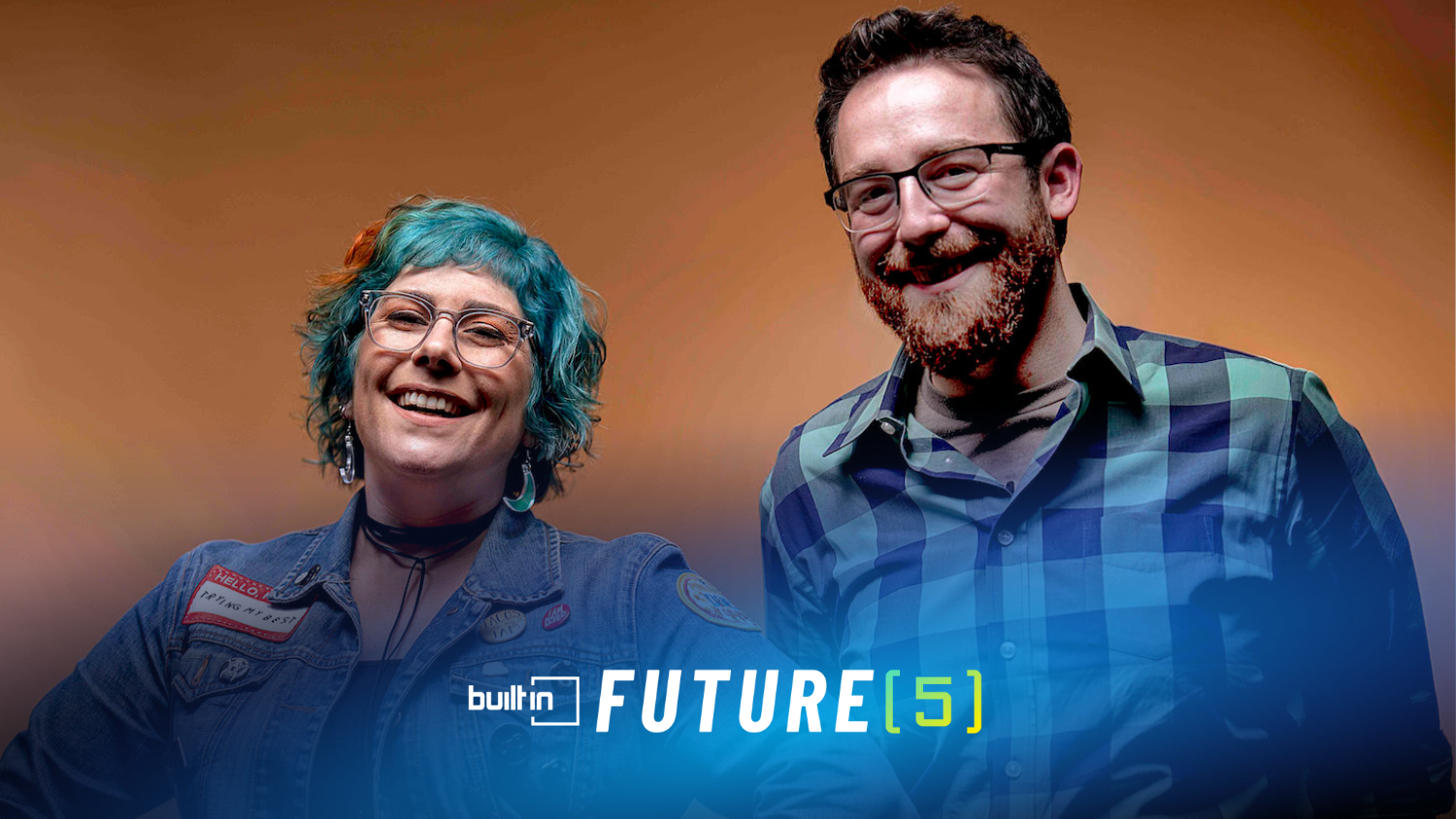 Sure the latest initiatives from the Teslas, Apples and Googles of the industry tend to dominate the tech news space — and with good reason. Still, the tech titans aren't the only ones bringing innovation to the sector.
In an effort to highlight up-and-coming tech companies, Built In launched The Future 5 across seven major U.S. tech hubs. Each quarter, we will feature five early-stage tech companies, nonprofits or entrepreneurs in each of these hubs who just might be working on the next big thing. Read our round-up of Boston's rising startups from last quarter here.
* * *
After selling their virtual reality gaming company Owlchemy Labs to Google in 2017, Alex Schwartz and their colleague Cy Wise formed a new company called Absurd:Joy to develop the next big virtual reality or augmented reality platform.
Absurd:Joy has roots in the Boston area, but the team is fully distributed throughout New England and beyond, which poses challenges for the highly-collaborative work of VR development. 
The team tried to have long hangout sessions using Zoom Rooms, but people kept wanting to have quick break-out discussions with different team members, which was not possible with the top-down structure of Zoom, where administrators control the terms of the meeting.
Thinking Like a Game Developer
To solve their internal communication issues, the team started developing a tool called Tangle, which is now a virtual space designed to be used throughout the workday. The team initially tried to create a VR collaboration platform, but quickly found the amount of setup involved with VR is not conducive to quick, informal chats.
In developing a solution, the team still relied on spatial design principles from their years of VR game development.
"All of our brains were thinking about spatiality," Schwartz said. "We were thinking about how people gather and how groups of people and audio emanate out. We were just thinking about the human psychology of how people communicate, and that led to Tangle."
Of the 12 projects the Absurd:Joy team was experimenting with, Tangle started to gain more interest among the team. Pretty soon their industry colleagues started asking if they could use Tangle for their companies. 
"We kind of looked down one day and said, 'Oh, you know what, I think we're actually sitting on the product itself,'" Schwartz said. "The communication tool that we built out of necessity is not a quick solve just to keep moving forward. It's actually solving a universal need for remote teams."
The company, which raised more than $10 million over three funding rounds, has grown to 22 employees. It also changed its name on LinkedIn several weeks ago from Absurd:Joy to Tangle, and Schwartz said they are calling themselves Tangle from a branding standpoint, and eventually, a legal standpoint.
None of these tools that people are using today were built for remote collaboration."
Schwartz said interest in Tangle has grown, and 500 representatives from different companies have signed up for its waitlist. Those companies also provided the challenges they hoped to solve in their remote teams.
Schwartz said the feedback received validated their own experience that text communication on Slack was not conducive to free-flowing conversations and that video meetings are often limited by specific topics on an agenda.
"None of these tools that people are using today were built for remote collaboration," Schwartz said. "They're built for meetings, which is fine, but then we're just leveraging an entire day's worth of culture within a toolset that was meant for single-channel meetings."
Rethinking Remote Work
With Tangle, the team wanted to recreate those serendipitous moments that the office offers, like talking to someone outside your department while you're pouring yourself a cup of coffee or overhearing a conversation that relates to the project you're working on. Schwartz said they wanted to make an online work conversation as easy as turning your head to make a comment to a coworker at the office.
Tangle, which is designed to be on throughout the workday, is a virtual space where every person has their own room that they can decorate. Users can control their privacy by keeping their doors open or closed. When their door is open, their audio can be heard by other people who have their doors open. 
Coworkers can knock on each other's closed doors to see if they are available to talk, but users can also express that they are busy or away from their desks by posting a message on their door. Users can post messages on coworkers' doors while they are gone.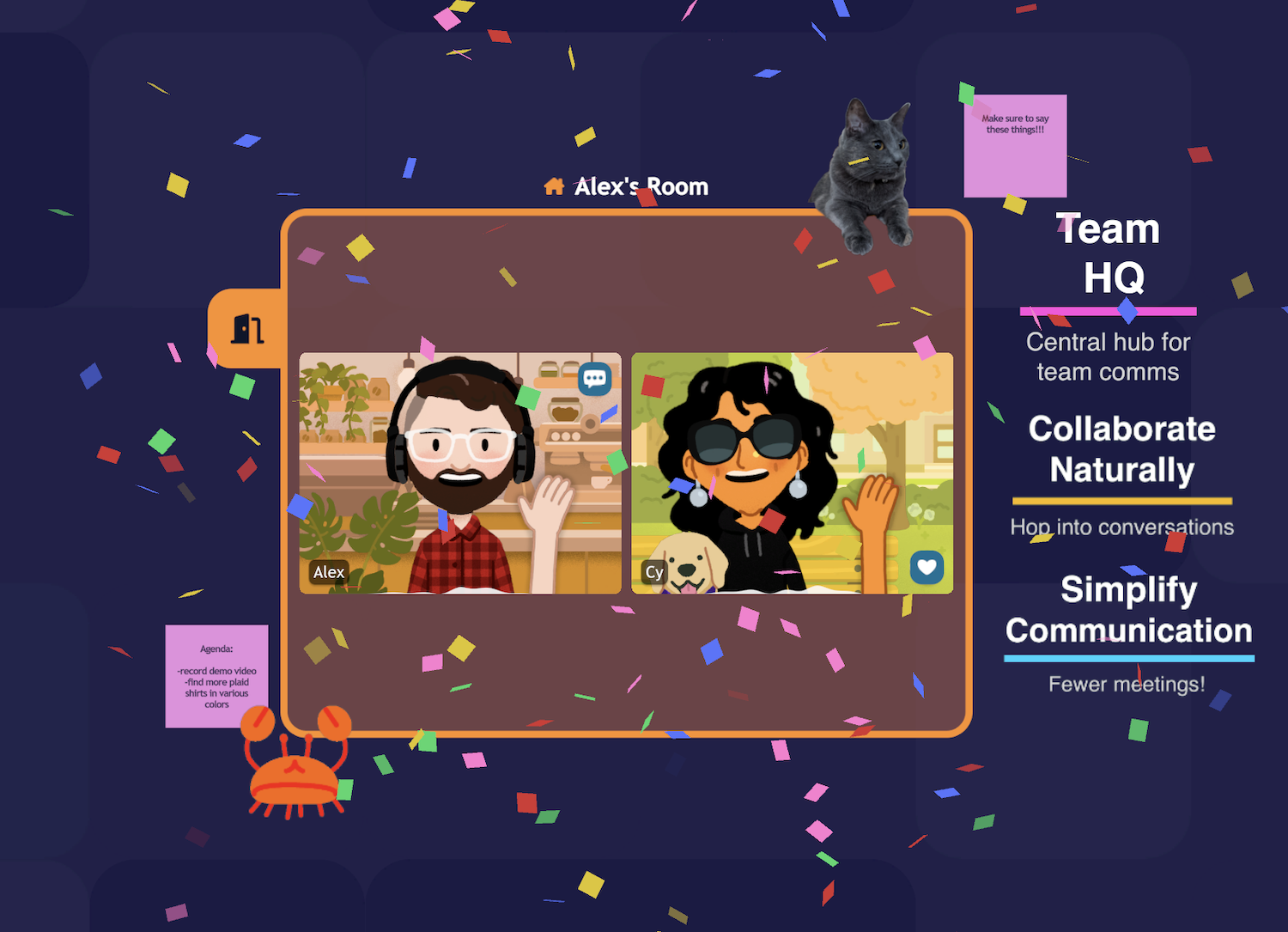 Tangle has video functionality built in, so there's no need to click a link for Zoom or Google Meets. To reduce the fatigue of constantly being on camera, users are encouraged to create their own avatars using hundreds of different face shapes, hairstyles and clothing options.
True to its video game roots, Tangle has made an extra effort to bring video game-like playfulness throughout all of the interactions on the platform. Schwartz said they often makes corny jokes in meetings, for example, so they added a feature to send someone to a "joke dungeon" and show gray metal bars on their screen for 10 seconds.
For the last several months, Tangle has been available to several hundred users who have been granted early access. Schwartz said they plan to release the product to the general public in the near future.