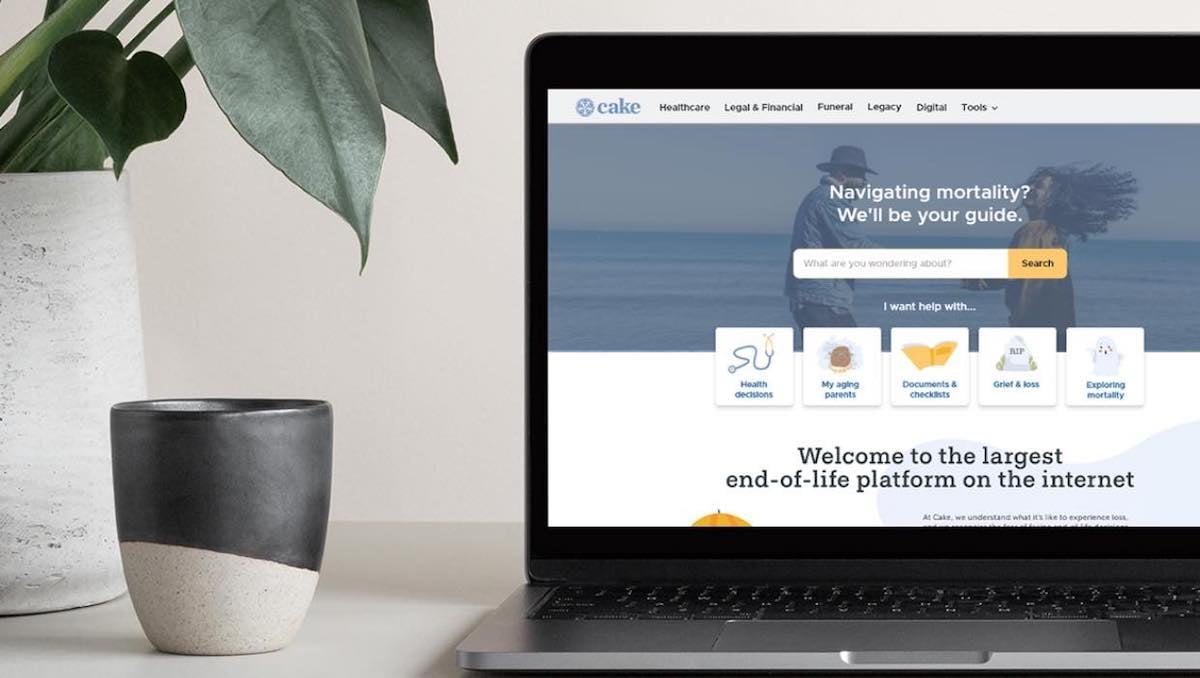 Cake, a healthtech startup specializing in end-of-life planning, announced Wednesday it raised $3.7 million in fresh funding. Industry leaders including AARP and InHealth Ventures participated in the round, capping off a year of massive growth for the Boston-based company.
Cake was co-founded by MIT and Harvard grads Suelin Chen and Mark Zhang in 2015. Two years later, the company raised a $1.35 million seed round. Back then, end-of-life planning was taboo, but the industry still experienced moderate, steady growth. Lately, the space has become more crowded with startups like EOL and Recompose gaining attention for their own unique approaches.  
Now, Chen says end-of-life planning has evolved into a "form of personal expression" or a "declaration" of one's values, as opposed to something that should be put off or avoided.
"For years now, people have become more and more interested in engaging with end-of-life — there has been the death-positive movement and increased pragmatism about preparing," Chen told Built In via email. "Death is definitely going to happen, so it doesn't help to ignore it."
This shift in attitude has also been accelerated by the global pandemic, which brought the reality and inevitability of death into everyday conversations. The destigmatization of death and end-of-life planning led more people to seek out services like Cake, Chen said. As a result, the business grew 10x last year. 
Cake now serves more than 30 million people a year, making it one of the largest end-of-life planning services around, Chen said.
"We are the largest and so have the biggest dataset on people's needs in end-of-life. This was strategic because we understand that there is a lot of variation in how people want to engage in this topic," Chen said. "The only way to create a good user experience is to combine data science and AI with human empathy/expertise to create a personalized user journey based on that person's values, preferences and life situation."
In practice, this means taking users through a series of 'yes' or 'no' questions to customize their own end-of-life plan. The platform also offers more than 3,000 articles and tools to arm users with all the information they need when it comes to planning for their own death and grieving the death of others. In addition to these consumer-facing tools, Cake provides custom end-of-life planning solutions for health insurance companies, health systems and banks, which can then offer to the service their own customers.  
"We want to empower consumers with everything they need to navigate both sides of mortality," Chen said. "The more light we can shine on this topic, and the more we can arm people with information that helps them figure out what is best for them and their loved ones, the more we can help people live their best lives from beginning to end." 
To keep up the momentum, Cake is growing its team, particularly in engineering and business development to better service its enterprise clients and improve its products.