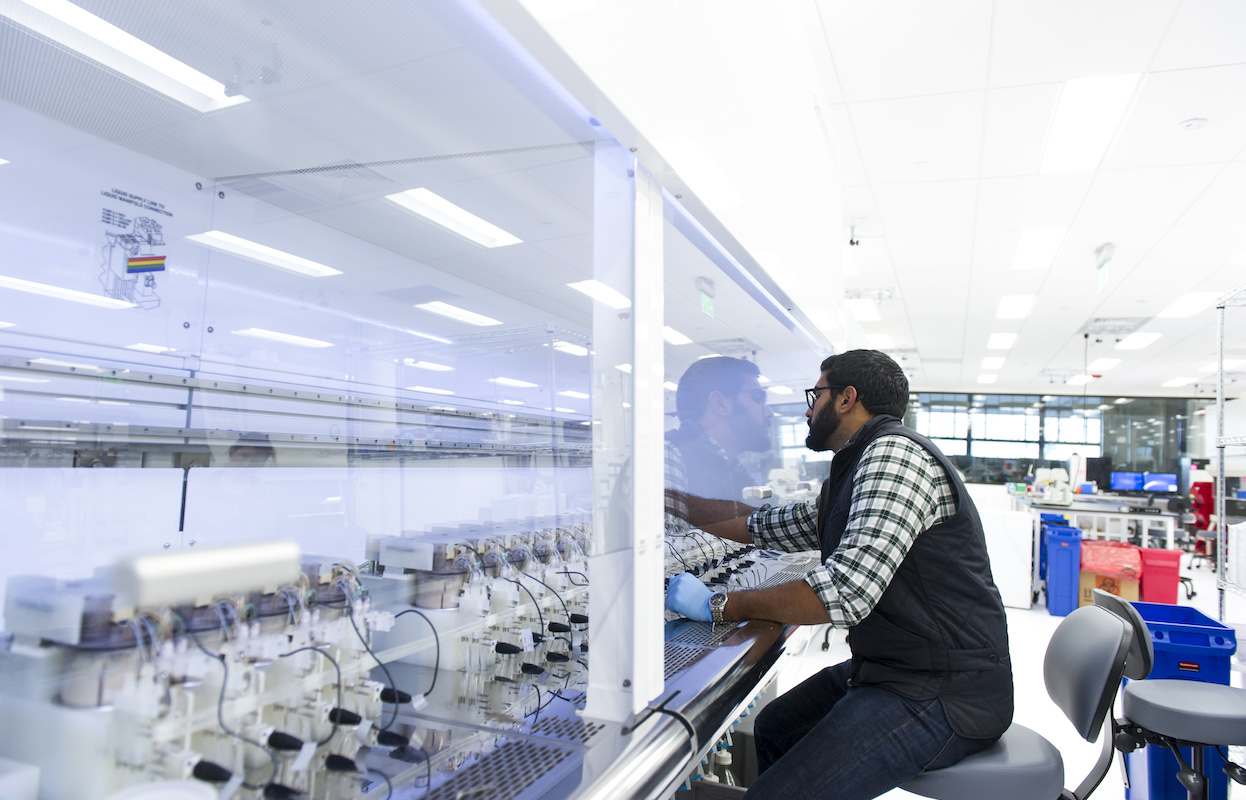 Boston-based synthetic biology pioneer Ginkgo Bioworks announced this week it is going public through a partnership with Soaring Eagle Acquisition, a special purpose acquisition company (SPAC) headed by Hollywood executive Harry Sloan. The deal will value Ginkgo at an implied $15 billion and is expected to provide up to $2.5 billion of primary proceeds, making it one of the largest SPAC mergers to date according to CNBC.
Ginkgo was co-founded in 2008 by MIT Ph.D. Jason Kelly, three classmates — Reshma Shetty, Barry Canton and Austin Che — and their professor Tom Knight, with the goal of building "made-to-order" microbes for various industries including fragrances, food ingredients and industrial products. 
The company was formed on the idea that, like computers, cells are programmable. But, instead of reading binary code (1s and 0s) to decide how to behave, cells read the chemical code in DNA (As, Ts, Cs and Gs). Because of this, bioengineers can become programmers, manipulating a cell's DNA to do what they want it to do. 
Ginkgo has managed to do this in a variety of ways. For example, the company partnered with Canadian cannabis tech company Cronos to create a more efficient way to harvest CBD, a chemical compound found in cannabis plants that has shown to help with issues like anxiety and insomnia. Ginkgo says its technology can examine a plant's DNA, find the genetic code for CBD and transcribe it into yeast, winding up with lab-grown CBD. 
The company also worked with Moderna to help manufacture components for its COVID-19 vaccine, and began the process of building an epidemic monitoring and diagnostic facility last year to allow for large-scale COVID-19 testing. 
"We are making this platform available to organizations working to solve our most pressing problems," Kelly said in a statement. "From mRNA vaccines reaching people's arms to combating climate change, the opportunity to work with programmed cells has never been more apparent."
Indeed, a report published last year by McKinsey Global Institute projected that bioengineered products could be valued at a whopping $4 trillion in the next 10 to 20 years. And Ginkgo stands to take a big piece of that pie, estimating that companies will spend about $40 billion a year on biotech research and development work — work that could be supported by its platform.
Ginkgo is considered to be the first synthetic biology unicorn and was most recently valued at more than $4 billion. The company says it expects to generate $150 million in revenue this year, a near 100 percent growth from 2020. It was this level of growth potential, says Sloan, that attracted Soaring Eagle to work with Ginkgo. And he believes the company will be a leader in this burgeoning space "for decades to come." 
"Eagle Equity Partners continues to focus on companies that are in a category of one," Sloan said in a statement. "Ginkgo is not only a leader in this field, but its founders launched the modern practice of synthetic biology. There has never been a more critical time to employ Ginkgo's technological achievements and efficiencies toward solving so many real-world problems — environment, food and health to name a few."
Eagle Equity Partners is co-sponsoring the deal with Bellco Capital, an investment firm headed by gene therapy leader Dr. Arie Belldegrun. Both Sloan and Belldegrun will be joining Ginkgo's board of directors, and have invested in a $775 million private investment in public equity (PIPE) deal led by Baillie Gifford, Putnam Investments, and funds and accounts managed by Morgan Stanley's Counterpoint Global. Cathie Wood's Ark Investment Management, Bill Gates' private investment arm Cascade Investment, Bain Capital's public equity arm, and T. Rowe Price Associates are also participating.
The capital raised will be used to scale Ginkgo's platform and accelerate its cell programming efforts, namely in areas related to climate change, food security and the COVID-19 pandemic response. The company is also hiring, with more than 50 open science and tech positions available at its Boston headquarters.