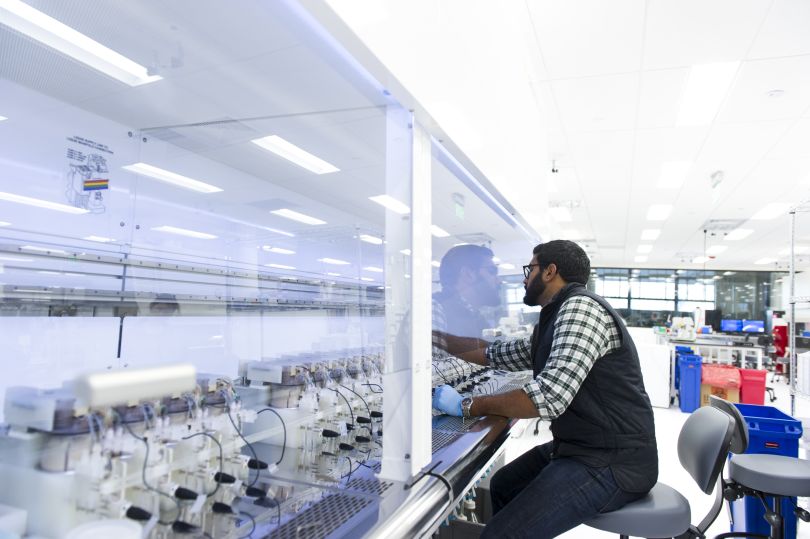 You, dear reader, are a beautiful, special flower — unique from everyone around you.
Your DNA, however, is not. You and your nearest coworker are 99.9 percent the same, genetically. (Yes, that guy.)
In fact, you and that banana in the office kitchen are 60 percent the same.
All this genetic similarity makes for a big biotech opportunity. If we're all made of the same stuff, our genetic material can be changed and shifted to make improvements, ward off disease or even do work for us.
Biotech unicorn Ginkgo Bioworks is one of a new class of startups exploring the capabilities of this type of engineering. The company is now worth $4 billion after securing $290 million in additional funding, it announced today. 
All of Ginkgo's existing investors participated in the Series E round, including Y Combinator, DCVC, MassChallenge,  Felicis Ventures, General Atlantic, Baillie Gifford, Bill Gates, and Viking Global.
Here's how it works:
Ginkgo uses synthetic biology to solve problems across industries. In many cases, that means altering the genetic composition of cells to change how they behave.
Like computers, cells are programmable. While computers read binary code to decide how to behave, cells read the chemical code contained in DNA. Because of this, biological engineers can act as programmers, manipulating the cells' DNA to a particular end.
For example, Ginkgo announced in June its partnership with Synlogic Therapeutics to engineer "living medicine," or bacteria that have been reprogrammed — through genetic coding — to fight disease. 
For people with medical issues like inborn errors of metabolism, or the inability to break down certain foods, living medicine offers a solution. The engineered bacteria can break down the toxins that build up when the patient's body fails to metabolize normally.
In many ways, our bodies already do this. White blood cells, for instance, will update their code as they come in contact with different harmful bacteria. That's how our bodies build immunity. 
The potential applications of synthetic biology are virtually limitless. It may translate to new cancer treatments that use programmed cells to send out a signal and alert the immune system to malignant growths. 
Moving beyond healthcare applications
But its impact extends beyond the healthcare industry, too. Ginkgo has partnered with Canadian cannabis tech company Cronos to innovate a more efficient way to harvest CBD, a trendy chemical compound in marijuana plants that some claim reduces anxiety. 
CBD is one tiny element of a large, leafy plant, and growing cannabis plants just to extract CBD wastes farmland and greenhouse space. Ginkgo's plan is to examine the cannabis plant's DNA, find the genetic code for CBD and transcribe it into a yeast. Then, they'll grow the yeast — in a process not unlike brewing beer — and end up with lab-grown CBD. 
If it works, this approach would pose a huge threat to traditional cannabis farms.
But wait, there's more.
If cells can be trained to hunt down toxins, fight bad bacteria or emit a certain fragrance, they could theoretically be trained to do most anything — with the exception of wedding planning or stand up comedy.
But consider a less emotionally nuanced task, like manufacturing tiny circuits. In the future, cells could be trained to perform an array of manufacturing tasks, giving both humans and robots a run for their money. 
As science-fictioney as it sounds, this makes sense. Cells already perform the most complicated of manufacturing feats: the creation of new life, from humans to animals to plants. Living creatures have remarkably complex, interrelated systems, and cells effectively reproduce us every single day. 
Ginkgo's so-called "made-to-order microbes" are in demand by a variety of startups and established companies. Sometimes, it sells its services to companies who need research and development to take an idea to market. Other times, it snaps up equity in promising startups who use its technology.
Current Ginkgo partnerships include Synlogic; Bayer, which teamed up with Ginkgo on agtech venture Joyn Bio; Glycosyn, which makes gut health products using human milk; Motif Foodworks, which spun out from Ginkgo and makes meat alternatives; and Roche, which enlisted Ginkgo to hunt for new antibiotics with the help of Warp Drive Bio's genome database and research team.
Ginkgo co-founder Reshma Shetty is a founding advisor and investor in Boston biotech accelerator Petri, which launched last week. 
An IPO is in the future for Ginkgo, CEO Jason Kelly told CNBC in May.