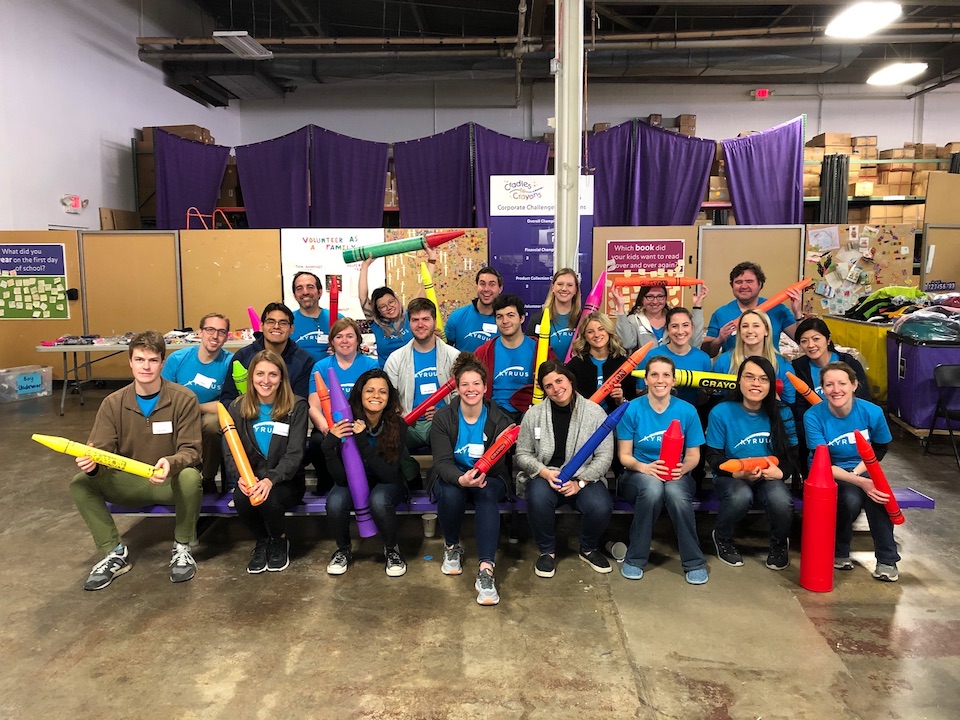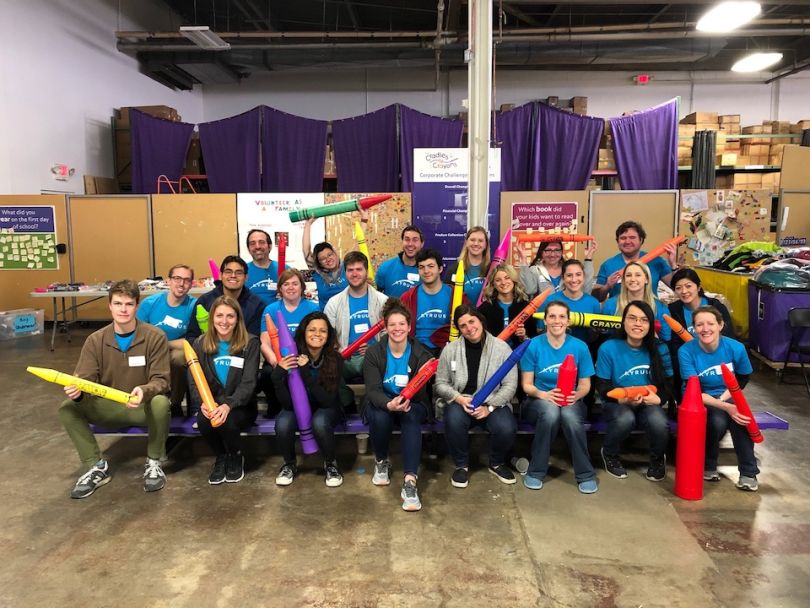 Since 2012, the Tuesday after Thanksgiving — also known as Giving Tuesday — has been a day for individuals and organizations around the world to help their communities through donations, volunteering and more. Last year, the day generated almost $2 billion in online and offline donations and had 20 billion social media impressions, according to The Nonprofit Times.
For businesses that participate, Giving Tuesday is an opportunity to showcase a commitment to social good. It can also foster a sense of camaraderie among employees as they team up and engage with their communities.  
But what does Giving Tuesday participation look like for tech companies in particular, especially in the middle of a pandemic this year?
We spoke to three Boston-based tech startups about the creative ways they are getting involved in this year's Giving Tuesday. Kyruus, a healthcare data management and customer access platform, is donating clothes to a local nonprofit and raising money through an employee concert series. Online pet supply retailer Chewy is donating up to $2 million to animal welfare organizations, while Gravyty, an AI-powered fundraising platform for nonprofits, is helping nonprofits reach thousands of donors to support their causes. 
Manager of Office Operations and Administrative Services Lisa Marie Guidi said Kyruus employees have been gathering clothes and funds to donate to Cradles to Crayons, a local nonprofit that provides children with needed winter gear. But the company's philanthropy doesn't stop there. In April, the company tapped into the musical talents of its staff to hold a monthly virtual charity concert series that's raised $13,000 in donations to date. 
What is your company doing this year to make an impact on Giving Tuesday?
Like previous years, we spent the month of November collecting clothing and monetary donations for Cradles to Crayons' "Give Back with an Outfit Pack" program. On Dec. 1, we'll drop off the donations. 
In the pre-COVID world, we also volunteer at the Cradles to Crayons warehouse every February, so it's wonderful to see what becomes of donations. There are multiple stations for volunteers so they can see every step of the process, which is really rewarding.
Since April, we've raised $13,000 just from Tunesdays!"
Why did you decide to give to this particular cause?
Cradles employees make sure volunteers know one thing above all else: Quality equals dignity. That idea impacts every stage an item goes through before making it to a child, as well as the ways people can request help for a child in need. Requestors don't need to be related or show financial documentation, so a child can receive help without anyone else knowing, possibly from a neighbor or teacher. By sticking to such high-quality standards, recipients of their hard work maintain a level of dignity crucial to developing the confidence they will need to succeed in life.
How else does your company give back to the local community throughout the year? 
We organize quarterly philanthropic activities for the entire company. Earlier this year, we gathered favorite recipes from employees and turned them into a cookbook. We sold the books back to employees for a donation to Off Their Plate, an organization that provides food from local restaurants to healthcare workers on the front lines of the pandemic.
The giving I am most proud of is our Tertiary Taco Tunesdays. On the third Tuesday of every month, a musically-inclined employee serenades us online over lunch. That employee gets to pick a charity for folks to donate to while they listen. Since April, we've raised $13,000 just from Tunesdays!
Chewy is donating millions to assist the shelters and rescues in its network across the country, both on Giving Tuesday and throughout the year. Mita Malhotra, VP of healthcare and shelters, said the pet supply retailer built a network of 18,000 animal welfare orgs and used the $27 million it raised this year to aid them. 
What is your company doing this year to make an impact on Giving Tuesday?
This year, Chewy is matching up to $2 million in customer purchases on Dec. 1. We will donate the total in food and supplies to animal welfare organizations in need. Customers will also have the chance to shop with our new feature called Wish List. Any nonprofit animal rescue or shelter in the U.S. can curate a list of items they need, which is then made available to millions of pet parents who can purchase these items directly from Chewy and have them delivered to the doorstep of the shelter or rescue.
This year, we donated more than $27 million in food and supplies."
Why did you decide to give to this particular cause or organization?
We are committed to improving the lives of pets and the communities that serve them. Shelters and rescues serve an essential role in this community by ensuring that pets have basic necessities, like meals and supplies. Also, shelters and rescues often serve as the first or temporary home for so many pets, so this is just one of the reasons why it's so important to us to make sure they are taken care of. 
How else does your company give back to the local community throughout the year?
We're passionate about supporting animals and making a positive impact in communities across the country, which is especially important given the challenges for animal welfare providers at this time. This year, we donated more than $27 million in food and supplies. We also created a direct line of communication with approximately 18,000 shelters and rescues all across the country, including regions most severely impacted by the economic and social effects of COVID-19. We also maintain an affiliate network of nonprofit shelters and rescues, allowing us to provide financial support in addition to the products we donate.
Gravyty's mission is to empower fundraising teams to personalize outreach for donation campaigns. For example, Director of Customer Success Lisa Alvezi said the platform helped the Jewish Federation of Palm Beach County see $1 million in donations. Recognizing that its nonprofit clients serve some of the most vulnerable people, Gravyty also advocated for its community to vote in the recent presidential election.
How has Gravyty's technology positively impacted a customer's fundraising efforts?
By using Gravyty's AI-enabled fundraising tools, the Jewish Federation of Palm Beach County used a relationship-based approach to inspire over $1 million in new and increased giving from more than 475 donors in one year. The Federation also used Gravyty to engage, qualify and manage 5,000 additional high-capacity donors. These results will help them in their mission of improving the lives of the local Jewish community of Palm Beach and globally.
We encouraged the nonprofit community to vote."
How does this spirit of giving show up in your company culture?
This past election, we encouraged the nonprofit community to vote because contributing to democracy goes hand-in-hand with a culture of giving. Studies show that high voter turnout leads to better advocacy for the communities that our nonprofit organizations serve. Because nonprofits serve some of the most vulnerable folks in our communities, voting ensures that our elected officials have the opportunity to effectively represent the communities that they are chosen to serve.