Even though there was no formal mentorship program at the time, Julisa Salas still found a way to learn from those around her when she started working at Toast roughly four years ago.
She asked a lot of questions, listened to feedback and threw herself into her role as a strategic initiatives manager, leaning on her co-workers to help her learn the business quickly and figure out how she could add the most value to Toast, while also fulfilling her career goals. Salas refers to this period of discovery as figuring out her "superpowers." In the four-plus years she's worked at the restaurant tech company, she's risen from a strategic initiatives manager to her current role as chief of staff.
What's even more rewarding for Salas is that she's now able to pay it forward. Toast, a cloud-based software company that provides restaurants a management and point of sale system, has implemented a mentorship program, and she currently has two mentees.
"My goal is to help them navigate their careers so that they can be well-positioned to hit any goals they have," she said. "Navigating your career in a quickly scaling and changing startup can be hard, so I love helping other people figure out their own paths and superpowers."
Now more than ever, Salas said. 
Toast is growing, and its primary customers, local restaurant owners, have been hit hard by the pandemic. Salas shared how Toast has supported its clients during these uncertain times while continuing to foster an environment for employees' personal and professional growth.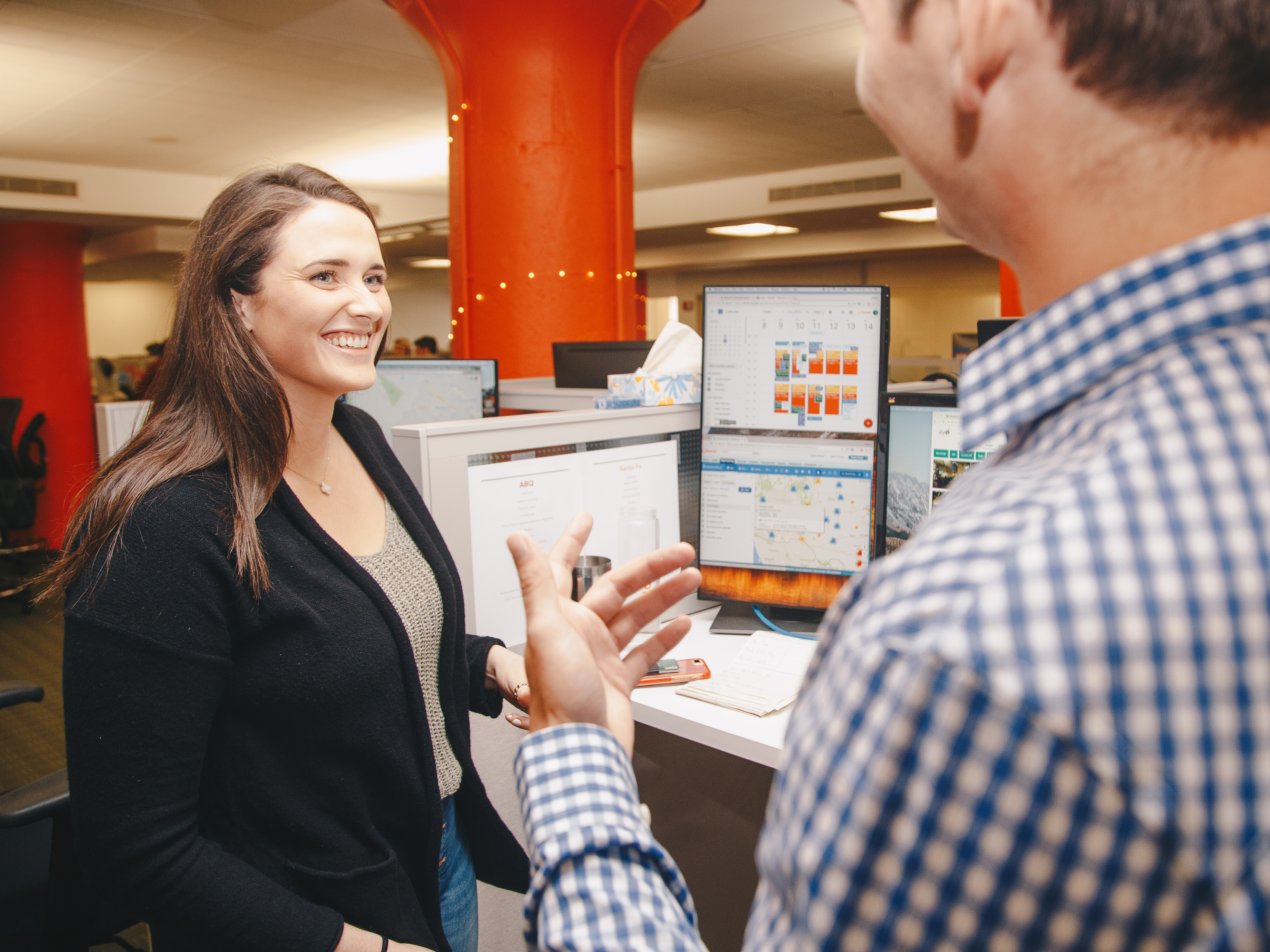 First off, what are the general features that Toast provides to its clients?
Toast is democratizing technology for restaurants of all sizes. Built for restaurants and driven by a passion to enable their success, Toast connects employees, operations and guests on an easy-to-use platform so restaurateurs can stay one step ahead of a rapidly evolving hospitality market. Tens of thousands of restaurants partner with Toast to increase revenue, streamline operations and retain employees.
The restaurant industry has been heavily impacted by the pandemic. How has Toast supported its clients during this time?
In mid-March, we launched Rally for Restaurants, a grassroots initiative that encouraged people to support their favorite local restaurants. We've launched products, such as Order & Pay at the table and flat-fee delivery services, 12 to 18 months ahead of schedule to help the restaurant community better adapt to the pandemic. We've also written letters to Congress, actively lobbied to help secure funding for the industry, and partnered with groups ranging from The Independent Restaurant Coalition to Pepsi to help advocate for restaurateurs and their employees during this unprecedented time.
You've held multiple positions at Toast in your four-plus years at the company. Describe that promotional path.
I joined Toast in 2016 as a strategic initiatives manager. I was the first rotational MBA hire and rotated across customer success, engineering and sales enablement. My last rotation in sales enablement helped me understand how much I loved using data to drive our sales playbook and I continued to implement data-driven strategies that helped optimize the sales funnel, which helped me get promoted to director of growth. In that role, I worked on the go-to-market side of the business, and partnered closely with the sales and marketing teams. Given how quickly Toast was scaling, there were always new ideas on how to tweak our operations and the growth team was instrumental in helping Toast identify, test, and scale a variety of initiatives that have helped drive efficiency and incremental revenue for the business. From there, I was promoted to the senior director of go-to-market strategy and operations. In this capacity, I led our efforts across data, funnel optimization, operations and systems, which required strong collaboration and cross-functional alignment across many teams.  
That foundation helped me get to where I am today. Now I'm the chief of staff. I lead the company's operating system and key strategic initiatives on behalf of our CEO and the executive team. I love driving performance and efficiency across the organization. 
What career growth opportunities exist at Toast?
There are many career growth opportunities at Toast. We've started a mentorship program through two of our Toast communities: LeadHer (our group for leaders at Toast that identify as female) and ToastHer (our group for all Toasters that identify as female). The mentees really own and drive the relationship, and take responsibility for their own development. They commit two to four hours per month for six months, and set one to two specific goals. The mentors commit one to two hours a month for six months with their mentees, and help them achieve their specific goals.
 Being a fast-growing tech company in the U.S. means that our business is constantly evolving and changing and there are always opportunities for employees to take on new and exciting challenges that help turbocharge their careers.
TOAST VALUES
Lead with humility
Embrace a hospitality mindset
Always be hungry
One team
Stay toasty
Driven with purpose
How has remote work affected career development at Toast? How does Toast facilitate personal and career growth virtually?
While many of us are working in a different environment right now, it hasn't changed our focus on helping each Toaster to continue to pursue their personal growth journey. While we did suspend our formal performance review processes in light of what's going on in the world outside of Toast, we upped our level of manager training and the frequency of conversation between manager and employees about how they want to grow, what they want to do, and where they want to be. We invest in remote learning programs like LinkedIn Learning, we're holding bi-weekly all-manager enablement sessions, and believe in getting all employees off to a really strong start, so we've improved our onboarding programs over the last few months. We're also still funding conferences for Toasters to attend virtually and external education. Employees can participate in a number of on-the-job development experiences to grow their careers. In addition to mentoring, we are launching job rotation and job shadowing programs in 2021. All of these programs can be done remotely!
How has Toast maintained company culture during the past eight months?
We like to think that we're always trying to improve our culture — and we've been laser focused on that over the last eight months. First and foremost, we've done a lot of listening, particularly to what employees need the most. We've doubled-down in manager training to ensure the connection between employees and their managers is as strong as possible. We've instituted new cross-company recognition programs, we've held weekly and then monthly all hands meetings, we've brought employees together through programs like virtual open mic nights and fitness classes. We've been holding processing circles for employees in the wake of the wave of racial injustice and police brutality incidents, and helped managers talk openly about racial issues with their teams. Mostly, we've just tried to make sure that everyone can keep being themselves, that they have what they need, and they know Toast is here for them as we continue to navigate these uncharted waters.