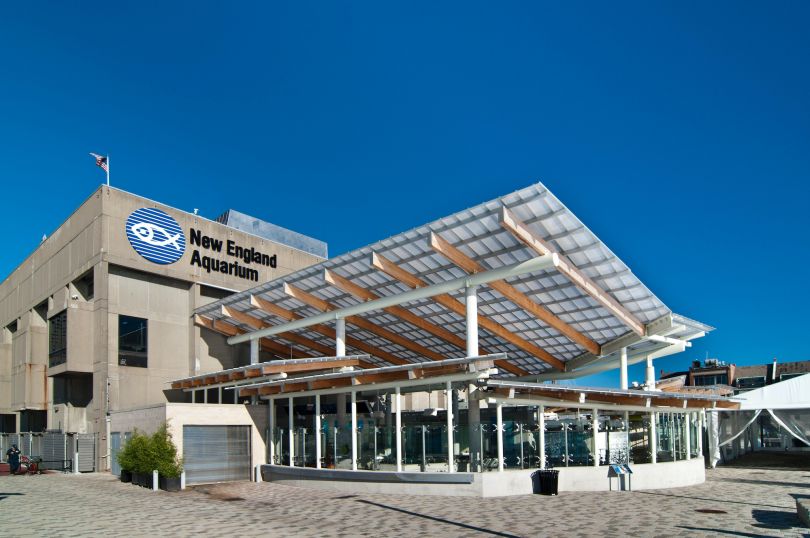 Alissa Peterson is looking for entrepreneurs who can bring new innovations to the ocean. She worked with the New England Aquarium to launch on Thursday the nation's first aquarium-centered startup incubator, named BlueSwell, which aims to use tech to hack the seas.
The incubator's goal is to foster early stage startups focused on offshore renewable energy, sustainable seafood, maritime decarbonization, marine pollution and resilient waterfronts. At the end of the program, Peterson said founders should be ready to raise funding.
"The intersection of folks that have worked in tech and venture, and the people who know what the ocean needs, that's where we're going to find the answers," said Peterson, executive director of SeaAhead, a Boston b-corporation that partnered with the New England Aquarium to start BlueSwell.
Startups will receive $35,000, as well as access to the insights of SeaAhead and the New England Aquarium's research arm, the Anderson Cabot Center for Ocean Life. The 20-week program will run from October to April of 2021, and the deadline to submit applications to the program is August 9.
Peterson said she is still deciding how many startups will be admitted into BlueSwell.
"There's really not that many organizations that are focused on supporting entrepreneurs that are specifically focused on the ocean," Peterson told Built In. "It's an under-resourced space."
The tech industry hasn't centered on ocean conservation because the sea's problems may seem too large to make an impact, Peterson said. The oceans size also may give some the impression that others are already working to solve its problems, she added. And since ships sail out to the middle of the sea, these carbon emitters remain out of founders' sight and mind.
But, the ocean comprises 70 percent of the globe. In 2010, the Organization for Economic Cooperation and Development estimated that the global blue economy reached $1.5 trillion. The international group expects the market size to double by 2030.
"This is not a niche," Peterson said. "This is a big business."
In terms of innovation, Peterson said she's excited about the potential for aquaculture for growing food, since it has the potential to contribute a lower carbon footprint than land-based farming. She said startups that use tech to substitute insects for fish protein or companies that work to reduce the use of pharmaceuticals in farmed fish are examples of the sort of ventures that could be a good fit for the incubator.
"There are a lot of entrepreneurs that have ideas for how to improve the ocean because they're either marine biologists, or they've done other ocean science or studies," Peterson said. "But they need the talents and the skills of folks that have focused on enterprise software and other kinds of social technologies."