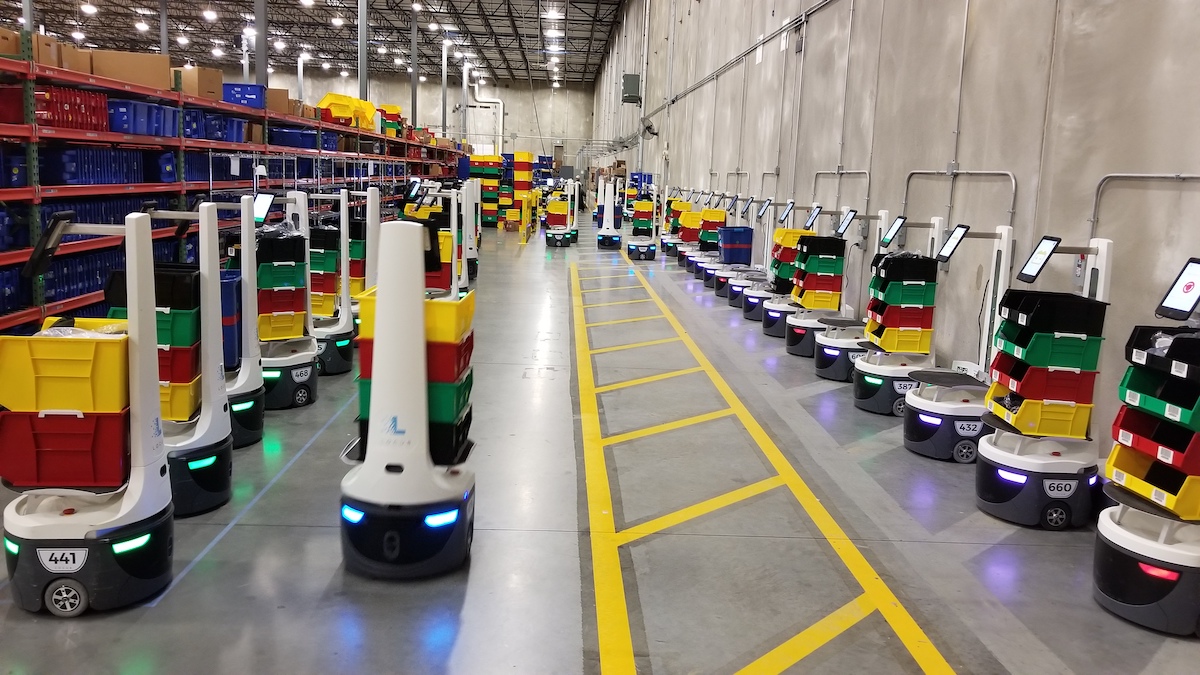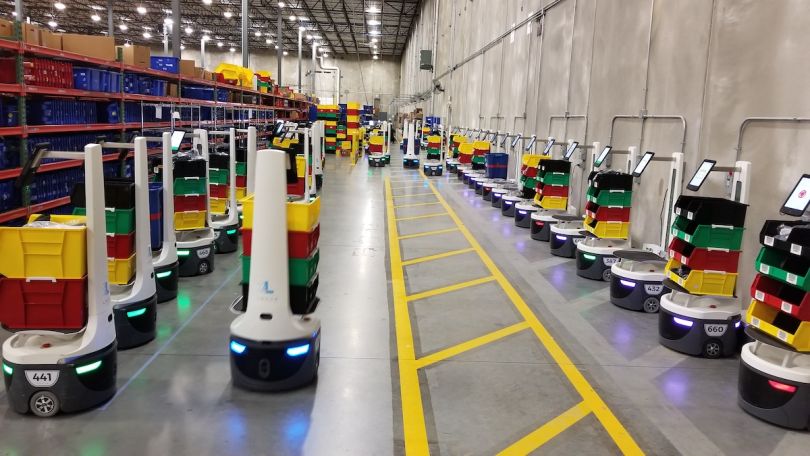 Locus Robotics helps logistics companies deliver. The Wilmington startup's fleet of autonomous robots — its "LocusBots" — sail through warehouses like a flock of hawks, helping companies scale their shipping operations to meet their rising number of online orders, particularly as brick-and-mortar stores closed during the COVID-19 pandemic.
To handle demand, the company announced on Tuesday it raised more than $40 million in Series D funds, which it plans to spend on new features for its robots and strategic reseller partnerships. Locus plans to launch a European headquarters sometime this year, and the 120-person company also aims to grow to 200 people by 2021. Founded in 2014, Locus Robotics told Built In its revenue is so far up 300 percent year over year.
The company counts DHL, Boots UK, CEVA and more as customers. In April, UPS announced it would pilot Locus machines in several of its facilities. LocusBots help companies triple their fulfillment productivity while saving money on operating expenses, by picking and bringing goods to packing stations exponentially faster than a human ever could, according to Locus. Automating warehouse functions doesn't mean job loss for human workers, either.
The U.S. warehousing and storage operations industry brought on 8,200 new workers in April — thanks to Amazon and Walmart hiring on thousands of new workers during the coronavirus pandemic, according to the Wall Street Journal — and Locus said its bots help companies address a labor shortage.
"The worldwide market for collaborative robots will continue to have significant growth as e-commerce accelerates and the labor challenges become more acute," CEO Rick Faulk told Built In in April of 2019.
Locus claims its robotic fleets can be deployed across warehouses in just four weeks. In 2019, the company said more than 50 new customers signed on to work with LocusBots.
The company's robot-as-a-service program allows customers to add robots on a limited time basis. For a monthly subscription fee, Locus sends or receives robots to warehouses upon request, provides hardware and software updates and responds to maintenance requests.
The Series D round brings total investment in Locus to $105 million. Zebra Ventures led the round, with participation from existing investor Scale Venture Partners.