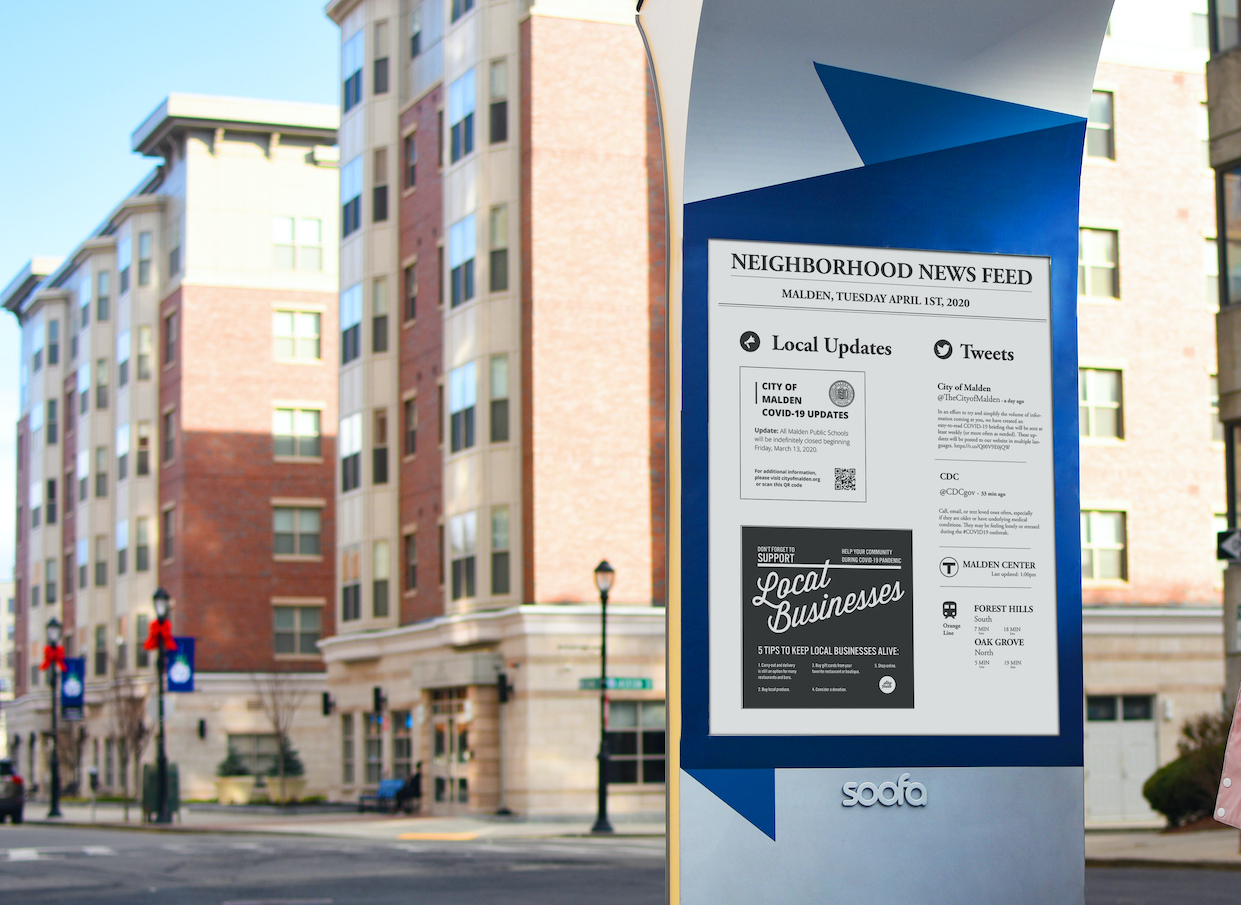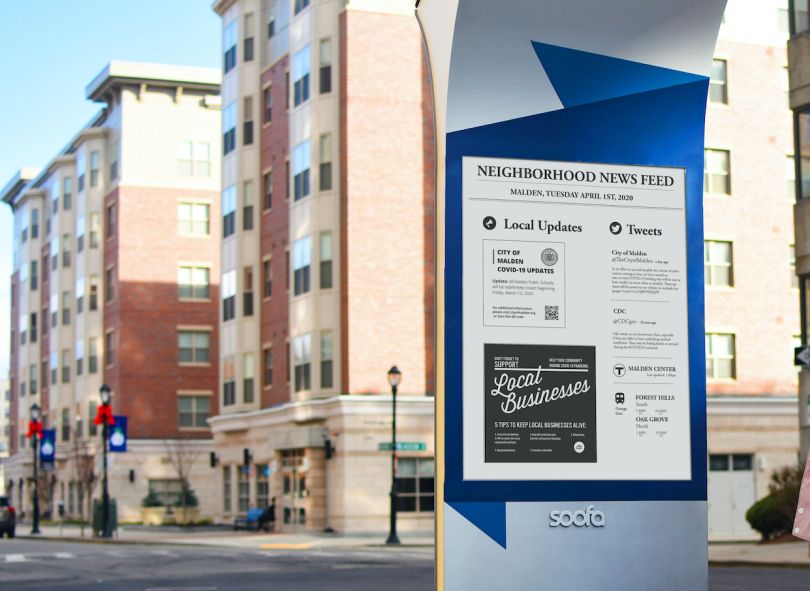 Cambridge-based Soofa is teaming up with Boston and other surrounding cities to display COVID-related PSAs in real-time on its solar-powered digital signs. To date, the company has installed its signs in Brookline, Somerville, Everett, Malden and, as of last week, Revere.
Launched out of the Massachusetts Institute of Technology and Harvard University by Sandra Richter and Jutta Friedrichs in 2014, Soofa traditionally sells space on its signs as a means of advertising for small and large businesses. It provides an opportunity for these businesses to get their product in front of potential customers as they are walking down the street. The signs also have sensors to measure foot traffic and impressions in real-time.
Now, Soofa will be using its technology to help city governments get the word out about things like changing health guidelines, transportation information and school closings.
Lyra Schweizer, Soofa's director of city growth, says the company has changed the layout of its signs so that there is a permanent space constantly broadcasting city updates along with any local business advertisements. Plus, there's a live display of the city's Twitter feed for even more up-to-date information. The goal is to close the digital divide that has become increasingly apparent in this pandemic and provide people with accurate information quickly.
"Right now, especially with COVID-19, the need to communicate with constituents is even more important," Schweizer told Built In. "I think people have just become saturated with conflicting pieces of information online. You see things on the news or on your Facebook feed and you don't really know what to trust or what's actually official anymore. But if people were to go on a walk and see city-branded messages with updates that say, 'schools are closed until this time,' or 'go to this site if you want to know what homeless shelters that are available,' or pick-up hours for to-go meals, it's a much more effective way to get out that information."
The data gathered by the pedestrian sensors on the signs will now be used by city governments to better understand how citizens' movement has changed as a result of the pandemic and what areas are still experiencing dense foot traffic. While Massachusetts has been vocal about its support of contact tracing, Schweizer made it clear that the company does not collect any personal information with its technology, so it will not be used as any sort of contact tracing tool.
In addition to working with government officials, Soofa is offering free space on its signs for community members to share messages of gratitude for healthcare and essential workers. The company is also offering a free subscription to local businesses who want to advertise their takeout and delivery services, hiring announcements and online offerings.
Schwiezer says Soofa's signs are also in Atlanta and that the company is in talks with many other cities around the country to get its signs installed.