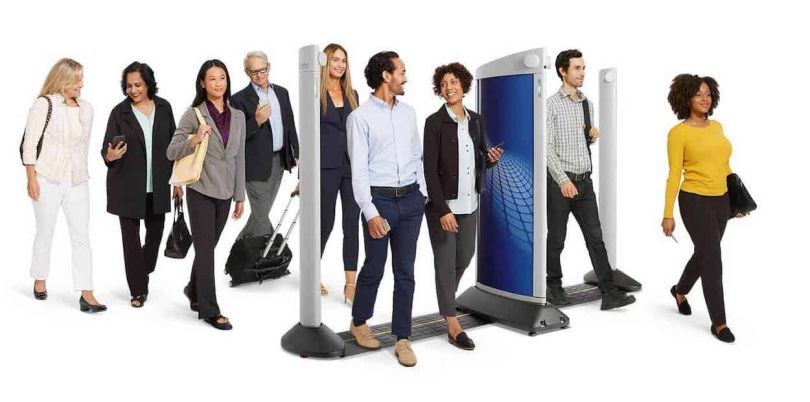 It's a familiar scene: You're only moderately late arriving at the airport, walking briskly through the sliding doors. You're alert but not panicked — you've got time. Then, you turn the corner and see the security line, with rows and rows of people taking off their coats and shoes, hoisting luggage onto conveyor belts and cautiously moving through X-ray machines.
Your heart sinks.
Evolv Technology, a Waltham-based startup that makes security screening technology, has a different scene in mind. Today, the company announced it raised $30 million in Series C funding with participation from former Florida Governor Jeb Bush's firm, Finback Investment Partners. Existing investors, including Bill Gates, DCVC (Data Collective) and Lux Capital also contributed.
Unlike the more standard scanners seen in airports today that have you stop and pose with arms up and legs spread for three seconds, Evolv's Edge allows people to walk straight through without stopping. By tapping into AI, machine learning, millimeter wave sensing and cameras, the self-contained and portable gates can distinguish in real time between harmless items like cell phones and keys and potentially dangerous ones like weapons and bombs.
This means they don't require travelers to take off their clothes or empty their pockets.
Evolv also offers an additional feature called Pinpoint, which uses an IP camera to capture images of people's faces and, within seconds, checks identities against a database of lists for everything from employee rosters to persons of interest.
Those who do not have proper security clearance or get flagged for their criminal records are screened for manual review.  
"Evolv is the human security company that delivers the best approach to maintaining society's freedom of movement while dramatically reducing threats to our schools, places of worship, entertainment venues and other public spaces," cybersecurity veteran and company CEO Peter George said in a statement. "Our systems remove the tradeoff between safety and the inconvenience of an intrusive screening experience."
The company has been piloting its product throughout the country for years. In 2017, the Los Angeles County Metropolitan Transportation Authority tested Edges in train stations. Last year, Evolv deployed its scanners in Oakland International Airport to streamline employee screening.
Most recently, the company installed scanners at the Lincoln Center and World Trade Center PATH stations in NYC, Heinz Hall in Pittsburgh, Gillette Stadium in Foxborough, Dorman High School's freshman campus in South Carolina and several undisclosed LL Bean locations.
According to Evolv, Edge can scan more than 800 people an hour, making it more efficient than the 250 people per hour scanned by conventional airport security machines. However, the company hasn't made its threat detection rates public beyond claiming to have "screened over 50 million people, preventing over 5,000 weapons from entering venues and places of work."
The company also has an experienced board, boasting several former CIA and FBI members, the former head of secret service and a former White House National Security advisor. To date, Evolv has raised a total of $75 million and says this most recent funding will be used to expand sales, marketing, customer support, channel programs and product development.