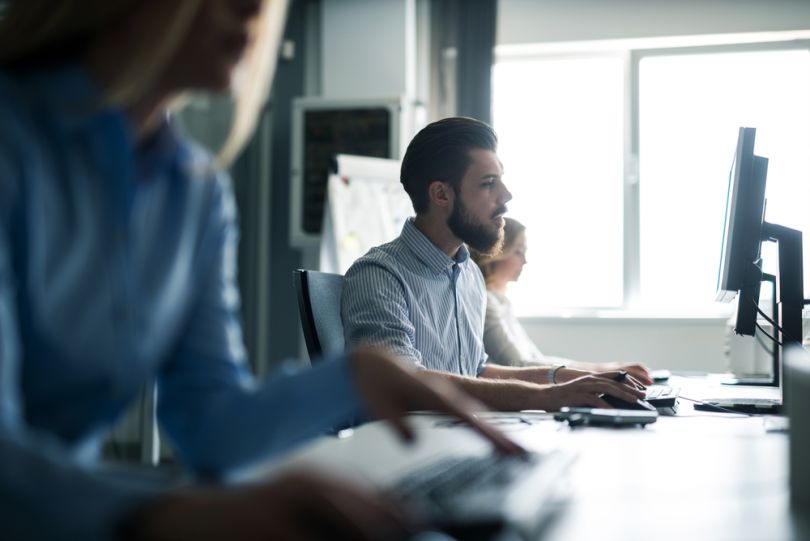 Search for "hacker" on a stock photo website, and you'll get images of shadowy figures in black hoodies rubbing their hands together menacingly in front of stacks of sinister-looking hard drives. 
Search for "employee," and you get this guy:
No wonder external security threats get more attention than the internal ones. 
Unfortunately, that habit sets companies up for breaches. Insiders — whether that's someone on a company's payroll or an employee at one of a company's vendors — are responsible for half of data breaches, according to the 2019 Verizon Insider Threat report. 
These insider breaches take multiple forms. Maybe a sleepy employee carelessly opens a phishing email. Maybe a disgruntled middle manager moves sensitive client data to his personal Dropbox before politely resigning in a blaze of glory. Maybe that mild-mannered engineer is actually a secret operative funneling intellectual property to foreign governments in exchange for cash. (It happens.)
To protect against breaches, companies often rely on IT rules that control how and when employees can move data. These rules can become ineffective, however, if a bad actor encrypts data or otherwise circumvents the company's policies. 
Cybersecurity platform provider Cyberhaven takes a different tact. Its analytics track data's behavior, rather than trying to regulate it. If a breach is detected or suspected, companies have access to all their data's movement across endpoints, servers and applications — on premise or in the cloud. This helps them react immediately to threats instead of piecing together evidence from different computing environments. 
The company announced today it raised $13 million in Series A funding to support the launch of its platform, which draws on research from the company's five co-founders, all of whom have PhDs in computer systems and security. Collectively, they've held research positions at institutions including Stanford, Massachusetts Institute of Technology, Swiss Federal Institute of Technology and University of California Berkeley.
Cyberhaven has offices in Boston, Palo Alto, Switzerland and Ukraine. It's currently hiring for a director of product marketing and a senior UX designer at its Boston headquarters.
The company's total funding is $15.5 million, according to Crunchbase.