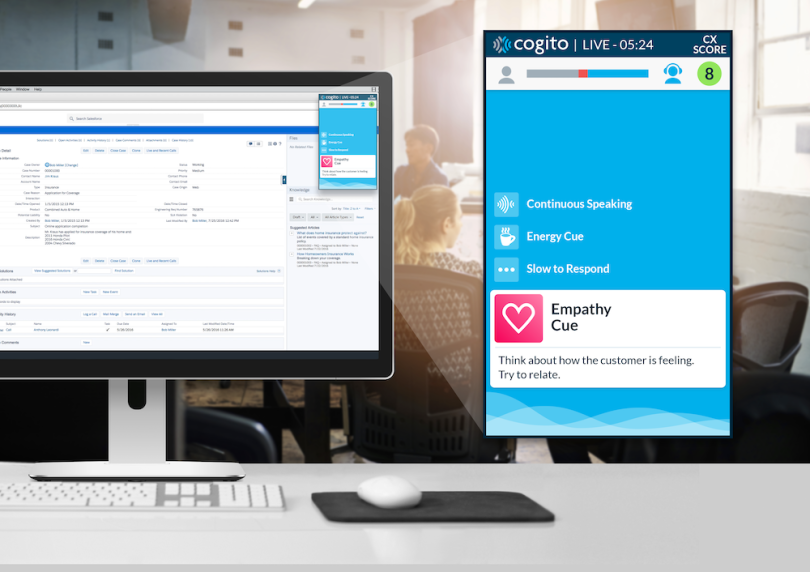 When it comes to communication, how you say something is just as important as what you say.
As humans, we rely just as much on vocal cues like our pitch, tone and speed of speech to get our message across as we do verbal ones. Those patterns can indicate anxiety, disappointment, confusion or just plain anger. They can also help a person convey empathy or compassion.
We're like an AI coach providing behavioral guidance throughout a phone call."
For a call center worker, those cues are critical in connecting with a customer and solving their problem. Unfortunately, over the course of dozens or hundreds of calls a day, it can be difficult to pick up on each one.
Cogito hopes to help call centers bring empathy back into the conversation through its emotional AI tool. The Boston-based company announced on Thursday that it has raised $20 million to boost those efforts. 
The funding will be used to help the company expand its go-to market efforts, Steve Kraus, Cogito's VP of Marketing, told Built In.
"We've proven our product-market fit and have been adopted by huge companies like Humana and MetLife," Kraus said. "So there's a strong belief in ourselves and our investors that we should capitalize on the market faster and expand to different markets and portfolios."
Cogito's emotional AI tool is based on research into the power of social signals in human communication conducted by professors at MIT Dynamics. They found that humans are constantly emitting signals through their voices, body gestures and facial reactions. Cogito, which launched in 2007, set out to create an AI tool that homed in on those vocal changes and read them for emotion clues the same way we do.   
Armed with a team of behavioral scientists and data analysts, the company trained its AI on labeled conversations for varying emotions like apathy, anger, anxiety, confusion and more. The company also has an algorithm designed to detect any potential data bias, Kraus said. 
The tool then operates as a call center coach, offering tips on how a call center worker can improve their conversation in real time. Those tips might be as small as slowing down their speech or important reminders to stop interrupting the customer. Those nudges, as Kraus calls them, can go a long way toward creating an atmosphere where the customer feels like they're being cared for.
"We're like an AI coach providing behavioral guidance throughout a phone call," Kraus said. "We also generate a live measure of a customer's perception of the conversation. It's great feedback for an agent to help them adjust their behavior and for companies to see microtrends on how they're interacting with customers.
Cogito focuses on providing its services to large commercial call centers, primarily within health insurance and financial services. The company plans to use the new funds to expand the markets its software serves, focusing on high-end retail, telecommunications and the travel and hospitality industries.
Cogito also plans to use the funds to significantly grow its 150 person team. The company aims to reach 250 employees by the end of 2020, and then 300 by 2021.
New York Life Ventures, Salesforce Ventures and Goldman Sachs Growth Equity all participated in the round.