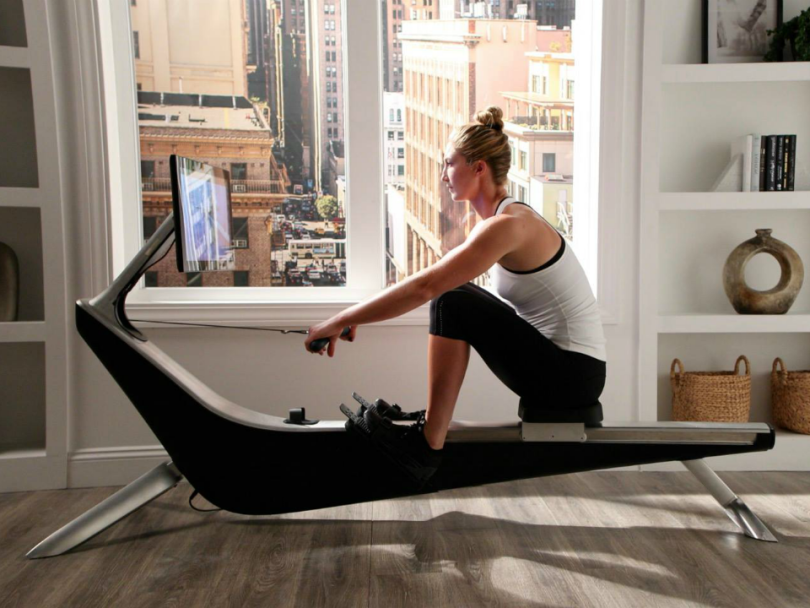 In recent years, at-home fitness has taken a decidedly immersive turn. Companies like Peloton and Mirror are building fitness equipment and platforms that transform living rooms into boutique fitness studios.
Today, Cambridge-based Hydrow raised a $27 million Series A to bring rowing into the future of fitness.
Founded in 2017 by entrepreneur and U.S. Rowing Coach Bruce Smith, Hydrow is a rowing machine and fitness platform that's designed to create a truly submersive — sorry, immersive, workout. As someone who finds rowing surprisingly enjoyable, this writer is decidedly here for it.
The Hydrow machine, which retails for $2,199, is an upgrade from the Concept 2 rowers you may find at many high-end gyms. While similar in dimensions to traditional rowers, it is lighter and more portable — designed with storage in mind.
The machine boasts a 22-inch LCD display with Wi-Fi, USB and Bluetooth connectivity. The large screen is designed to create an "on the water" experience for users, who can select from more than 500 filmed outdoor rows, in addition to a regular schedule of live rows hosted by top athletes in the field.
In a statement, Founder and CEO Smith described the goals of Hydrow as being bigger than simply burning calories: "Since we founded Hydrow, our goal has been to help people achieve whole health by not only engaging the body physically, but also engaging the mind by creating a sense of community and connectedness through rowing."
Hydrow plans to use its latest round of funding to fuel backend operations as the company officially begins sending its product to market today.
The company has raised a substantial amount of funding in the last year alone: last fall, the company raised $1 million via Indiegogo, smashing its $100,000 goal in just four minutes.
This was followed by a $5 million seed round, and $20 million private equity round this past February. With more than $53 million in total funding less than two years after setting up shop, Hydrow is already making waves.