When CrunchTime's CEO asked the company's marketing manager, Stephen Stone, for input on the direction of the marketing team just days into the job, Stone quickly learned: There is no room for bystanders inside CrunchTime's product kitchen.
It's that frequent exchange of ideas and experiences that gives the company's back office restaurant platform its sizzle. We spoke with three employees at CrunchTime to learn more about the key ingredients for innovation and why they have a strong distaste for the status quo.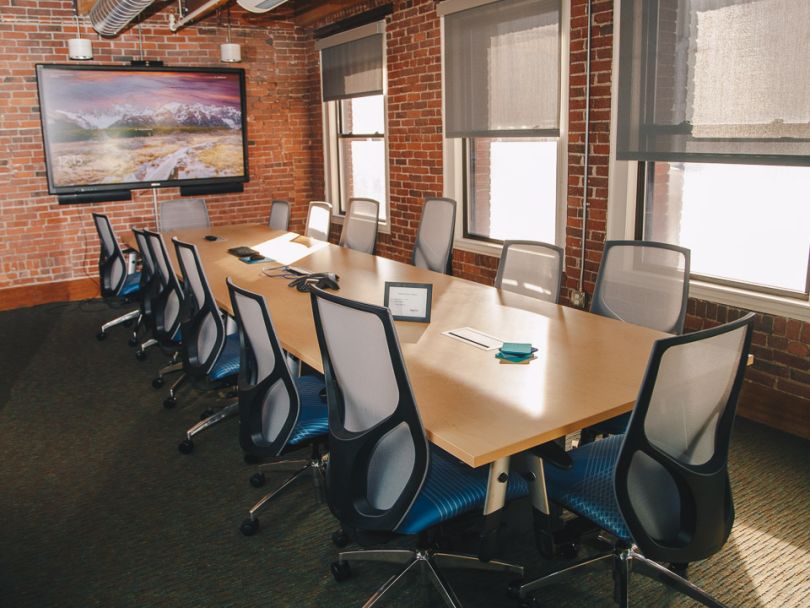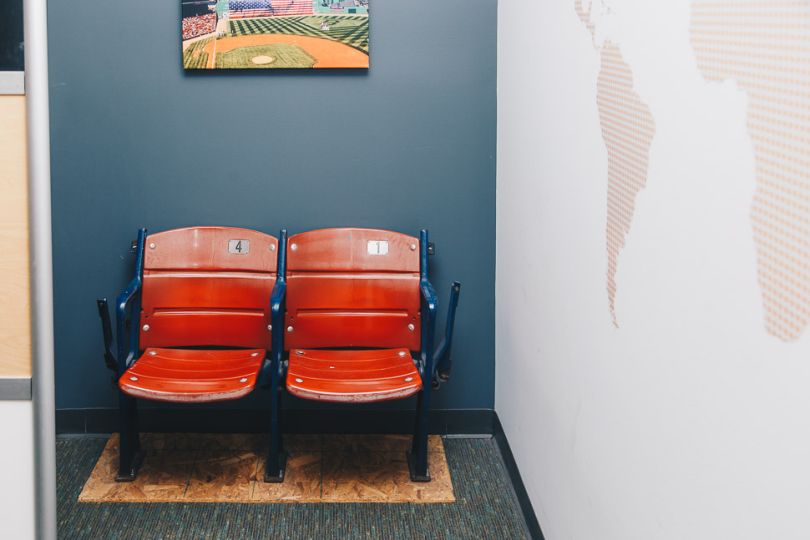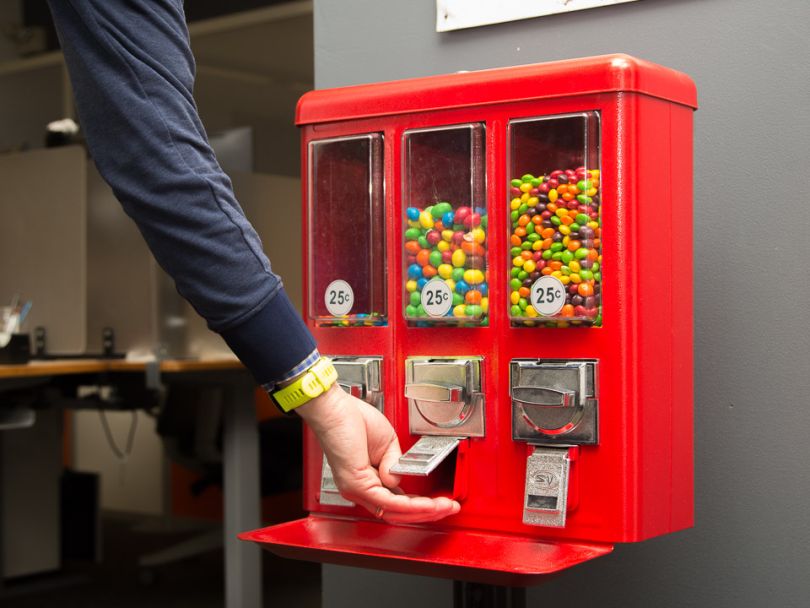 FOUNDED: 1995
EMPLOYEES: 170 (120 local)
WHAT THEY DO: CrunchTime provides a back-office platform that helps restaurants and the hospitality industry manage their food inventory and labor operations.
WHERE THEY DO IT: Boston
SCARY BEAR: Don't be surprised to see a stuffed teddy bear head on someone's desk. His name is Scary Bear, and per CrunchTime tradition, it signifies that that lucky person is a new employee who completed their first successful presentation.
THE PERKS: CrunchTime offers employees a competitive parental leave policy and a matching 401(k) program.
SETTING THE TABLE: Meet the team who paves the way for innovation at CrunchTime. Learn more.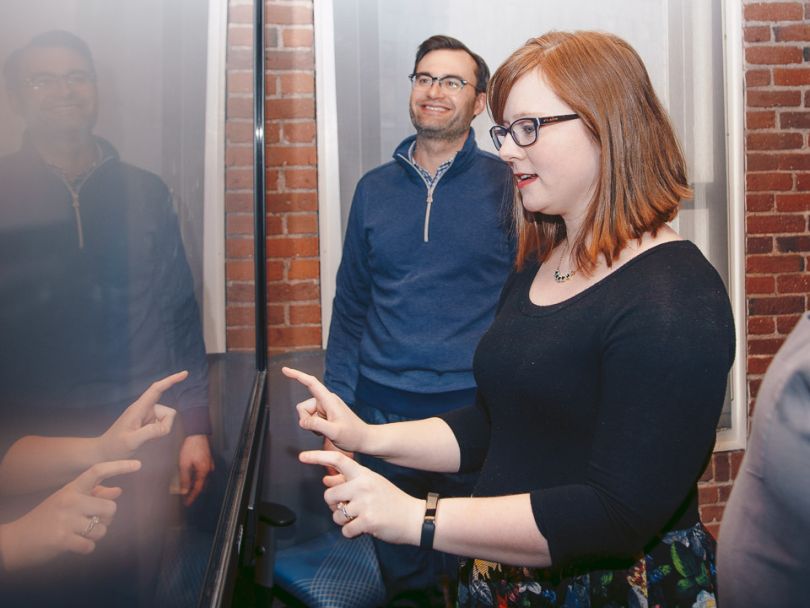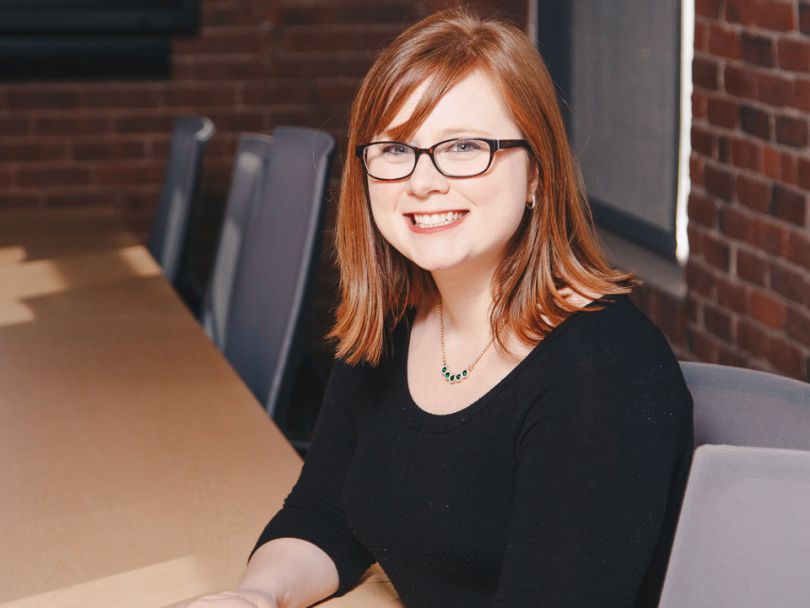 Katie Barriga, Business Analyst
Katie helps deliver projects on time. In a given project, she writes specifications, manages a scrum team, helps test developer work, and answers questions as they arise during a project.
BEYOND WORK: Katie is an avid board game player, a hobby that has taught her how to see the bigger picture when she makes decisions and how to provide clear guidelines. Just be sure to keep an eye on her during a board game — she loves plotting mischief.   
What attracted you to join CrunchTime?
I worked as a barista and shift supervisor at Starbucks for six years while I earned my masters in publishing and writing. I then worked in e-book publishing for several years, where I focused on content management and internal software enhancements. I joined CrunchTime because it's somewhere that truly cared about all of my work experience — not just my office job.
It's equally important that I understand what it's like to manage a line out the door on a busy Saturday while you're short staffed, the air conditioning is broken, and the last thing you need is to deal with a software that doesn't work.
I joined CrunchTime because it's somewhere that truly cared about all of my work experience — not just my office job."
How does collaboration spark an innovative solution at CrunchTime?
I recently worked on adding a new report that helps users plan "in-between" food preparation tasks, like chopping onions and thawing fish. The request came from a client. While we had clear guidelines of what to do, I frequently talked with members from client services who added feedback to the process. They made suggestions like including the ability to print count sheets for non-inventory items or prompting hourly suggestions instead of daily.
That feedback helped us provide a better product that met several clients' needs instead of just one and gave us a lot of ideas for making the report better in the future.
What's your favorite company tradition?
In our previous office, someone found a toy stuffed bear head that we've since named Scary Bear. Scary Bear is awarded to employees who have finished their training and are able to successfully teach back their presentation, and it is theirs to cherish until the next new person finishes training. No matter what department you work in, if you had to give a presentation as part of training, you get to keep Scary Bear. It was a simple way to make me feel like I belonged and was part of the team.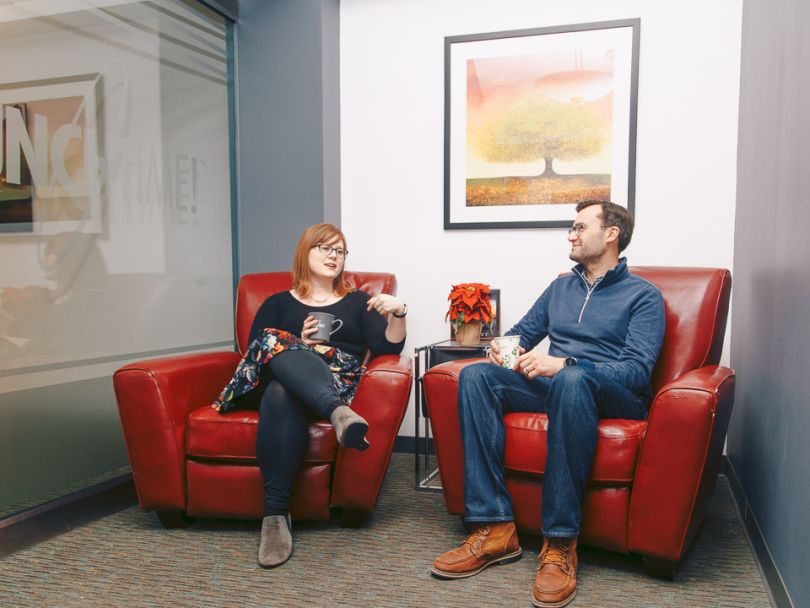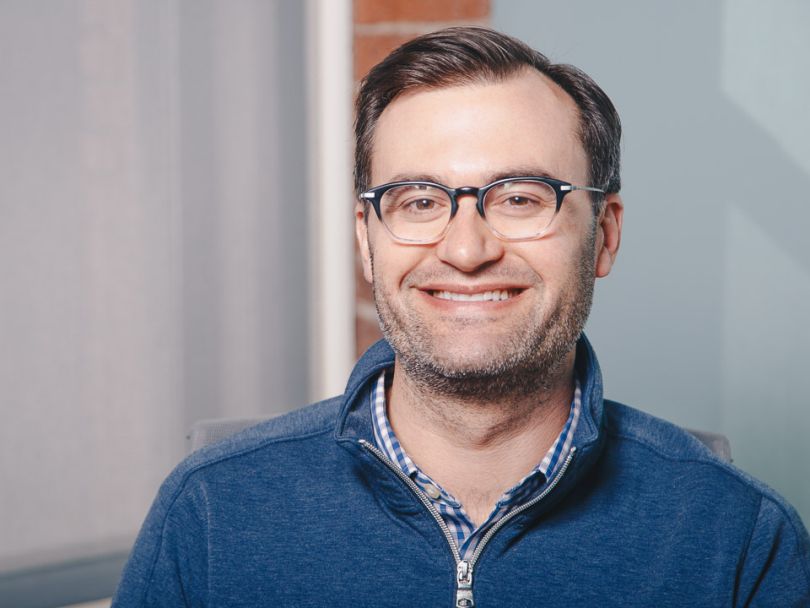 Garrett Tietjen, Business Analyst
Garrett works on CrunchTime's labor management products. He removes project roadblocks and tracks labor statutes to make sure CrunchTime's platform has the necessary ingredients to comply with labor laws.
BEYOND WORK: For Garrett, there may be no better endurance trainer than his energetic 3-year-old daughter. His "coach" keeps him shape as he participates in endurance trail runs and triathlons.   
What are CrunchTime's values, and how do you see those come out in the workplace?
One of our core values is having transparency for all employees on individual team processes. We make planned development stories available well before we start working on them. This gives visibility to anyone interested in what's next and insight into what we are doing. It also gives stakeholders an opportunity to chime in with feedback or alternate needs.
What would you consider the key ingredients to an innovative team?
Having a diverse team in terms of skill sets and backgrounds creates a smarter team that is able to scrutinize problems from different perspectives and solve them. While previous experience and proven track record are important, it's just as important to be a problem solver. No matter what your role is, being able to understand a problem or project, organize your approach, and communicate your thoughts is crucial for my team.
No matter what your role is, being able to understand a problem or project, organize your approach, and communicate your thoughts is crucial for my team."
What's your favorite part of your company's culture?  
Once a year, all employees are invited to a social gathering with our clients. It gives everyone at CrunchTime the opportunity to get to know our clients and the way they use our software. It also allows our clients to put a face with a name and get to know who is developing and supporting the product they use daily.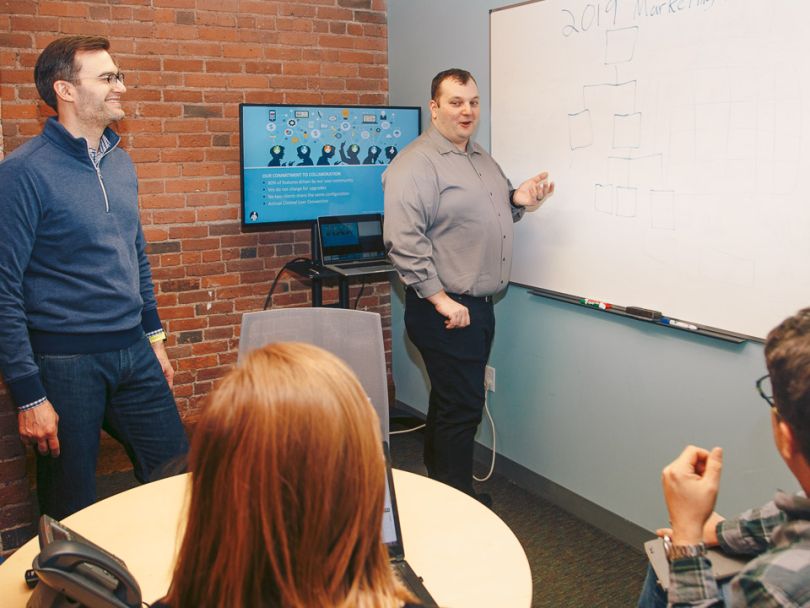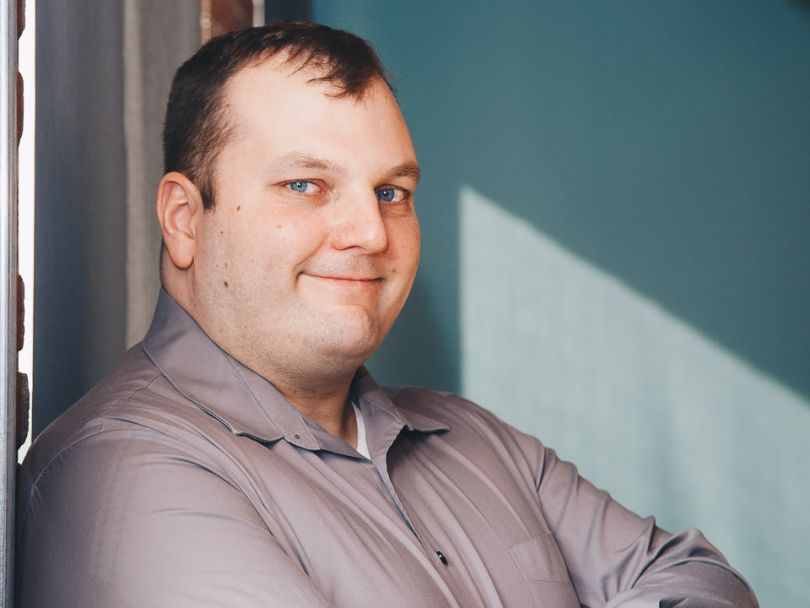 Stephen Stone, Marketing Manager
Stephen serves up a number of CrunchTime's marketing initiatives while managing its blog and social media content. His goal is to attract prospective customers and establish CrunchTime as a thought leader for restaurant management software.
BEYOND WORK: Working steps away from Boston's TD Garden was a dream come true for Stephen. He's an avid Boston Celtics fan and a season ticket holder.
What are some ways CrunchTime promotes or encourages innovation?
No one is allowed to accept the status quo. If you're hired to work here, it's because the person who hired you believes you can bring new ideas to the forefront — I learned this very quickly. I was in a meeting with my boss and our CEO, and we were discussing the marketing plan for the upcoming year. For the first few minutes of the meeting, I sat and listened as they discussed the direction of the marketing team. Then the CEO stopped, turned to me and said, "You're in this meeting because I want your ideas. I would very much like you to contribute."
From that point on, I shared how I felt we should solve the company's current marketing challenges and offered examples from my previous work experience. The CEO was interested in what I had to say, and some of my ideas were used in the 2019 marketing plan.
If you're hired to work here, it's because the person who hired you believes you can bring new ideas to the forefront — I learned this very quickly." 
How does CrunchTime's culture influence the product or the way teams work?
CrunchTime values the ideas and inputs of every employee, and because most of those employees have restaurant experience, we are always thinking of new and innovative ways to improve restaurant management processes. Some of the higher-ups within the company have worked here for a long time, and their restaurant experience may be from more than 20 years ago. New hires often bring the most recent restaurant experience, and their insights into how modern restaurants work are valuable for a company that is innovating restaurant management.
What are some activities you've done with your colleagues outside of work?
There are plenty of places to go in the neighborhood for lunch or after work food and drinks, and you will often find several CrunchTimers spending time together outside the office. There is a restaurant near the office where I can always find coworkers after work. It's good to know that if you need to unwind after a hard day, there will always be a fellow CrunchTimer there for you in a friendly environment outside the office.
We also pride ourselves on participating in charity events and athletic competitions. We volunteer at soup kitchens and have hosted events like road races and ping-pong tournaments.