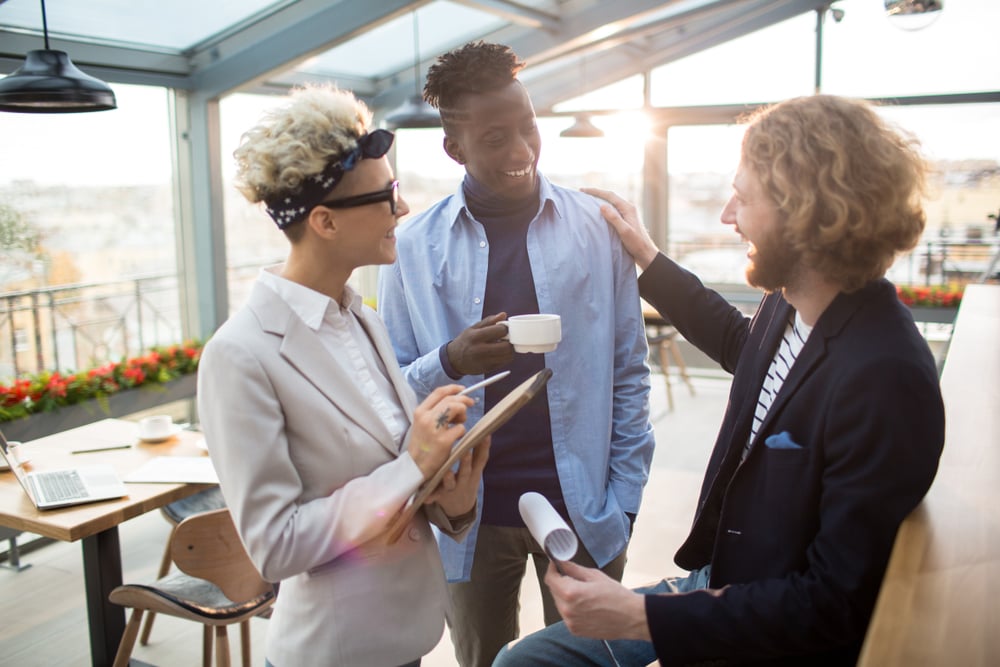 Employee benefits have come a long way from your standard 401(k).
While saving for retirement is undoubtedly cool, many companies are starting to offer professional development perks and benefits that help their employees continuously grow. We caught up with four Boston tech companies to learn more.
At fast-growing 3D printing company Markforged, Associate Application Engineer Michelle Gagnon said she's learned more about 3D modeling than she ever anticipated.
What position were you hired for at Markforged?
I was originally hired as a customer solutions engineer, in charge of troubleshooting and solving customer issues as well as building out comprehensive technical documentation for all of our printers. 
How have you transitioned to broaden your skill set?
After about 15 months on the customer solutions team, I moved over to the application engineering team. In my new role, I've learned significantly more about 3D modeling, additive manufacturing design concepts and also about sales organizations.
What's the coolest unexpected skill you've added to your resume since joining?
Technical training and creating content for educational purposes. I've had the opportunity to build out and deliver technical training during my time at Markforged, and I've definitely seen a lot of improvement in those skills that I didn't expect.
Any other awesome professional development opportunities?
I've had the opportunity to attend quite a few trade shows and customer-facing events, which has given me a chance to network with a wide array of people and learn about many different facets of the manufacturing industry, first-hand from industry professionals.
Panorama Education is an edtech startup that offers students and teachers surveys that assess their social skills, emotional development and family engagement. Finance Manager Susie Jabaily said the company allowed her to shift from a role in talent and operations to finance, and she's no longer scared of a blank Excel spreadsheet.
What role were you hired for at Panorama Education?
I was hired at Panorama Education in March 2014 as our 9th full-time employee and first operations manager. I didn't really have a great sense of what it meant to be an operations manager, as I was coming from Apple, where I focused on staffing for retail stores, so it was very much a shift. But it was an awesome shift. I was searching for a new challenge and an operations-focused role provided the opportunity to help build some foundational pieces of how Panorama functions.
How have you transitioned laterally to broaden your skill set?
I was intrigued by the idea of joining our finance team because I wanted to better understand how we make decisions as an organization, and how we take into consideration all types of factors to ensure that we're a sustainable company. I had really great exposure to part of that equation in operations, but I didn't know how finances affect our decision-making. Learning that was really exciting to me, and was why I moved into a finance manager role in early 2018. Getting the opportunity to try something different at Panorama was huge.
What's the coolest unexpected skill you've added to your resume since joining?
This is embarrassing, but Excel had always been this distant thing looming over me. Do I put on my resume that I have experience using Microsoft Office and Excel? For sure. But could I actually do fancy stuff in Excel with my eyes closed? No way.
Now, I'm growing to really dig Excel and what it helps us accomplish. I'm no longer afraid to start with a blank spreadsheet and see how I can build something to generate information and provide insight into the work that we're doing. I am pretty detailed-oriented, so it's nice to have tasks that hinge on everything being perfect. There's something really comforting about that, compared to talent and operations work, where there often isn't one right answer.
Any other awesome professional development opportunities?
I enjoy learning things on the job. I love learning from my own mistakes and gaining skills as I go, so I haven't taken a super structured approach to professional development here. But I suspect this is possible because I am surrounded by a team of brilliant and generous people who are constantly supporting me and providing honest feedback.
ASICS Digital creates mobile fitness solutions, like Runkeeper, that help people stay healthy and active. Danielle Cohen, director of product management, said her company let her transition from mobile engineering to leading an entire product development team.
What position were you hired for at ASICS Digital?
I was hired as a mobile software engineer and initially focused on building out "Runkeeper Challenges." Despite my background being more focused in mobile development, my teammates encouraged me to try my hand at architecting some of Runkeeper's back-end systems. Over the course of the next couple years, I got the chance to write code for our iPhone app, Android app, website, server and emails.
How have you transitioned laterally to broaden your skill set?
Just over a year into my Runkeeper career, I transitioned from the product engineering team to the platforms engineering team. I went from working on a mobile-focused interdisciplinary product pod to being embedded with our server, site reliability and data engineers. Here, I have learned more about how to architect scalable backend systems, how to provide operational support, how to write unbiased user surveys and how to perform data deep dives.
As I dove into both quantitative and eventually qualitative data, I became more interested in not only building software correctly, but also making sure I was building software that actually solved user problems. With some help from my direct manager and guidance from the existing PMs in the company, I transitioned into a product management role.
What's the coolest unexpected skill you've added to your resume since joining?
It's hard to pick just one. I never thought my job as an engineer on a mobile app would one day lead me to working with the staff of London stores to bridge the gap between physical retail and digital experiences. As a product manager at Runkeeper and now at ASICS Digital, I've learned how to conduct and learn from user interviews, how to communicate with stakeholders who have different backgrounds and motivations, and how to motivate a multidisciplinary team through tough work and tight deadlines.
Any other awesome professional development opportunities?
Runkeeper and ASICS Digital connected me to the rich technical community in Boston. I've become a part of local networks, I've gotten to speak at meetups and, above all else, I've met amazing people in the Boston community who continue to teach me new things.
Whether you're interested in flying over the Grand Canyon in a helicopter or taking a surfing lesson on Bondi Beach, Cambridge-based PlacePass aims to be the travel tech company that gives you the hookup with its metasearch service for destination experiences. Elliot Kardon, senior data analyst, said PlacePass has given him tons of face-time with clients, allowing him to broaden his client management skills.
What position were you hired for at PlacePass?
I was hired as a senior data analyst with a focus on using data to help our team make smarter product and business decisions. At the outset, my role was primarily internal-facing, focused on establishing a strong data analytics infrastructure and sharing insights with stakeholders throughout the organization.
How have you transitioned laterally to broaden your skill set?
Since I joined about a year ago, we have forged partnerships with several leaders in the travel industry, including Marriott, to power activity booking capabilities for their guests. My focus has shifted from a primarily internal role, working on product and marketing analytics, to a more partner-facing role where I'm communicating insights to our major travel industry partners. I'm still focused on driving decisions internally with data, but a major part of my time is now spent interfacing with partner brands to help them better understand their customers, marketing channels and product performance. This transition has helped me broaden my client management skills, on top of the analytical skills I was already developing in the role.
What's the coolest unexpected skill you've added to your resume since joining?
I've become a near expert in our web analytics tool, Mixpanel — a product I'd never used before. I've been involved with defining tracking requirements, implementation, testing, analysis and even contract negotiations. It's cool to see a product like that end to end!
Any other awesome professional development opportunities?
I've been fortunate to be heavily involved in recruiting and interviewing candidates. I've actually successfully referred two other friends of mine to roles at PlacePass. The recruiting and interview process is very important at such a small company, and I've been lucky to play a major role in this process and influence the makeup of our company.