Working in sales at a tech company can be intense: Your job is to keep the business afloat by knowing all the intricacies of your company's product while consistently hitting your targets. It's no small feat, but if you've got the entrepreneurial spirit, the opportunities can seem boundless. Itching for a new opportunity? The following four companies are ramping up sales recruitment for Q1. Here's what it's like to join their sales squads.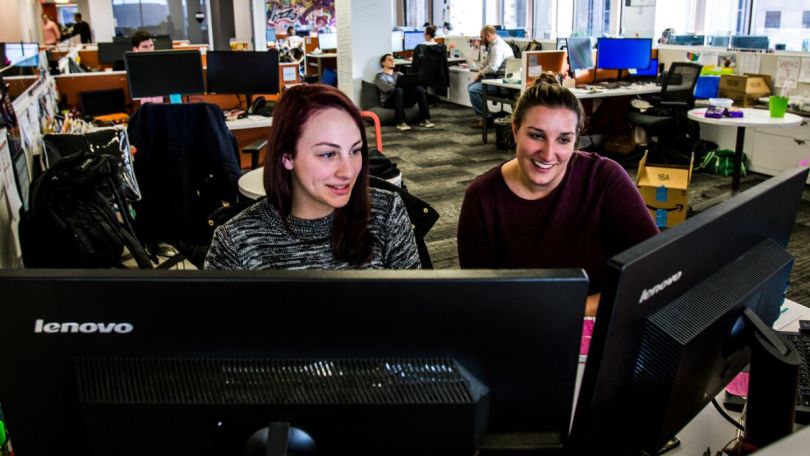 John O'Donnell, director of sales, shares why selling for cybersecurity company Rapid7 is unique — and fun.
What's unique about selling at your tech company?
Rapid7 has a set of core values that truly drive the way the we operate — more so than I've seen at any other organization. One of those core values is teamwork...and it's highly evident on the sales floor. Selling at Rapid7 is unique for one main reason: We don't lose alone. From Corey (our CEO) down, everyone across the company will 'pick up a shovel' to do whatever it takes to bring Rapid7 to the next level.
What makes your top salespeople successful?
Our top salespeople achieve success by running their territory like entrepreneurs. These leaders show passion for what they do and regularly take disciplined risks. They identify new markets and explore new use cases that help solve real problems for our clients. They're dedicated to listening to our customers in order to understand what's important to them and working with them to be successful.
What does career development look like for salespeople at your company?
We put a lot of focus on training our internal sales team and helping them progress from entry positions to managers. Right now, about 13 of our current managers started as account executives and the majority of our current account executives were hired as BDRs out of school or for their first sales job.
How does this team celebrate when you hit target?
We celebrate our successes in many ways, but most people's favorite is getting together over dinner or drinks...many times at a dive bar where everyone can loosen up and have fun together as one big family. We have a team that enjoys spending time together — an intangible that's impossible to force — and it's awesome to be a part of.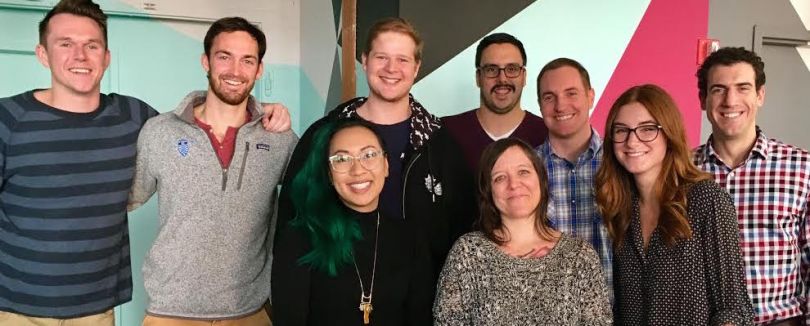 Eric Souza, director of sales, shares why selling for video and audio captioning service 3Play Media is special: Their product truly helps people.
What's unique about selling at your tech company?
Selling at 3Play Media gives our sales people the unique opportunity to be one of the few companies selling products and services that make content accessible to audiences with disabilities. We sell video accessibility services, and we are constantly receiving feedback from our customers about how we have positively impacted the lives of their viewers. That is not something you can say about all sales jobs, and we are proud to sell something that helps people.
What makes your top salespeople successful?
No matter what you sell, hard work is the biggest differentiator between average sales reps and top sales reps. The best reps continue to put in time to learn the intricacies of our products even after they are fully ramped up. Their continued desire to expand their project and industry knowledge so they can be more effective in selling to and assisting our customers really sets top salespeople apart.  
What does career development look like for salespeople at your company?
Sales is the fastest growing department at 3Play Media. Reps have been promoted within the team and to other departments across the company. We value their professional development, and schedule routine training sessions on product updates and sales tactics so they can continue to grow. Each rep meets with their manager monthly to discuss feedback and career goals.  
How does this team celebrate when you hit target?
The team enjoys participating in individual and team contests throughout the quarter.  Prizes can be anything from gift cards to game tickets to the coveted "championship belt." To celebrate the end of the quarter, we will typically go bowling or get drinks as a team at one of the many bars in the Seaport. When we hit our stretch goals, we have a tradition of going out to a steak dinner.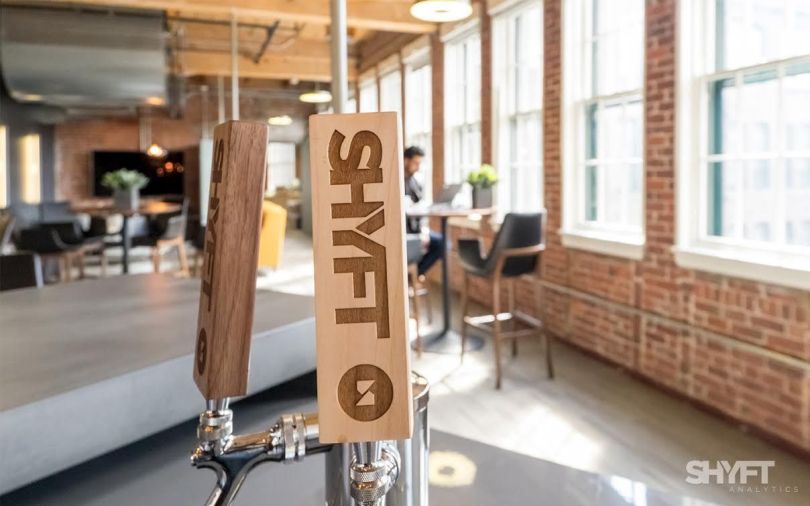 SHYFT Analytics, a startup providing an analytics cloud platform for life sciences and healthcare organizations, is doing a lot of hiring in Q1. Senior vice president of sales Matt McGinty shares some of the awesome ways their team celebrates hitting targets.
What's unique about selling at your tech company?
First and foremost, it's how we sell. Do our products differentiate us? Yes! Our customers? Yes! Our service? Yes! We need to get to the point where our products, service and customer network is useful, however. We only do that if we give the customer the opportunity to tell us what they are struggling with or the opportunity cost they're looking to fulfill. We do that by being quiet and listening to them first and foremost rather than telling them how we'll help before we even know if we can.
What makes your top salespeople successful?
Attitude, behaviors and technique. Attitude is how our reps feel about their personal ability to succeed, the company and the market. Maturing sales people tend to focus on sales techniques. They start with their attitude and success flows from there. We don't manage to "close deals," we manage to cultivate the behaviors we need to fill our pipeline. Based on good consultative enterprise selling techniques, our most successful reps naturally "close" what they're supposed to close vs. what we want to close. It's not about us, it's about the customer. The last step is technique, the area where most reps tend to spend too much time. That said, we have and will continue to implement value-based selling systems and methodologies that enable us as salespeople to properly guide a SHYFT customer through the buying process rather than us pushing our selling process.
What does career development look like for salespeople at your company?
Hold on tight! We are growing rapidly. For a salesperson in inside sales, direct sales or account management who meets SHYFT's core values and is willing to implement the right attitude, behaviors and technique, the sky's the limit. There is no cliché or over-promising here either. We already have demonstrable examples of revenue folks who have exceeded expectations and therefore have seen opportunity for growth either with territory/responsibility or leadership.
How does this team celebrate when you hit target?
We have a number of ways. First and foremost, we celebrate in public and provide constructive feedback in private which aligns with our core values of embracing the team. We also have quarterly team meetings to celebrate success and quarterly spiffs. For reference, our top rep in Q4 by region is also walking away with an iPhone X, customized SHYFT case, plus dinner and a show with their significant other. We have fun and embrace the team here — sales is no different. In fact, we often set the tone.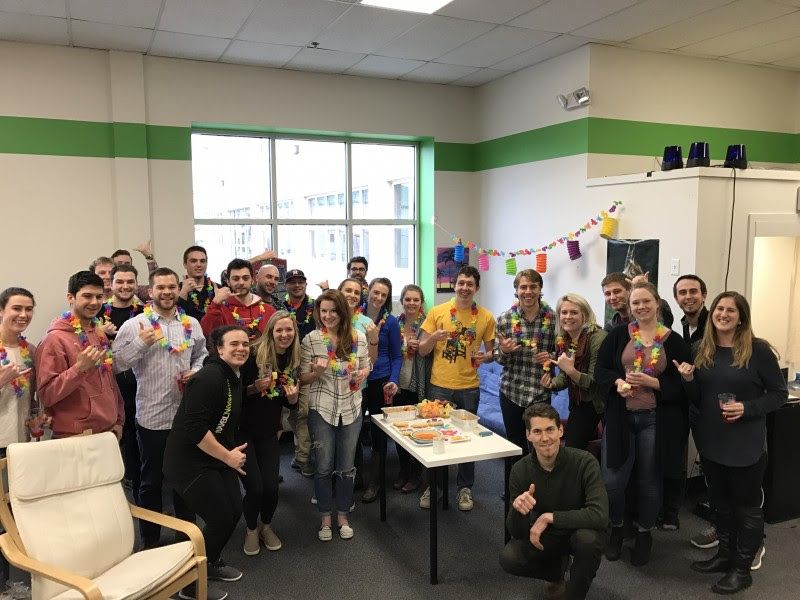 Working on the sales team at FareHarbor, a fast-growing reservation platform for the tours and activity industry, means knowing the ins and outs of selling experiences like ziplining, hiking and scuba diving. Sounds pretty fun, right?
What's unique about selling at your tech company?
We work in the tours and activities industry, which consists of the most amazing clients on earth. One hour an account executive could be talking to a zipline operator in Alaska discussing how to help improve their customer check-in process, and the next he or she could be discussing how to increase the online revenue of an ATV rental company in Utah. Not only have our team members become product experts, but they have also become very knowledgeable about the tours and activities and travel industries.
What makes your top salespeople successful?
Our top salespeople end up being more of a consultant to the companies that they work with. Rather than simply selling a product, our top account executives really get to know each company they work with to help improve their operation. In order to do that, AEs must understand the ins and outs of the industry and relay this knowledge to new companies they start working with. The ability to retain and apply information is huge.
What does career development look like for salespeople at your company?
The possibilities for our salespeople are endless, but in the immediate future, the main opportunity is to help expand our sales team internationally. Currently, we have a small team who work out of our Boston office reaching out to the UK, France, Germany and Spain. We will be expanding efforts very quickly in these countries and adding more to the list in the very near future. That being said, we are always looking for bilingual candidates.
In addition, there are many other rooms for growth within our sales team. We are growing our enterprise sales team and there are many leadership opportunities in other departments within the company. Our VP of global product, VP of account management and our VP of business development all have a sales background.
How does this team celebrate when you hit target?
We celebrate victories in many different ways. Our office is very collaborative and thrives on knowledge. After a big close, we take every chance we can to share best practices and war stories over drinks in the office or at our local bar. There are many opportunities to travel to help get a company live (AEs have been to places like Tampa, FL, Moab, UT, North Conway, NH and many, many more).