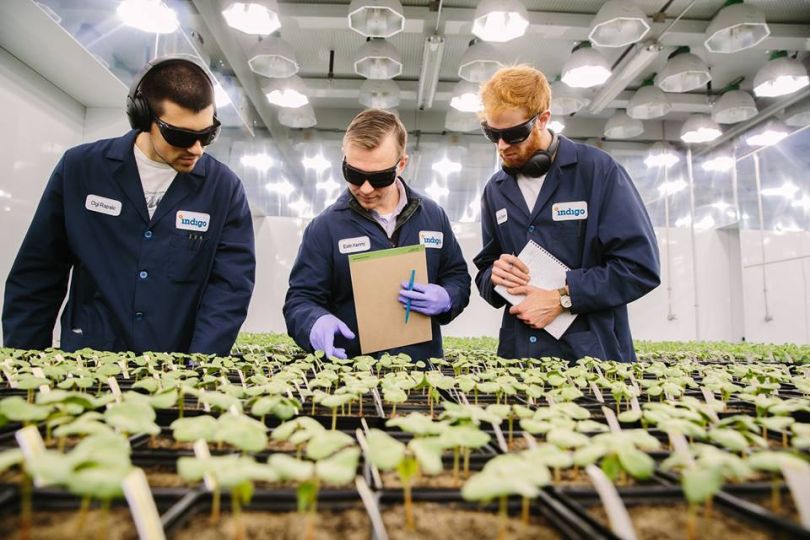 There's a new unicorn in town.
Agtech startup Indigo announced the closing of a $156M Series D round this week, bringing the company's valuation to $1.4 billion.
The last Boston startup to achieve this status was 3D printing startup Desktop Metal, which raised $115 million in July.
New investors Baillie Gifford and Activant Capital participated in the round, as did existing investors Flagship Pioneering and the Alaska Permanent Fund.
This recent round, which brought Indigo's total funding to over $300 million, will be used to "support Indigo's commitment to building a new kind of agriculture company — one that is focused on improving farmer profitability, environmental sustainability and consumer health," a press release stated.
The latest round also made Indigo the top funded agtech startup of all time.
Founded in 2014, Indigo is a leader in the study and application of the plant microbiome in agriculture. It works to identify beneficial microbes that naturally reside within plants, and apply those microbes to modern seeds to increase crop productivity and resilience in the face of environmental stressors, pests and diseases.
Addressing nitrogen use is one of the company's top priorities for Indigo's research and development. By harnessing natural microbes and leveraging data-based agronomic practices, Indigo hopes to improve nitrogen uptake and efficiency in crops, with the goal of dramatically reducing nitrogen use in agriculture.
The startup also creates software that helps farmers improve profitability, offering insight into farmers' yield results, as well as delivering advice for future growing seasons.
"With climate change an active threat, consumers are calling for a new environmental standard in the agriculture industry and beyond," said Dr. Mehmood Khan, Indigo's board director, in a statement. "Indigo is responding to this call by developing a paradigm in which growers are able to respond to these consumer demands while increasing their profits."
Indigo's team is divided between their Charlestown headquarters, their commercial and marketing base in Memphis, their sales office in Yoder, Kansas, and two new international offices in Argentina and Australia. In the past year they have more than doubled, going from 75 to more than 200 employees, with 75 percent of their workforce in Boston.
As growers around the world start using Indigo's seed treatments and digital technologies, the company plans on establishing its presence in key agricultural regions, acting as an in-market resource. In the coming months, Indigo will grow its international teams, as well as continue hiring for local roles in software engineering and data science.