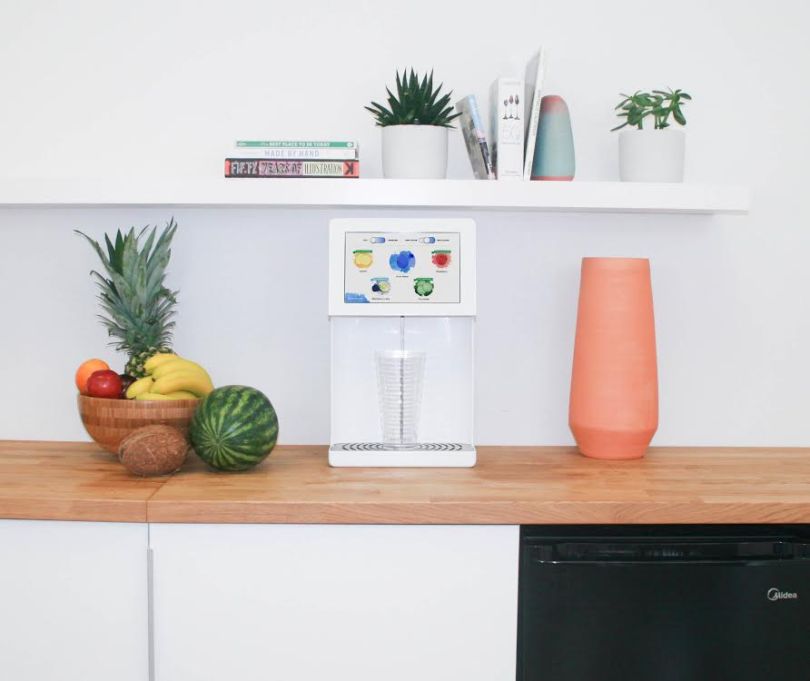 Startups love seltzer water — and Boston company Bevi has been capitalizing on that fervent love since 2013.
With a fresh $16.5 million in funding led by early Starbucks backer Trinity Ventures, the smart water cooler startup shows no signs of slowing down its nationwide expansion.
According to a press release, Bevi will use the funding to continue expanding across the United States and internationally, and to roll out a new countertop beverage dispenser.
"We have already expanded into Hong Kong, with the help of our Series A lead Horizons Ventures," said Frank Lee, head of marketing. "Canada is the next market that we are launching soon!"
Launched out of Boston in 2013, Bevi was created by three friends — Sean Grundy, Eliza Becton and Frank Lee — who were fed up with how many people were buying bottled water over drinking tap water, often trashing plastic bottles after a single use.
Powered by the municipal water supply, Bevi machines filter water directly from the tap, providing at least 10 varieties of seltzer flavors that range from coconut and lemon, to blueberry cucumber, raspberry and citrus mango.
There's no brew period or wait time – employees use a touchscreen to choose their beverage and the machine produces within a quarter of a second of making your selection.
As a compliment to the flagship smart water coolers, they are launching a counter-top unit designed for smaller spaces. Both products aim to completely replace water coolers and bottled and canned beverages — you read that right.
In many cases, Bevi has reduced office beverage costs by 50 percent or more.
Bevi currently has about 1,000 of its smart water coolers in use across 20 states, but many can be found at tech startups in Greater Boston.
"I rarely encounter a company at this stage with such customer enthusiasm," Patricia Nakache, a member of Bevi's board of directors, said in a statement.
Cambridge-based Akamai was one of Bevi's first customers, and Needham's TripAdvisor and LevelUp hopped on board shortly after. Other big brands like Netflix, Lyft and Indeed have also started to offer Bevi machines as a free employee perk.
Bevi currently has 30 employees in Boston and is looking to hire for sales, marketing and product development.