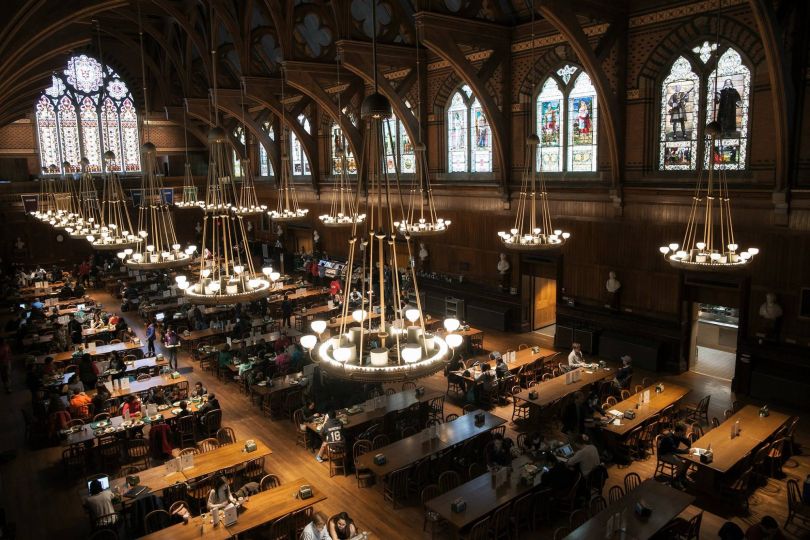 More than 50 colleges call the Boston area home, but few garner the prestige of Harvard University. Ranked No. 2 in the nation, the Cambridge-based university is renowned for its talented students, award-winning faculty and groundbreaking research — so it's no surprise that it frequently churns out some of the most successful entrepreneurs in Boston tech. Here, we've compiled a list of 15 alumni behind innovative companies such as BevSpot and EverTrue.
Notable Harvard Alumni Who Founded Startups
Rory Crawford- BevSpot
Sheila Lirio Marcelo- Care.com
Rob Biederman- Catalant Technologies
Samuel Clemens- InsightSquared
Stephanie Kaplan Lewis- Her Campus Media
David Potere- TellusLabs
Brent Grinna graduated from Harvard Business School in 2010 before founding EverTrue, which makes software that supports fundraising efforts at educational institutions. By connecting institutional data with insights from LinkedIn, Facebook, Zillow and the U.S. Census, EverTrue arms advancement offices with the data and tools they need to engage alumni and raise funds.
Jacob Sattelmair earned his bachelor's degree in neurobiology from Harvard before co-founding healthtech startup Wellframe in 2011. The Boston-based company partners with leading health plans and providers to deliver a mobile-enabled care management platform to patients.
Harvard grad Will Ahmed founded WHOOP, a maker of wearable technology for optimizing human performance. WHOOP wearables provide athletes, coaches, trainers and the U.S. military with a continuous measurement of strain and recovery so users can balance training, reduce injuries and predict performance.
Rob Biederman earned his MBA from Harvard in 2014 before focusing full-time on his startup, Catalant Technologies. Formerly "HourlyNerd," Catalant provides global enterprises with software solutions that let them access business expertise on demand. Today, Boston-based Catalant has built a global network of more than 27,000 boutique firms, custom teams and independent experts that serve hundreds of enterprise clients.
Rory Crawford attended Harvard Business School from 2013 to 2014 before pursuing his startup full time. BevSpot is a Boston-based startup that helps bars, restaurants, distributors and suppliers manage their business with an online platform.
Sheila Lirio Marcelo earned Harvard master's degrees in business and law before going on to found Care.com in 2006. The online web portal helps families find suitable caregiver services for child care, senior care, housekeeping, pet care and more. Today, the company is the largest online care destination in the world with more than 17.8 million members in 16 countries.
After attending Harvard, Liz Powers launched ArtLifting in 2013, a startup that sells prints and products created by talented artists impacted by homelessness and disability across the U.S. Powers graduated from Harvard in 2010 with a degree in sociology.
Ellen Rubin earned her bachelor's degree and MBA from Harvard, graduating in 1995. The repeat entrepreneur's latest startup, ClearSky Data, delivers on-demand, primary storage with offsite backup to enterprises. Based in Boston and venture-backed by General Catalyst, Highland Capital Partners and Polaris Partners, ClearSky also has a strategic investment from Akamai Technologies.
Marci Cornell-Feist graduated from Harvard's Graduate School of Education in 1991. In 2010, she founded BoardOnTrack, an edtech startup that aims to improve public charter schools by strengthening board leadership. BoardOnTrack does this by offering expertise, training, web-based tools and a membership community to the boards and CEOs of charter public schools so they can better analyze their school's needs and goals.
Gina Nebesar graduated from Harvard Business School in 2010 before co-founding Ovia Health in 2012. The startup's apps help millions of women and families monitor fertility, pregnancy and parenting to lead healthier lives.
Samuel Clemens earned his MBA from Harvard in 2004 and today is an Entrepreneur in Residence at the school. In 2010, he launched InsightSquared, a sales performance analytics solution that quickly delivers reports on major sales metrics to fast-growing tech companies.
Benjamin Pleat graduated from Harvard with a bachelor's degree in economics in spring 2017. Founded in 2016, Doorbell works with landlords to enhance the renter experience through curated resident events, exclusive building discounts at local businesses and a resident app.
Stephanie Kaplan Lewis earned dual bachelor's degrees in psychology and economics from Harvard in 2010. In 2009, she co-founded Her Campus Media, an online media brand built for empowered college women that doubles as a marketing agency. The flagship site, HerCampus.com, is an on-campus network of 340+ campus chapters with content written by top college journalists. Her Campus also provides integrated marketing programs for clients including H&M, IKEA, Vera Bradley, Merck and more.
Blair Baldwin earned his MBA from Harvard Business School in 2009 before founding insurance startup Quilt in 2015. Quilt offers mobile-first insurance products designed to be bought and used online, reducing the hassle of purchasing insurance by managing the entire customer experience, from sign-up through claims.
Harvard grad David Potere co-founded TellusLabs in 2016. The Cambridge-based startup harnesses satellite imagery of the earth and machine learning to help companies make better economic and environmental decisions. In 2016, the company's flagship product, Kernel, predicted the U.S.  Department of Agriculture's final corn and soy yield report two months ahead of publicly available in-season forecasts and came within 1 percent of the final outcome.
Photos via social media