If you've been keeping track of the "sad desk lunch" phenomenon, you know that plenty of people eat pretty depressing work meals on the regular.
But if you work in Boston tech, you might have noticed that many startups take their food perks seriously, offering everything from Swedish fish dispensers to kombucha machines. Here are three companies keeping the bologna sandwiches at bay.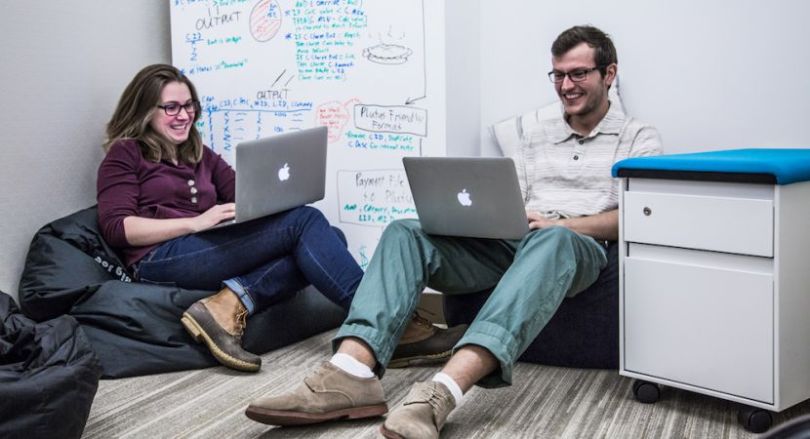 LevelUp is a mobile payment platform that lets users accept mobile payments and engage with customers through loyalty programs.
Responses via Jackie Cooke, marketing communications manager at LevelUp
What are some of the epic food perks your company offers?
To say LevelUp is obsessed with food would be an understatement — we do work with restaurants every day, after all! Food perks include a STACKED snack closet (chips, popcorn, granola bars...and not the crappy kinds). We also have a Swedish fish dispenser, five to six different kinds of cereal available at all times, and plenty of fresh fruit, yogurt and veggies to snack on. Our office also has a Bevi machine, which is helping me finally meet my hydration goals, an espresso machine, a coffee machine and a beer and wine fridge. LevelUp also gives its employees credit to order ahead lunch using LevelUp, and caters food from LevelUp restaurants in-office every week.
Go-to places your company orders food from?
Everyone has their favorites, but Stoked Pizza, Archie's, Boston Kebab House, Larry J's and Mei Mei are pretty popular. There's also a serious line whenever El Pelon is in the office.
What is your favorite office snack/meal?
I'm the first one in line for Aceituna. I could probably eat Mediterranean every day and not get sick of it. As far as snacks go, I'm all about the dang coconut chips.
Favorite employee dining spot?
sweetgreen, VERTS Mediterranean and Dig Inn are employee go-tos.
What is your dream food perk?
Still working on trying to get kombucha on tap into the office. If that doesn't work out, I'll take an avocado toast bar and/or banana chocolate chip pancakes every morning. I'm not picky.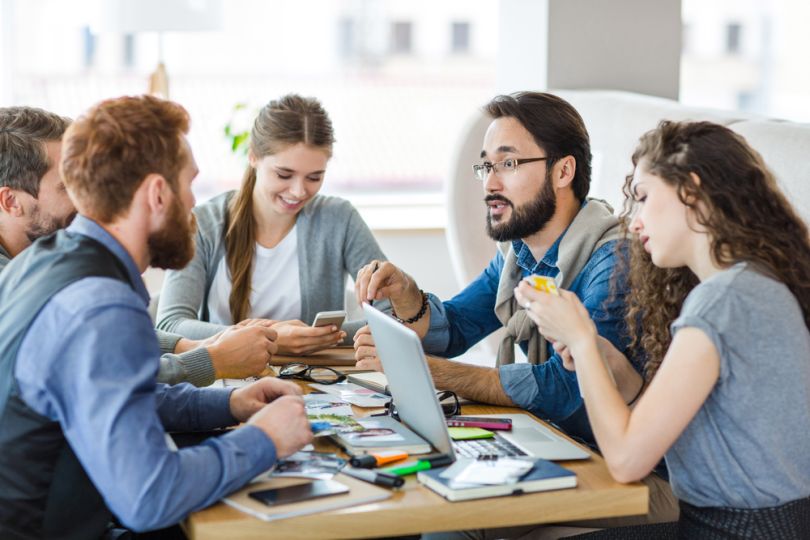 Runkeeper is a mobile running app that helps runners of all levels get started with a fitness routine and stick with it.
Responses via Erica Belanger, consumer PR and digital specialist at Runkeeper
What are some of the epic food perks your company offers?
We offer a number of great perks including catered team lunches for the full office every Tuesday, awesome snacks including a variety of yogurts, fresh fruits and vegetables, grab and go bars, popcorn, chips, dried fruits and nuts, and more. We also have a Bevi machine that does still and sparkling water in a variety of flavors (we vote every month to pick these — trust me, it can get heated) and have recently made the addition of a cold brew and kombucha machine.
Go-to place you company orders food from?
We try to switch up our team lunch orders every week, but some recent favorites have been Viva Burrito, WuBurger, Chicken & Rice Guys, Mo'Rockin Fusion and Lanta Asian Cuisine.
What is the favorite office snack/meal?
The favorite office snack/meal is also across the board. Some like the healthier snacks like hummus and veggies; others satisfy their sweet tooth with Swedish fish or Japanese treats like green tea Kit-Kats and other candy from our colleagues and counterparts visiting from Asics in Japan. WuBurger has been called out as a favorite team meal and seltzer from the bevi and espresso drinks from the shared Nespresso machine also received honorable mentions.
What is the favorite employee dining spot?
Sapa is the favorite local lunch destination when grabbing something to bring back to the office. Our kitchen is also always filled with people from across divisions eating together at lunch time on any given day.
What is your dream food perk?
This question got some interesting responses from the team! Here are the highlights: Professional, freshly rolled sushi bar that's free and available all the time. A crepe and pancake food truck inside the office. An ice cream sandwich bar. A hot breakfast and omelette bar. Fresh salmon sashimi (thick slabs!) and maki rolls galore, or tikka masala and basmati rice with samosas,  tandoori chicken and papadums. Or a fridge full of pickles.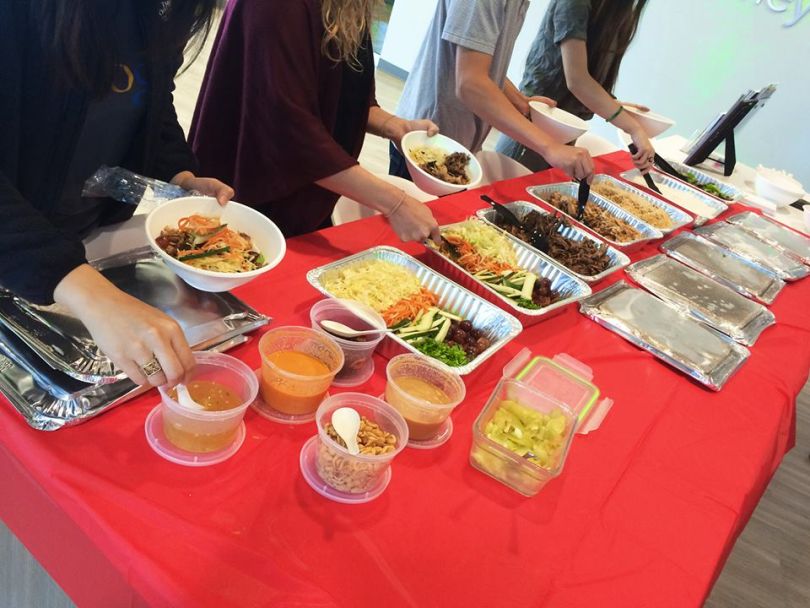 Domeyard LP is an quantitative hedge fund based in Boston.
Responses via Christina Qi, Partner at Domeyard LP
What are some of the epic food perks your company offers?
Domeyard offers free lunch and unlimited snacks for all employees. We also host a variety of professional and family events.
Go-to places your company orders food from?
Domeyard orders lunch from Seamless. Our favorite Seamless restaurant is India Quality.
What is your favorite office snack/meal?
Our employees love Fairlife milk. They also enjoy making healthy smoothies and munching on a new selection of snacks each month.
What is your dream food perk?
Unlimited India Quality pop-up lunch buffets.