In September 2019, the global corporate learning organization Skillsoft welcomed former IBM Watson CMO Michelle Boockoff-Bajdek.
"There is no better experience or opportunity to learn about branding than to work for, arguably, one of the most iconic brands in the world at IBM," Boockoff-Bajdek said. "But I saw so much opportunity to transform a marketing organization at a business that is doing amazing work for customers both personally and professionally."
Boockoff-Bajdek was brought in to lead a rebrand for Skillsoft, which provides digital learning and talent management solutions to help companies build a future-fit, resilient workforce. The company offers more than 165,000 courses, books and videos in seven languages to meet the needs of their global customer base. 
"Skillsoft's work matters," Boockoff-Bajdek said. "But I think the brand previously struggled with representing exactly what we do and the impact we deliver to our customers."
At Skillsoft, Boockoff-Bajdek immediately put her five years of experience shepherding various brands, including IBM Watson's brand, to work. By crafting a plan that involved extensive research, employee engagement and key hiring strategies, Skillsoft would be able to regain its identity in the edtech space, Boockoff-Bajdek said.
In an interview with Built In Boston, Boockoff-Bajdek shared the steps on how she and her team have ushered in a rebrand and are now moving toward living out the Skillsoft experience. 
7.) Create with the customer in mind
CMO Michelle Boockoff-Bajdek: A brand shouldn't focus on what the organization wants but rather what the customer needs. This doesn't mean you take every piece of guidance offered, but when you look at it in totality, we want our customers to view Skillsoft as a company they are proud of working with, that reflects their values, and most importantly understands and acknowledges their needs. To know those things, you must connect with your customers to learn what's important to them. 
6.) Lead with data
We partnered with a global customer marketing agency on our rebranding process using data to guide our efforts. We spent a great deal of time looking at the market, analyzing the competitive set, and speaking with our customers, industry analysts, partners and employees. This was a fairly significant undertaking in which we conducted both qualitative and quantitative research, reaching 1,000 individuals across surveys, in-depth interviews and even in-person co-creation sessions with our customers. The foundational work was critical in helping us understand what was important to our customers – and their learners – as we built the brand.
After 3 research-based a-ha moments, Boockoff-Bajdek and co. had to:
Become more learner-centric in their approach to the market and their messaging.
Connect with learners on professional and personal levels.
Recognize that learning is an ongoing process and mindset — not a single action.
5.) Share branding responsibilities across the organization
While our rebranding efforts were built for and around our learners, we were also intentional about deepening our employees' connection to our brand. We spent time educating our team on what the brand is, what it stands for and how they can take ownership of it. 
Branding doesn't belong just to marketing. It has to be owned by every single department because at any touchpoint, whether it's through a chatbot, a call with customer service, or someone in finance or on one of our sales teams, that moment can either instill confidence in, or potentially damage, the brand. Every moment or interaction with our customers matters. 
 
Branding doesn't belong just to marketing. It has to be owned by every single department."
4.) Communicate brand progression with transparency and regularity 
We walked our entire organization through our rebranding process and made sure they understood that this was as much about them as it was our customers. We shared the output of all of the research we had conducted. We showed them what people were looking for and what they felt was lacking in the relationship they had with Skillsoft and our brand. There's no way to get your employees to internalize and live the brand unless you include them along the way. Most importantly, we emphasized that we all have a shared responsibility to build a successful brand that creates the type of experience our customers want to have with us.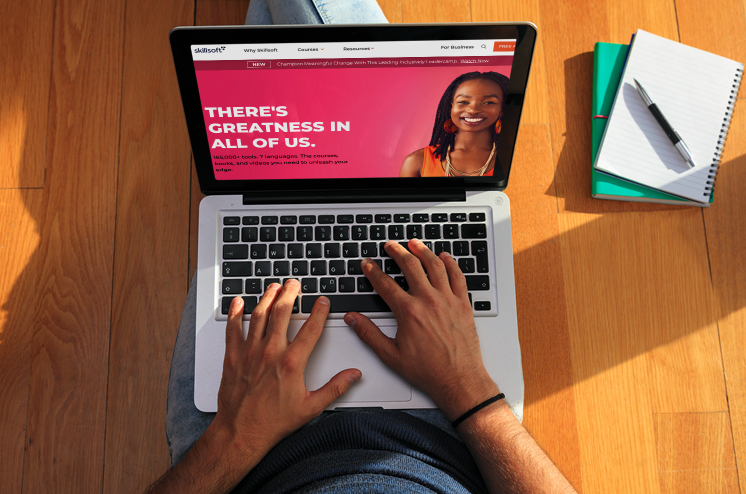 3.) Disclose results 
As I introduced the organization to the brand work, I used an aphorism to help them understand the time horizon under which we were operating: See it. Feel it. Know it. In three months, they would begin to see changes to the way we looked and talked about Skillsoft internally; at six months, they would feel a difference in our culture and the way we represented ourselves to the market; and in 12 months, they would know it by the affinity we have been able to build for this new brand.
Three months in, we held a new type of company kick-off — which we dubbed the Growth Summit — during which we gave employees a sneak peek at the brand, and we introduced new marketing talent across brand, data and analytics, digital marketing and marketing operations. At six months, we held Perspectives 2020, our annual customer event, and used a new digital format to make the experience – and our brand – widely available to anyone around the world. As we head into the second half of this year, our team will continue to amplify our messages as brand ambassadors more frequently as our efforts contribute to growth and greater customer satisfaction. 
2.) Live the brand
A customer-centric brand is one that recognizes what your customers need in the moment and then meets them at that moment. 
Like I mentioned earlier, every May we host around 1,000 guests for our in-person event, Perspectives, which is packed with everything our leaders and learners need to upskill and rescale for whatever their futures hold. In March, we spent 28 hours over two days completely reimagining the event in a design workshop to come up with how we would deliver the event digitally. As a result, those 1,000 participants became 42,000 registrants worldwide, more than 14,000 attendees and roughly 1.4 million minutes of content consumed. We made the event free, and we offered free 60-day access to our learning platform, which more than 25,000 people took advantage of to extend their skill development after Perspectives concluded. 
 
A customer-centric brand is one that recognizes what your customers need in the moment and then meets them at that moment."
1.) Continue to evolve over time
People assume that their brand is a logo and a color palette, that it's a name that you build along with its brand assets, and then you're done. But getting to a brand doesn't happen overnight. It's a robust, ongoing process that requires continuous maintenance to enhance the brand over time.
And continue to evolve is exactly what we've done. Perspectives provided a perfect launchpad for both introducing and living the Skillsoft brand as we were able to truly democratize learning and help attendees unleash their greatness. As the world around us continues to evolve and requires greater resilience, agility, compassion and growth, we are living our brand each and every day. It's our social imperative to help customers navigate today's most complex and pressing challenges, including learning and dialogue related to diversity, equity and inclusion.