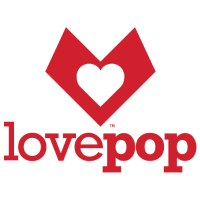 Sales Representative - Boston
lovepop is a Boston-based startup that creates unique 3-D paper sculptures that appear out of seemingly ordinary greeting cards. We thrive on helping people express all the care and love that they have for others through thoughtful pop up surprises!
We launched lovepop out of the Harvard Innovation Lab in late 2014 and were named to the 2015 Techstars class and nominated for 50 on Fire by BostInno. We also took a shot (and hit the target!) at the Shark Tank in December of 2015. We're changing the way that people think about gifting, and we're looking for enthusiastic, motivated, and hardworking individuals to help us spread lovepop cards across Boston and beyond.
As a Lovepop Sales Representative, you will:
Provide customers with an amazing experience that encourages future return visits to our retail stores and online web presence.
Open and close lovepop kiosks, manage the register, and count inventory.
Ensure that kiosk is always neat and tidy.
Talk about and sell lovepop cards to meet daily sales and e-mail capture goals.
Set up and break down lovepop special events as needed.
Ideal Sales Representatives:
Will be A-Players who want to succeed and out-perform expectations. 
Have the ability to effectively communicate with customers -- making folks feel welcome and valued is a core mantra that we have at lovepop!
Are able to work mostly independently, learn quickly, and solve problems.
Have a high school degree or GED and previous sales experience.
Are able to lift 50 pounds, stand for 4-6 hours in a retail selling environment, and have a knack for counting!
Everyone at LovePop is dedicated to building and growing this company, and it is important that brand ambassadors share the same drive and commitment. This means having the availability to work typical retail hours, including weekends and holidays as needed. We are looking for candidates who can work at least three weekday shifts -- our first kiosk opens at 6:45am, and our last kiosk closes at 9pm! Shifts generally range from 4-6 hours each, and we have both part-time and full-time positions available. This is an amazing opportunity to be part of something new and different, and we're so excited to hear from you! What are you waiting for?
Read Full Job Description