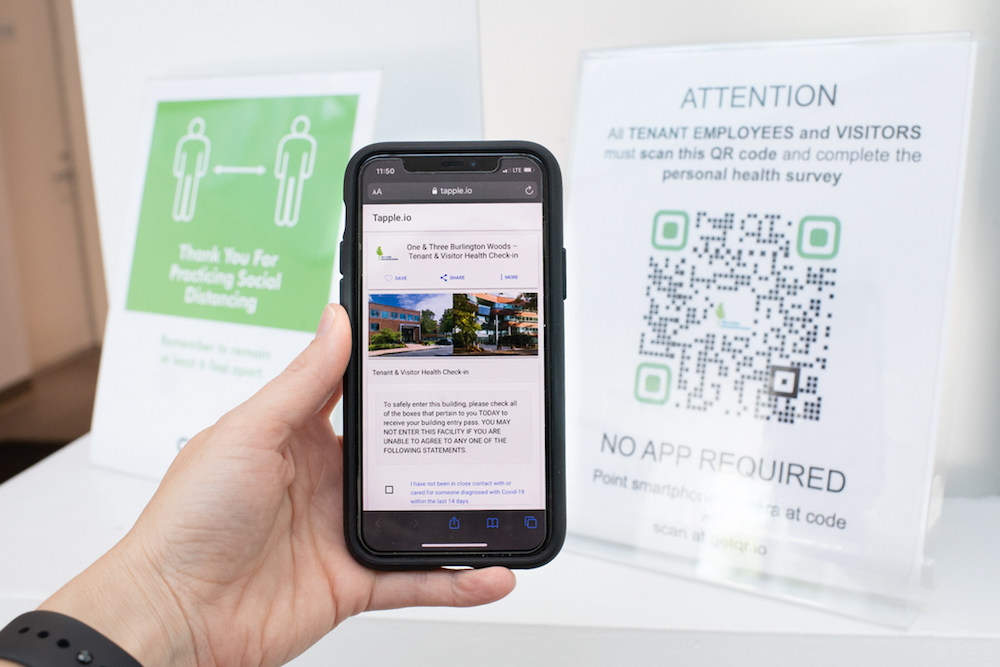 Businesses across America are starting to reopen after being closed for months due to the COVID-19 pandemic. But COVID-19 hasn't gone away. In fact, it's still prevalent in many areas. So we can't exactly go back to the way things were before the pandemic. We'll still have to take precautions to ensure we can live our normal lives without putting our health at risk.
Part of this responsibility falls on businesses, since they provide a space where people will come into close contact with each other. So Woburn-based Tapple created a digital tool to help.
Tapple recently announced its Touchless Health Screener for businesses. The tool was built to ensure that businesses adhere to Centers for Disease Control and Prevention guidelines for health screening and contact tracing. With this tool, customers and staff will be able to scan a provided QR code posted on the outside of a business before they enter. The QR code will take that person to an online form, where they will be able to self-verify that they are healthy and haven't been in contact with anyone who is know to have COVID-19. The tool also takes people's contact information, so they can be reached for contact tracing purposes.
Tapple's tool is web-based, so users don't need to download an app. It's also customizable, so businesses can ask different questions in their forms if required.
Regular check-ins like this will become standard practice for businesses that want to stay on top of who is walking through their doors, and it will be a necessary way to mitigate risk. Several businesses in New England are using Tapple to address COVID-19-related challenges, ranging from construction companies, to salons, real estate groups, retailers, hotels and more.
"Because the COVID-19 outbreak has been devastating to businesses, small and large, we have adapted our product offering to meet these challenges and are committed to helping businesses keep their guests safe and comfortable while restarting our economic engine," James Gray, the CEO and cofounder of Tapple, said in a statement.