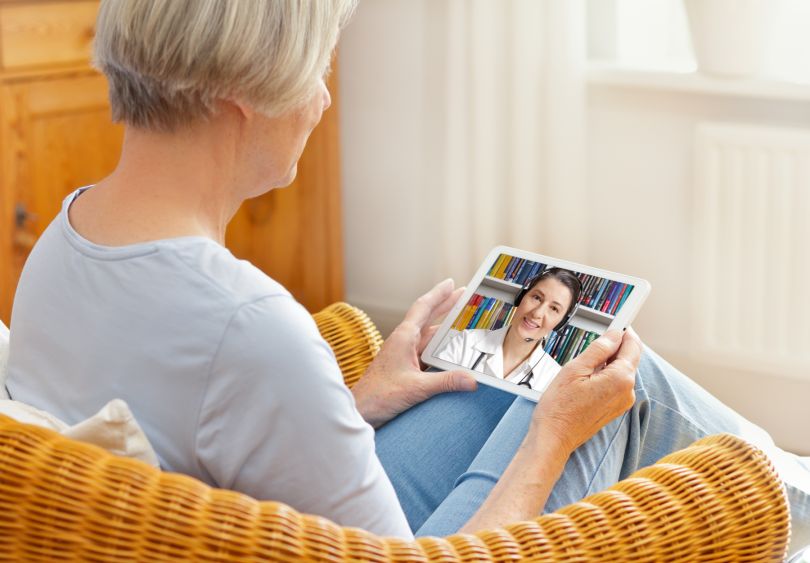 Venture capitalists have noticed the influx of patients waiting to be seen virtually.
On Wednesday, Amwell, one of America's largest telehealth providers, raised $194 million in Series C funding to keep its platform strong, amid soaring use during the COVID-19 pandemic. The Boston company — also known as American Well — plans to use the funds to upgrade its tech systems that connect doctors to more than 150 million patients nationwide. Additionally, it plans to hire for nearly 50 roles in Boston and across the United States, including engineers, marketing and product professionals.
As the pandemic persists, Amwell said it has experienced an average 1,000 percent increase in virtual visits across its 2,000 healthcare customers, although in some areas hit particularly hard by the virus, the company has seen an increase of up to 4,000 percent. Recently, the platform has been handling 45,000 telehealth visits daily.
"We intend to build upon this momentum to transform healthcare with digital care delivery," CEO Ido Schoenberg said in a statement.
The company declined to further comment on the investment to Built In.
But, in March, spokesperson Holly Spring told Built In that the influx of patients aiming to be seen virtually led to an increase of wait times, from five minutes to as much as 70 minutes. Providers at Cleveland Clinic then told CNBC that their Amwell-powered service, Express Care Online, was crashing.
Spring told Built In that the platform had not crashed but said long wait times — particularly in areas hit hardest by the virus — had caused some patients to think there was an outage or waiting room freeze and voluntarily disconnect. For doctors and hospitals, these disconnects could have appeared as dropped calls and led physicians to think Amwell's network was down, Spring said.
To meet the increased demand, Amwell deployed new servers, routers and other systems to manage the surge in volume and ensure video capacity across telehealth systems. The firm was also working to hire and train additional healthcare providers to assist patients on the platform.
Schoenberg said the past two months have felt like two years. He credited increased use to patients avoiding physical doctors' offices over coronavirus concerns, as well as relaxed regulatory and reimbursement policies around the telehealth industry.
Prior to COVID-19, Medicare patients were not eligible for virtual care unless they lived in rural areas, leaving most covered under the federal health insurance program for those 65 and older ineligible to visit their doctor virtually. In early March, Congress allowed for all Medicare patients to now access telehealth services.
Lawmakers also lifted restrictions on virtual physicians' practice. Before the coronavirus, doctors could only conduct virtual visits with patients who resided in the state where they were licensed. Now doctors can hold digital visits with anyone across the U.S. Legislators changed payment terms too, so that physicians who conduct appointments over video calls are paid the same as those who see patients in person.
Schoenberg noted the investment reflected a variety of interests, from pharmaceutical firms like the Tokyo-based Takeda to Allianz X, a German digital insurance investment company. Founded in 2006, the new funds bring total investment in Amwell to $517 million.