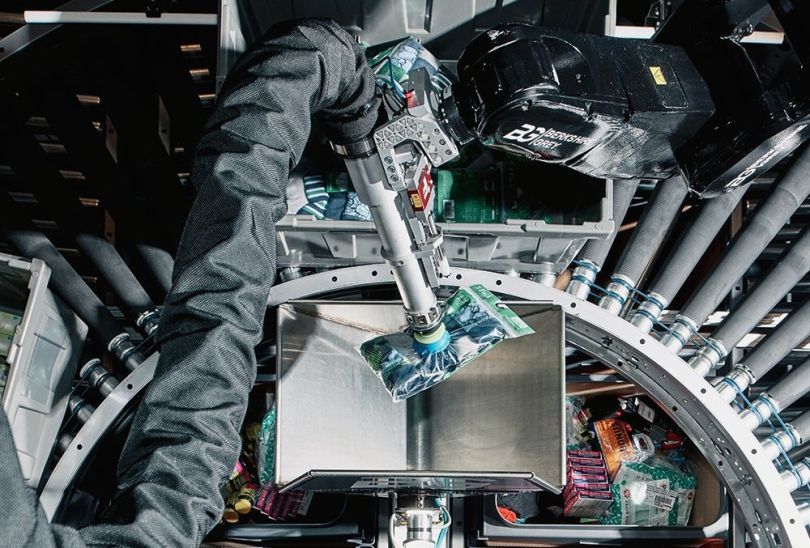 On Tuesday, robotics and AI company Berkshire Grey announced it raised $263 million in a Series B funding round.
The Lexington, Mass.-based company creates intelligent robotics solutions to automate certain warehouse and supply chain tasks. Its robots can spot a specific item using AI, pick it and sort it so it ends up exactly where it needs to go.
Although picking and sorting items seems like a relatively straightforward concept, the size of this Series B should give a hint just how important it is. As more customers are turning toward e-commerce to do their shopping, companies have to deal with the logistical nightmare of processing orders from warehouses with massive inventories. (You've probably heard stories of what it's like to work at one of Amazon's distribution centers.)
The promise of automating this task with robots is generating a lot of buzz. Berkshire Grey says it can optimize picking labor costs by 70 to 80 percent and increase throughput by 25 to 35 percent.
"Our customers from leading enterprises in retail, e-commerce, and logistics are selecting Berkshire Grey as a competitive differentiator," Tom Wagner, founder and CEO of Berkshire Grey, said in a statement. "With our intelligent robotic automation, our clients see faster and more efficient supply chain operations that enable them to address the wants of today's savvy consumer."
Berkshire Grey says its new Series B funding will help fuel the company's global expansion and acquisitions. It also says the funding will help the company grow its team. Right now Berkshire Grey has listed open jobs for roles in engineering, sales, marketing and operations.