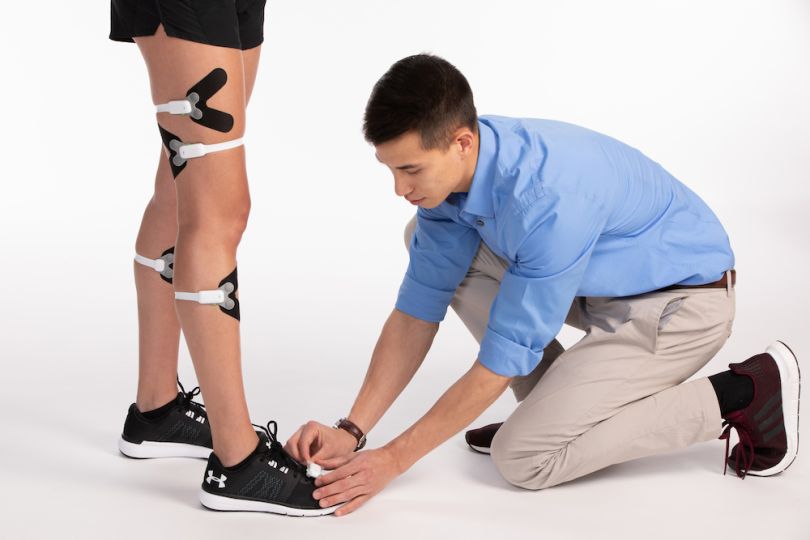 How you walk and move can say a lot about you. 
Every step you take, every bend of the knees and jump into the air has the potential to explain your chronic back troubles or provide the warning signs of Parkinson's disease. Unfortunately, that information is often hidden from the average physician, leaving them ill-equipped to solve musculoskeletal issues.
Figur8, which emerged from stealth mode today, believes it has a solution. The Boston-based company uses lightweight sensors and a software platform to allow doctors to measure the body's health through movement. The company aims to make movement a biomarker for physicians the same way blood tests are, Nan-Wei Gong, Figur8's founder, told Built In.
"We imagine Figur8 becoming a standard test like a blood test," Gong said. "At your annual check-up with your physician, they can run this test to describe your back pain, ACL tear or hamstring issue." 
Gong started Figur8 in 2017 to solve her own chronic back pain. Doctors couldn't figure out what was causing it, and she had tried everything to fix it — massages, physical therapy, exercise and acupuncture. Still, the dull pain that prevented her from sitting for long periods of time persisted. 
We imagine Figur8 becoming a standard test like a blood test."
Fed up, she put her training as a medical hardware engineer to use. She realized her doctors all studied her back pain from different angles with no unifying source of information to analyze her musculoskeletal health. So she decided to create one. 
Built out of the MIT Media Lab, Gong developed lightweight sensors that attach to the body to read its movements and a platform for that information. Doctors can use it to lead the patient through a series of movements — walking, squatting, running and jumping — to measure their body health.
Those insights can detect whether a person is favoring a certain leg while they walk or if their posture is putting pressure on the back. It can also be used to identify tremors that signify Parkinson's and understand the impacts of a stroke. When Gong tested it, she learned that she was favoring one leg over the other, which was causing her back pain. Since then, she's taken steps to strengthen her core and fix it.
"It's doing so much better," Gong said. "It was like magic after I learned it was just me causing the pain. It's not how I sleep or the stress of my job, it's the way I walk — I walk funny."
Gong said the tests and information gathered are based off what trainers and doctors who specialize in biomechanics study. 
"We're just taking that field of study and putting it in everyone's hands," Gong said.
The company's product is currently under FDA review for approval. While they wait, Figur8 is working on getting it into the hands of private trainers and physical therapists to start. Eventually, Gong hopes to make these tests as routine as a blood sample.