A company that volunteers together, thrives together.
Studies show that at companies where employees get opportunities to give back to their community, workers report feeling more engaged with their jobs, and a culture of compassion blossoms.
Luckily, many of Boston's tech startups have practiced philanthropy from the get-go; Here, companies like Klaviyo, Carbon Black and CrunchTime! share the stories behind their favorite volunteering activities, including donating blood to Massachusetts General Hospital and serving lunch to the residents at the New England Center and Home for Veterans.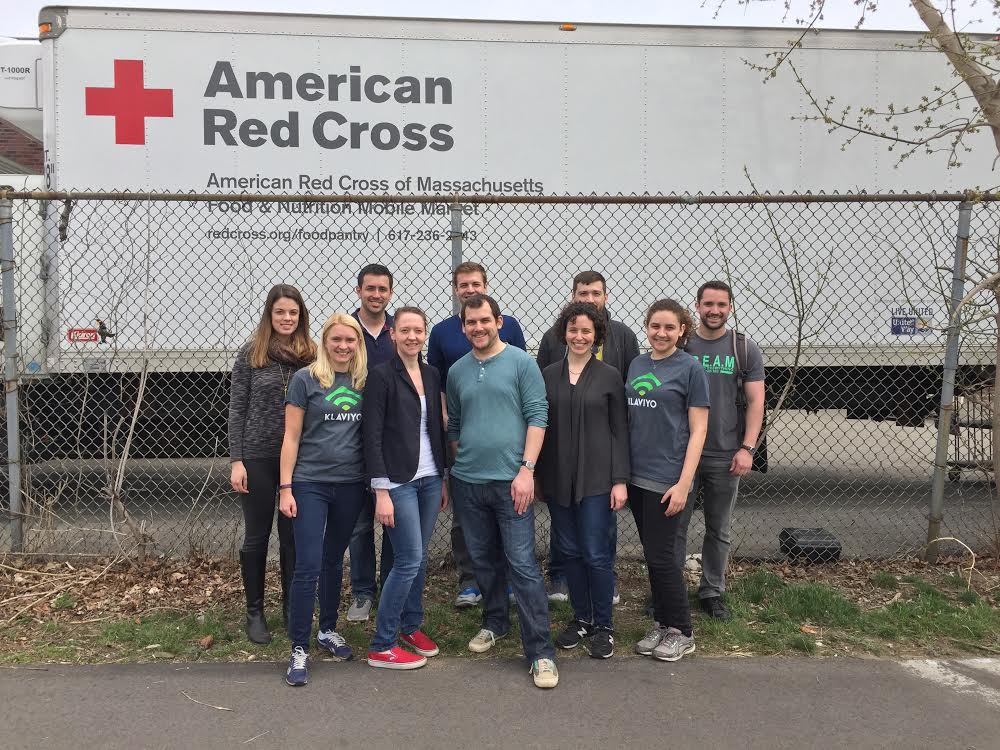 From personalized newsletters to automated emails, order follow-ups and personalized thank yous, Klaviyo helps stores to generate email marketing campaigns without the need for expensive systems and teams of employees.
Responses via Agata Celmerowski, VP of Marketing
How do you volunteer through Klaviyo?
Each Klaviyo department chooses a volunteer activity each quarter or bi-annually, to spend a full or half day, volunteering their time at a volunteer activity of their choosing.
How did you choose which org/nonprofit to volunteer with?  
Our marketing team uses Boston Cares, which is the largest volunteer agency in New England, an Innovation Hub within the national HandsOn Network, and an award-winning leader in the volunteer engagement sector. Our other departments use Boston Cares or volunteer with agencies close to their family or personal stories -—The American Liver Foundation is supported by our customer success team members.
How does this impact your team's culture? What about company-wide culture?  
Volunteering brings our team members together to support other people and philanthropic activities. These events provide a different environment for the teams to collaborate with each other in and to learn more about each other. Our culture is enhanced through these experiences and for the different interactions that arise when the teams share, collaborate and help others. We see an endless amount of benefits, company-wide because teams are sharing with each other their various stories and learnings about each other.
What are some of the other cool ways employees volunteer through your company?
Due to volunteering, all Klaviyo employees are quick to offer their help with each other and our customers. Helping others is ingrained in our culture and we try to show each other the compassion that we show others.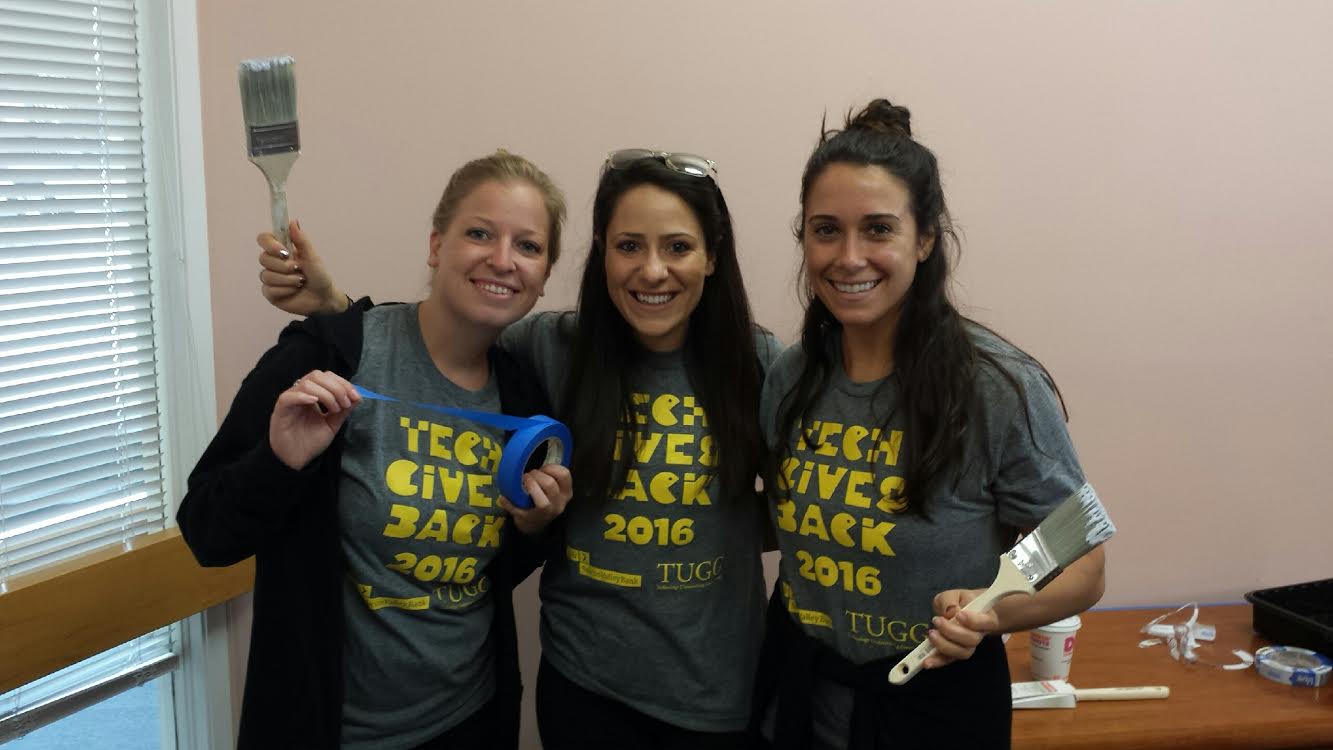 Carbon Black offers endpoint security services, enabling organizations to disrupt advanced cyberattacks and deploy the most effective prevention strategies for their business. Carbon Black does this by continuously recording and retaining all endpoint activity, making it easy to track an attacker's every action and determine root causes.
Responses via Ashley Perez, Talent Brand Ambassador
How do you volunteer through Carbon Black?
Carbon Black has a team called Life At Cb that is dedicated to preserving and bettering the company culture. One aspect of that is focused on philanthropy. Our main philanthropic initiative is partnering with TUGG, where our team participates in a range of events throughout the year, including our favorite: Tech Gives Back. In addition to TUGG, we participated in an Earth Day event at the Mass Audubon, the Greater Boston Food Drive, fundraising for the Home Base Program, helping needy children through the Santa Program and more.
How did you choose which org/nonprofit to volunteer with?
We've partnered with TUGG for the last couple of years because they help nonprofit startups in our local area succeed. Being a startup several years ago, we felt the cause to be near and dear to our hearts. As far as the other opportunities, we also wanted to focus on helping individuals. For example, the Home Base Program was important for us to fundraise for because we have many veterans at our organization. We hosted a fundraiser, raffle and silent auction to raise money at a happy hour on-site. During this happy hour, we showcased each veteran at our organization on a projected screen throughout the room. It was amazing to see people's reaction when they saw their image up there and gave them an opportunity to share stories with other veterans at the company.
How does this impact your team's culture? What about company-wide culture?
It's a great way to bond with our other coworkers and c-suite. It's not uncommon to see our CEO and other members of our c-suite to attend and mingle with everyone. Also, it's inspiring to see how generous and passionate our employees are about the causes we're supporting. It makes the company feel like a community rather than just a bunch of coworkers.
What are some of the other cool ways employees volunteer through your company?
As mentioned before, we use our Intranet to share our employees' philanthropic efforts. In addition to getting the word out, they also share the end result. For example, one of our employees did fundraising for a Walk for Water in his local town. He shared pictures and details about how much they fundraised after the walk. Another woman raised money for local animal shelters and shared details about that.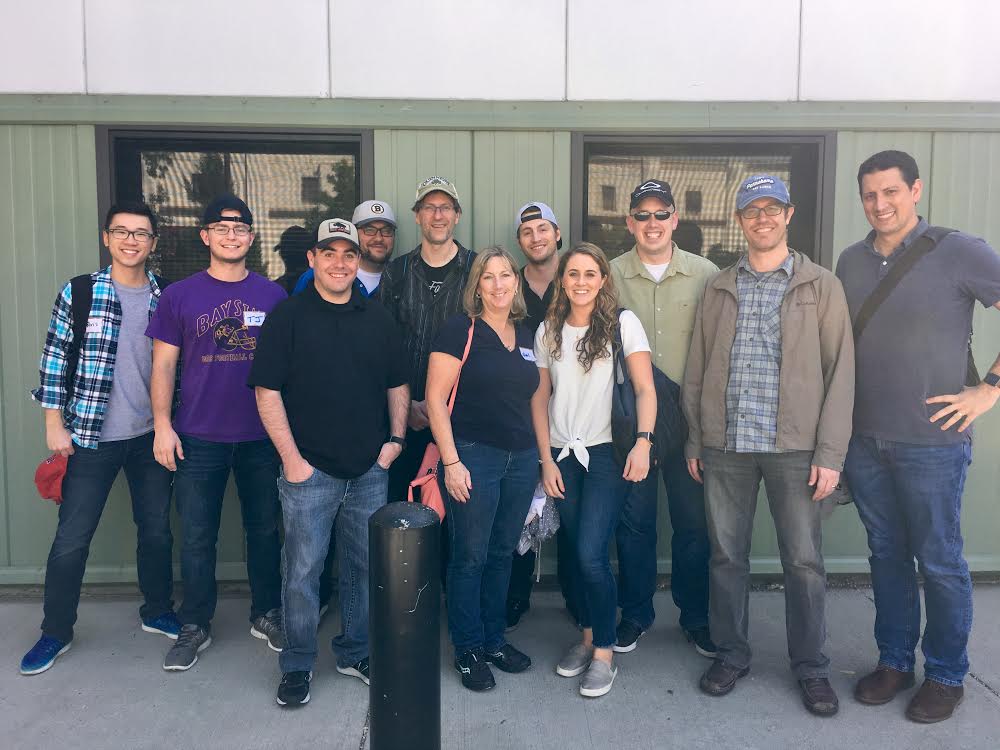 CrunchTime! provides restaurant management software that helps multi-unit operators manage food cost, inventory, labor, dashboards and alerts and more.
Responses via Elizabeth Russo, senior marketing specialist
How do you volunteer through CrunchTime?
CrunchTime makes it extremely easy to give back. Everyone has hectic lives, so having the opportunity to volunteer with your coworkers during work hours is greatly appreciated. My three favorite activities are volunteering at Community Servings, donating blood at MGH and serving lunch at the New England Center and Home for Veterans. On a quarterly basis, a group of 10-15 CrunchTimers head over to Jamaica Plain and volunteer in Community Servings' kitchen to help with meal prep. We have made thousands of meals that are delivered to critically ill residents and their families around Massachusetts. The team at Community Servings is awesome and we truly enjoy spending time with them. Also, donating blood is something CrunchTime has done since our first days as a company. Every 56 days, we have employees head over to MGH to donate whole blood and platelets. The whole process takes about an hour door to door, and we even have a driver (Doug!) who picks us up and drops us off at the office. This is one of the most rewarding experiences for our team. Lastly, every two months, a group of 10 CrunchTime volunteers walk over to serve lunch to the residents at the New England Center and Home for Veterans. We average over 100 lunches for the veterans every visit, and it's a very simple way to give back to the community.
How did you choose which org/nonprofit to volunteer with?
Working in the food industry, we wanted to include organizations that were close to our hearts — ones that were connected to food! Community Servings, the New England Center and Home for Veterans and the Pine Street Inn all love helping others just as much as we do, and we especially wanted to help businesses in the local community where we operate. Donating whole blood and platelets is a no brainer. It's the fastest way to make a difference in someone's life!
How does this impact your team's culture? What about company-wide culture?
At CrunchTime we always try to be the "heroes in our community." Since the beginning, we've been involved with giving back to local and national organizations. CrunchTime offers various ways to get involved with our community on a monthly basis. Each employee is encouraged to participate in community service within areas of their interests. Working for a company that promotes bettering our city empowers us to give back, and we put as much effort into helping restaurants improve efficiency as we do into making Boston a better place!
What are some of the other cool ways employees volunteer through your company?
The list goes on. We're always looking to contribute to new and worthy causes. This year, we participated in JP Morgan Corporate Challenge for the first time as a company. A group of 20 CrunchTimers were among the 9,000 runners who competed in the 5k race around Boston. The race is a global challenge, but each city donates to a local charity. Boston's 2017 race benefited The Every Child Fund at Boston Children's Hospital. We also have provided our software and on-going Implementation/Training services pro bono to the Pine Street Inn, New England's largest resource for homeless men and women. This helps them run their food procurement operations and also helps provide real-world job training for participants in their culinary program. CrunchTime truly values the humble contributions from our team that better our community, and we believe those efforts extend outside of the workplace.
Photos via companies