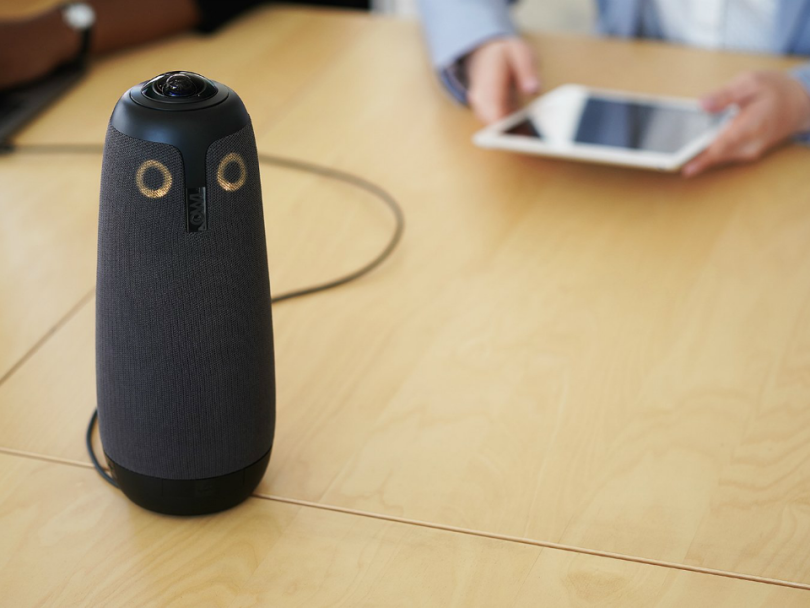 According to a 2018 report, as much as 70 percent of the global workforce spends at least one day a week working remotely, while 53 percent work remotely at least half of the week. Despite this radical shift in the way people are organizing their working lives, technology has largely failed to keep up with these emerging patterns.
Boston's Owl Labs just raised $15 million in fresh venture capital to change that.
"The global remote workforce is growing every year," said CEO Frank Weishaupt. "Forward-looking companies seeking to attract and retain remote talent need the right tools to foster productive and inclusive collaboration across their hybrid teams. It's our mission to make meetings effective and productive, no matter where attendees are located."
Founded in 2014, the company makes software and hardware aimed at transforming the world of video conferencing into an intuitive experience that makes everyone, remote or otherwise, feel they have a seat at the table. The company's pilot product, Meeting Owl, creates a 360-degree visual experience that adapts to the current speaker and cancels out excess noise.
It's our mission to make meetings effective and productive, no matter where attendees are located."
The Series B funding — which puts the company's total at $22.3 million — was led by Spark Capital, with participation from existing investors Matrix Partners and Playground Global.
"This funding will be instrumental in accelerating our manufacturing operations to keep up with the pace of demand," said Weishaupt. "It will also allow us to expand our international customer base, starting with Europe, where we've seen a rise in the number of customers over the last year. As demand increases, so, too, does the number of team members required to help us meet it, so we'll also be using the money to expand our team — quadrupling our current headcount — over the next 18 months."
Weishaupt explained that while 33 percent of the Owl Labs workforce is remote, the company relies on Boston's talent and investment communities to shape its future.
"Our team has been built by hiring from Boston's colleges and universities, as well as from some of the local successful companies that have become staples in the B2B and B2C tech space," he said. "In addition to talent, both our Series A and Series B lead investors are Boston-based."
Owl Labs is taking on a universal challenge."
Those investors seem firmly committed to the mission behind Owl Labs.
"Owl Labs is taking on a universal challenge," said Spark Capital co-founder and General Partner Santo Politi in a statement. "Employees at all levels and across all industries have experienced the confusion, delays and awkwardness that often come with poor video meeting setup, which over time impacts employee satisfaction and ultimately the bottom line."
Politi is certainly onto something: numerous reports and statistics indicate that traditional conference calls can be pits of productivity, can negatively impact business relationships and even be bad for self-esteem.
"We're excited to invest in a company that's looking beyond current workplace technology to create video conferencing solutions that serve all employees equally," Politi continued.
Here's to a future of video conferences that feel like home.