Want to stay ahead of the curve? For tech companies, that usually requires experimenting with cutting-edge technology. Even if one product or tool fails, they try, and try again.
We spoke with two innovative Boston tech companies to find out how they discover what upgrades their customers need, vet new technologies and incorporate them into their businesses. Here's what they had to say: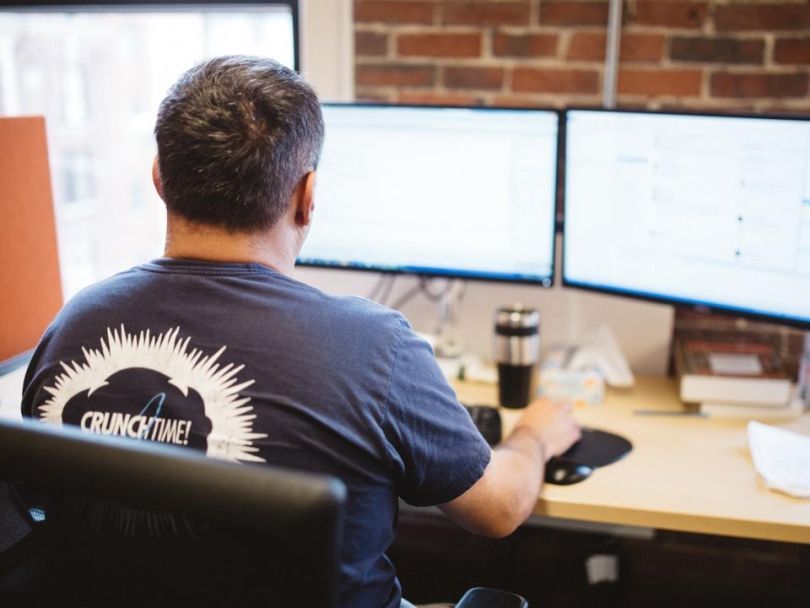 CrunchTime! describes its restaurant management platform as the "back-of-house guts that powers the front-of-house glory." To help their customers (over 30,000 restaurants around the world) integrate, CrunchTime has to learn everything about their clients' varying POS systems. The goal? To offer software that "everyday restaurant people" can use, said Tim Callaghan, VP of technology.
What is your company's approach to evaluating and incorporating new technologies?
Our restaurant inventory and workforce solutions are deployed across almost 30,000 restaurant locations around the world. A lot of the data that drives our solutions is captured by our client's point-of-sale system. Because there's no standardization for POS systems (there are tons of them out there), we have to learn everything about our client's chosen system when we integrate. These POS systems are infinitely custom, so every integration is the opportunity to look at something with fresh eyes. Our approach to solving technology challenges is sort of like the same way your plumber solves plumbing challenge in your house! We have all these pipes and fixtures on our truck, and it's never the same plumbing solution twice.
What technologies have you recently adopted, and what are you keeping an eye on?
CrunchTime delivers an enterprise-class restaurant management platform that works anytime, anywhere, on any device. Making sure our solutions work on mobile iOS and Android devices is important to our clients. They want their managers in the dining areas and in the kitchens — not stuck in the back office on a computer. So we're always keeping our product fresh and compatible with the latest software updates.
How has embracing cutting-edge technologies impacted your business and the products you build?
Deploying cutting-edge technologies is central to solving our clients' complex inventory and labor challenges, but our solutions have to be simple for them to be successful. From AMC movie theaters to Five Guys restaurants, we're offering our clients a powerful ERP software suite for everyday restaurant people. We know our clients didn't hire their restaurant team members for their computer skills, so it's critical that CrunchTime be intuitive and easy to use in the restaurants for fast, accurate information every time.
Formlabs designs and manufactures powerful and accessible 3D printing systems. Diana Verdugo leads Partnerships at Formlabs, where she builds collaborations within the 3D printing ecosystem to optimize user workflows and grow the Formlabs user community. Verdugo explains how Formlabs' vanguard hardware "brings to life" digital designs, which allows the company to enable and work with a wide variety of designers and manufacturers.
What is your company's approach to evaluating and incorporating new technologies?
We survey and keep in close communication with our users to identify the best-in-class tools they depend on that help drive their applications. A great example of an external tool is computer-aided design software such as Autodesk, Zbrush, Materialise, 3Shape and Solidworks, which our users naturally integrate into their workflows. With user insights and feedback, we work closely with these software companies to build out solutions that jointly optimize these workflows.
We know there is still a lot for the world to learn around 3D printing technology, with an increasing need for people to experience it firsthand. Along with our regular engagement in global trade shows, we're building out strategies around workshops, conferences and road shows that invite this full ecosystem of hardware and software players to participate, as well as unite the digital design and manufacturing community together face to face to discuss new challenges and opportunities.
What technologies have you recently adopted, and what are you keeping an eye on?
This past spring, we announced a streamlined user integration with Autodesk's Netfabb software. With this integration partnership, users in Netfabb have access to workspaces for the Form 2, can create and modify support strategies to optimize parts, and easily hollow and add lattice structures and perforation holes to models — on top of the full Netfabb Standard functionality.
Looking ahead, with our fully automated 3D printing platform Form Cell, we've been working closely with global players in product lifecycle management and enterprise resource planning, who have built out new manufacturing ecosystems that depend on 3D printing to make them feasible. This includes live manufacturing demonstrations with SAP and creating a Future Factory at the Boston Convention Center with PTC to showcase how mass customization and the future of manufacturing is possible today with 3D printing-focused workflows.
How has embracing cutting-edge technologies impacted your business and the products you build?
Making 3D printing technology more accessible has been core to Formlabs since day one, when our founders set out to make the Form 1 desktop SLA 3D printer, so streamlining the user workflow with partners to improve the user experience is crucial.
In order to make workflows easier and less cost prohibitive for users, we've found success in building out integrations with software companies to help remove friction points in their design and production process. This can be as straightforward as being able to export a Formlabs-specific file (.form) from their software or as complex as bringing external software functionality into our own Preform software.