Want to reinvent manufacturing?
Tell engineers from the automotive, aerospace, industrial and medical industries that using your company's metal 3D printers will allow them to print products in steel, titanium, aluminum and onyx in under one day. That's essentially what Cambridge-based 3D-printing company Markforged did after unveiling its Metal X 3D Printers last year.
The company, which raised a $30 million Series C round of funding in November 2017, grew its bookings of new customer acquisition by almost 300 percent last year — and shows no signs of slowing down, with hundreds of big-name customers like NASA, Ford, Amazon, Facebook and Dow Chemical on its roster.
To power its supersonic growth and innovation, Markforged is expanding almost every single team across the company. We caught up with two members of their C-suite from the go-to-market team to find out what they're looking for in candidates.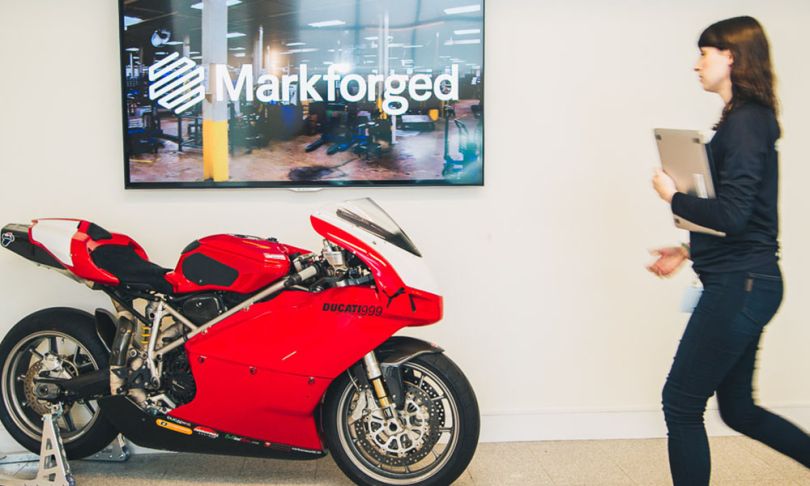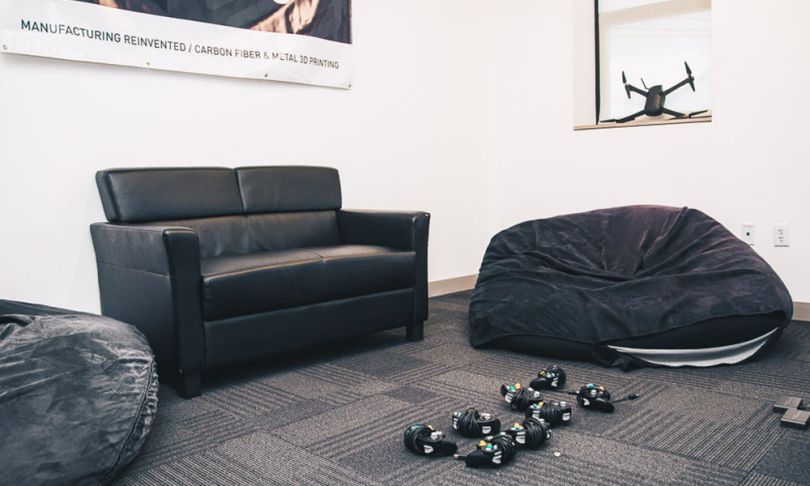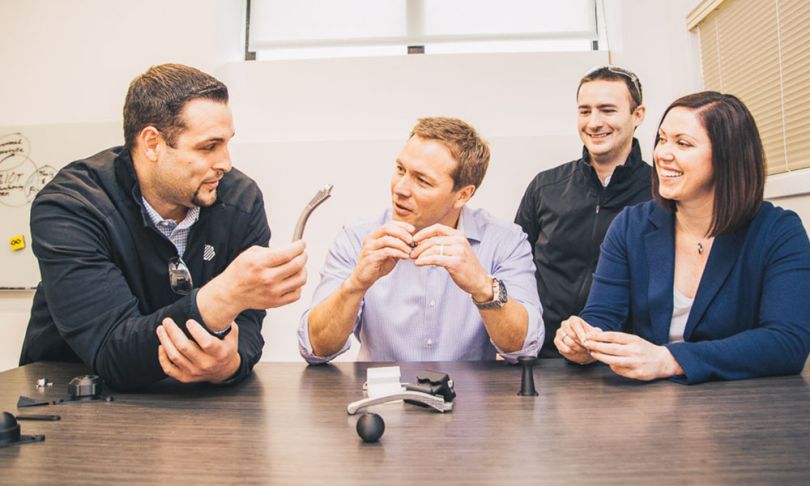 FOUNDED: 2013
EMPLOYEES: 125 nationally; 115 locally
THE COMPANY: Markforged makes industrial 3D printers that print strong parts quickly at a fraction of the traditional cost, allowing end users to speed up prototyping, tooling and other manufacturing processes.
LOCATED: 85 School Street, Watertown
IDEAL CANDIDATES: Technical wizards with stellar relationship-building skills. In the go-to-market team specifically, Markforged is hiring dozens of people for roles in business development, commercial sales, field sales, GTM operations and application engineering — all across the world. Hint: Be prepared to talk about your first job.
NOTABLE PERKS: Unlimited PTO and access to in-house 3D printers.
NASA, FORD, GOOGLE: Just three of Markforged's thousands of customers.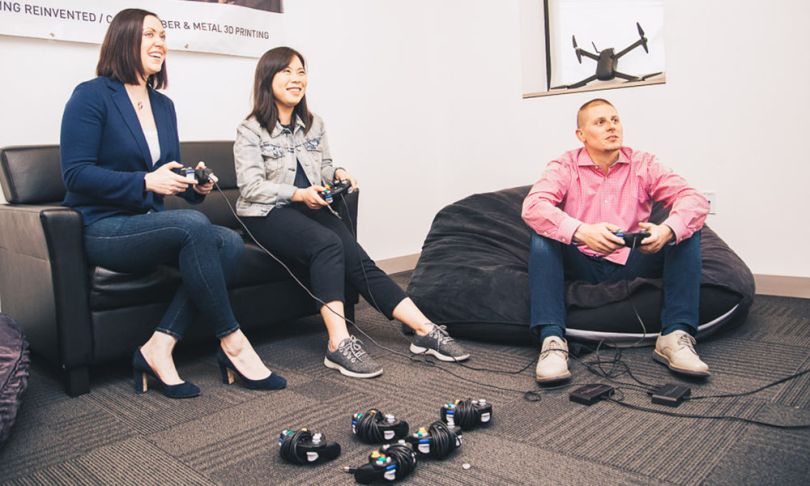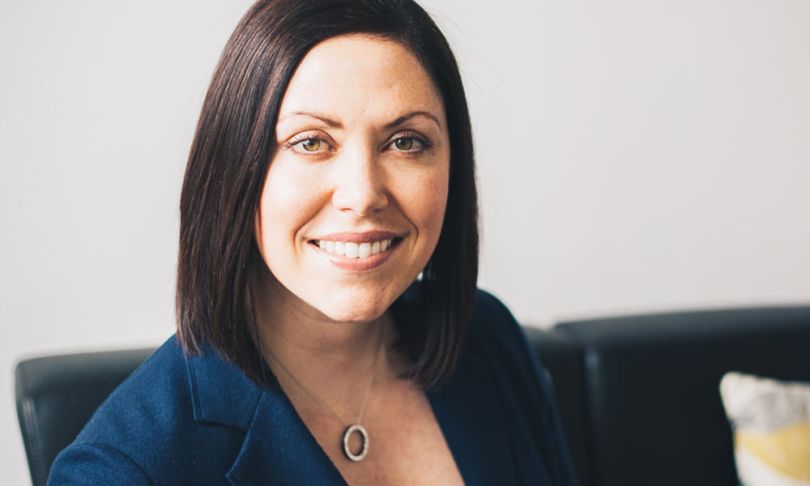 Darcey Harrison, VP Commercial Sales
Darcey Harrison is responsible for building out and running Markforged's business development team and (three!) commercial sales teams. What she loves most about her job is building a team from scratch and then watching them succeed.
SECRETLY ADDICTED TO: Pilates and volunteering. Pilates gives her time to clear her mind, come up with new ideas and stay healthy, while volunteering reminds her to have empathy and build camaraderie within the Boston community.
How does a typical day break down?
While meetings tend to shape my day, the primary focus is always spending time with my team. If I'm not working one-on-one with my team, each meeting I have is directly related to building something that will help them succeed and drive the business at a faster pace.
What's your background? How has it affected your leadership style?
My background is originally in banking where I was responsible for sales, customer service, operations, audit, etc. It helped me become a well-rounded leader who focused holistically on a business. Bringing that to the tech world has enabled me to utilize my business acumen and leadership skills, but also have more fun. I'm able to be strategic with my team and shape careers, while really enjoying working closely with them as individuals.
I'm able to be strategic with my team and shape careers, while enjoying working closely with them as individuals."

 
Describe your sales team culture. Did you foster this deliberately or did it happen organically?
The sales culture here is both extremely supportive and competitive. I built a system where people are competitive without the possibility of competing for the same piece of business. At the end of the day, these are salespeople, but they always have each other's back if someone needs to be out. We always make sure that our customers and prospects come first. We also have the occasional nerf gun fights and very frequently hit the gong. Even the original skeptics love it.
What has been your biggest achievement in leading commercial sales for Markforged?
The biggest achievement has been building a new team under a revamped go-to-market model. I'm new to Boston and didn't know what to expect from the talent. I feel that I've quickly been able to build a strong sales organization with top salespeople in the area. Very proud of all of them.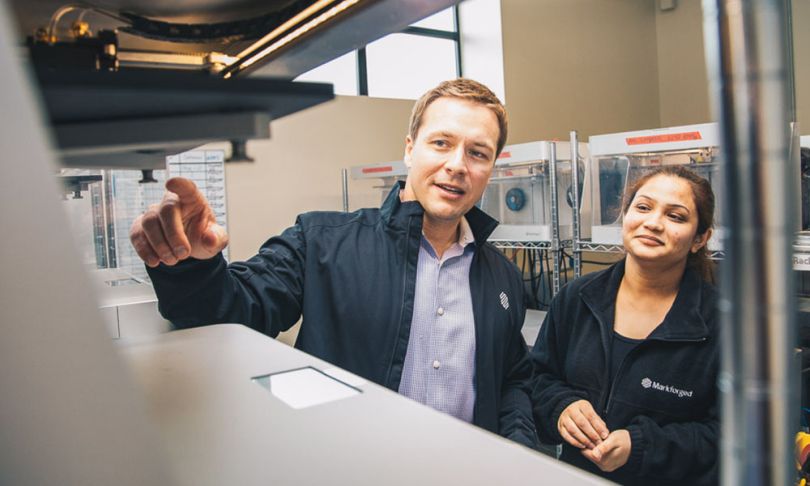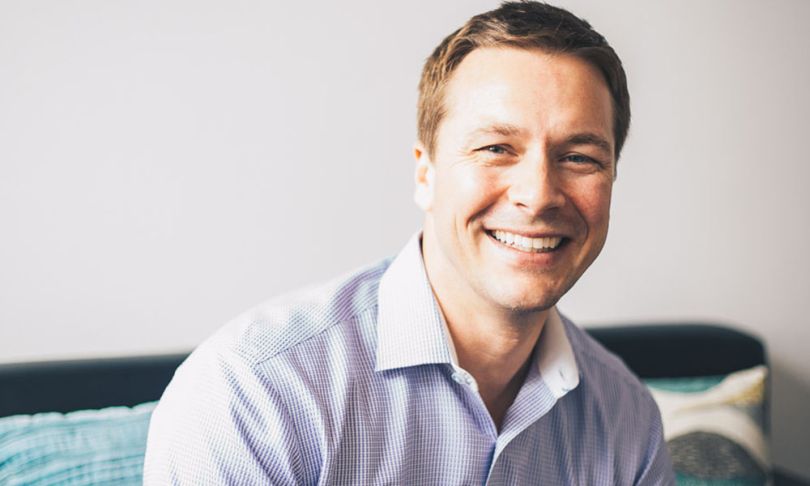 Jason Eubanks, Chief Revenue Officer
Jason Eubanks leads the execution of Markforged's go-to-market efforts, including sales, operations and even recruiting. His favorite part of the job is the energy and pace of hypergrowth.
BEYOND WORK: Jason is an avid water-sport aficionado — he wakeboards, paddle boards and surfs. He's also the father of three kids between the ages of 3 and 14-years-old.
How has your background in manufacturing influenced the work you do at Markforged?
In college, I spent a couple of breaks working in factories, including a summer at a candle factory and another stint at a metal fabrication shop painting FedEx boxes. My mother was in manufacturing for 42 years. I grew up going to the plant with her on weekends so I knew my way around the office and plant floor at the food equipment manufacturer where she worked.
I ended up taking a college internship at the same plant working as a junior network administrator. The time I spent in different manufacturing environments — working in the line, shipping department and paint room — provided a baseline understanding of the overall manufacturing process at a very high level. These experiences made me more empathetic so that I better understand the business challenges customers face.
Having grown up in a small manufacturing town and witnessing first hand the decline in manufacturing jobs and the associated impact on the small town economy, I was inspired by the opportunity at Markforged to play a role in reinventing manufacturing with same-day, strong, 3D-printed parts. Customers and candidates can sense when you have a real passion for what you do.
What is your philosophy as it pertains to innovation in the hardware space?
Hardware innovation is hard. Unlike software — where it's common to develop an MVP product and quickly iterate over a span of weeks — most hardware innovation occurs in phases that span two to five years, and we see this all over the manufacturing market.
At Markforged, we've reached six- to 12-month innovation cycles sustainably over a period of five years since we started shipping product. Our philosophy is to continue to innovate quickly so our customers can shrink long product life cycles while also removing costs from decades-old manufacturing processes.
We do this with a brilliant and dedicated team of full stack innovation engineers. That means software, mechanical, electrical and materials engineering teams all working together as we maintain close relationships with our customers, partners and the go-to-market functions to determine where best to focus our efforts.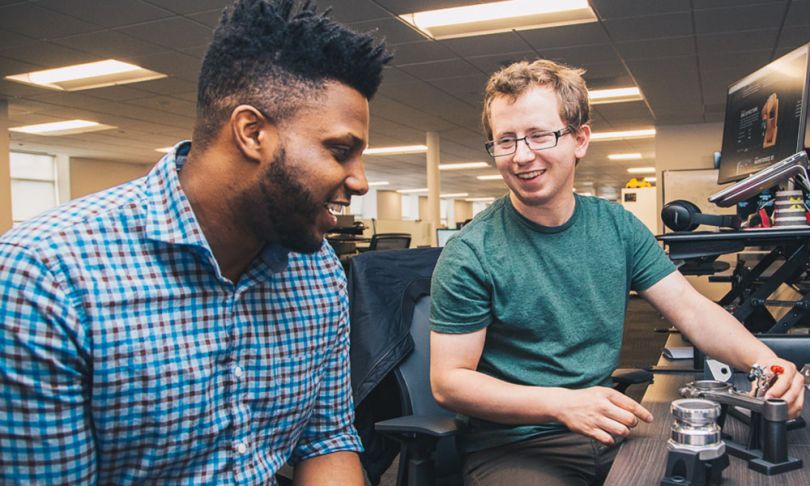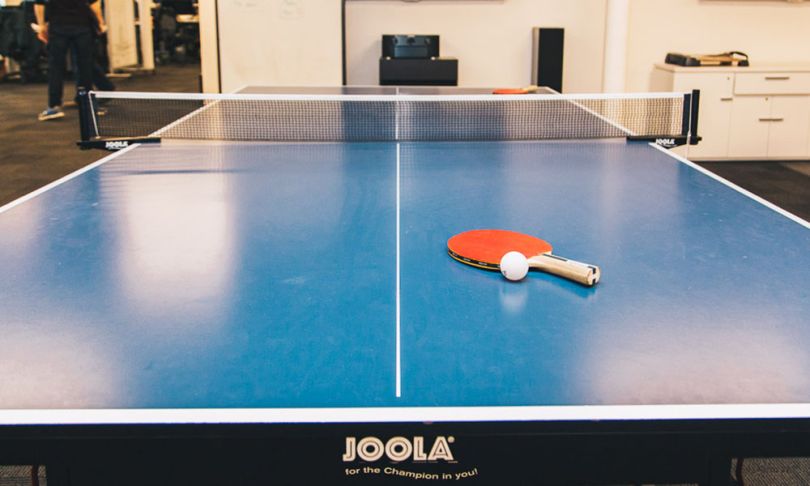 What's next for your team? Where do your team in a year?
We are building on five years of experience in delivering value to customers. The Markforged team is growing at a rate of 200 percent per year as part of our effort to invest in operational systems, processes, and the people required to scale the business through hyper-growth while continuing to focus on our customers. We have grown bookings by new customer acquisition by almost 300 percent year-over-year and our goal is to continue providing real-world value as we expand operations.
Our philosophy is to continue to innovate quickly so our customers can shrink long product life cycles."

 
What do you look for in candidates today? What's critical or what's a must-have?
I look for self-starters with raw intellect, work ethic and a proven track record of success. If you take a smart, hardworking and motivated person, and pair them with a great product that solves a meaningful problem for a massive, addressable market, then you can teach that person to be successful at anything — except maybe how to run through walls.
But success has to come from within. I ask candidates about their job history from the first time they ever traded time and effort for money to better understand when they started working for the first time in their life, why they started working, and how long they kept that first job. In this process, I am really trying to understand who they are before they were taught to interview.