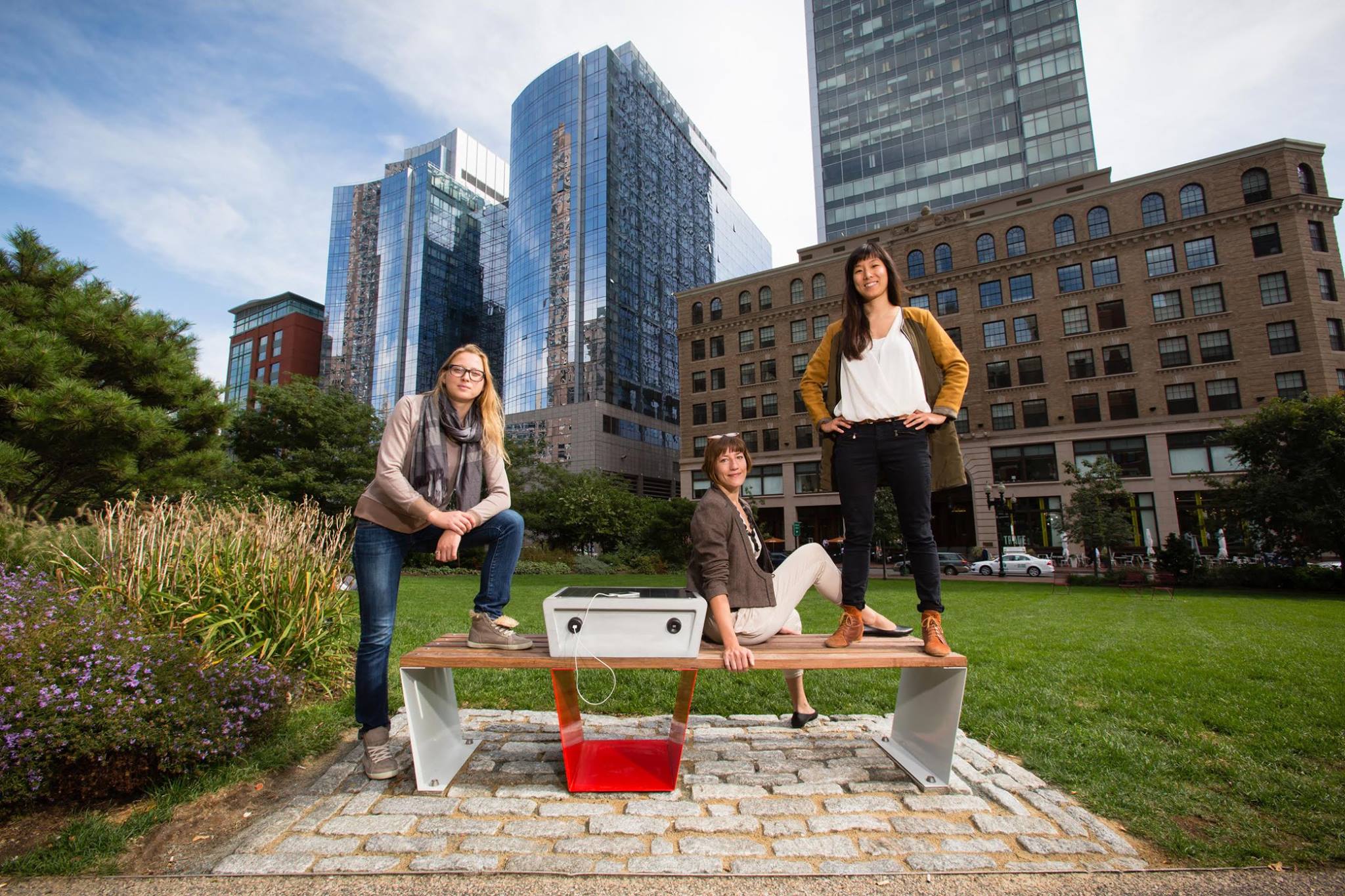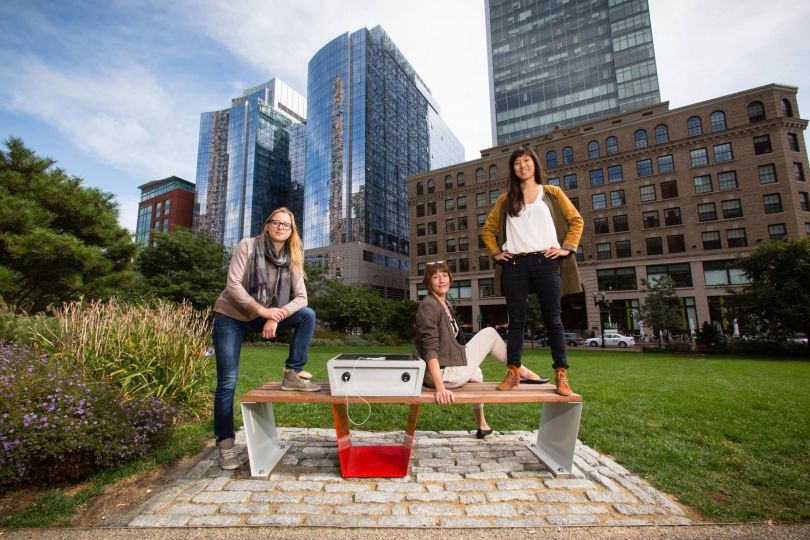 The apps you use and the products you buy are all tested for user-friendliness, so why isn't your city?
That's just one question that Cambridge startup Soofa hopes to address with its "smart" infrastructure.
Launched out of MIT in 2014 by a trio of badass women in tech, Soofa's goal is to "reinvent" public spaces through its smart infrastructure, which includes benches and signs that monitor how the public interacts with them.
"We started the company with the mission and vision to bring user-centered design to smart cities," said Soofa CEO and co-founder Sandra Richter. "When we look at the internet and our social network, all of our products are built for consumers — any designer obsesses about the user. But then you look up how cities are built, and you wonder, 'Who is looking out for the consumers of the city?'"
We started the company with the mission and vision to bring user-centered design to smart cities.
Designed by MIT graduates Richter and Nan Zhao, as well as Harvard Graduate School of Design grad Jutta Friedrichs, Soofa benches are solar-powered and can charge electronic devices via USB. They're also sensor-enabled to measure activity in outdoor spaces.
These benches are not just a place for citizens to relax and charge their devices: they also help with Soofa's mission of turning cities into R&D labs.
How? With simple upgrades to the benches, schools and cities, developers and other Soofa partners can conduct their own street-level analyses to find out how their residents are interacting with their environment — all without spending millions of dollars.
"In our work with cities across the U.S., we identified a need for better tools to measure the positive impact of parks," Soofa's website states. "We believe that with the right technology and data, park users and park champions can be empowered to do a better job communicating the value of parks, and achieving the goals of parks departments."
To this end, Soofa is looking for city collaborators to take part in the company's "Smart City Research Series," which will work with urban centers hoping to spearhead technologies and policies that improve digital equity for their residents.
Naturally, Richter said Cambridge and Boston are Soofa's R&D testing ground, but they are about to start with two additional R&D partner cities for advancing their technology.
Richter said so far, Soofa benches have been deployed in over 75 cities including Boston, Miami and Los Angeles, and the company recently unveiled another 'smart' product: the Soofa sign.
The solar-powered digital signs aim to give communities a voice, Richter said, offering a platform for neighbors to share events, empowering local artists and businesses to engage with customers and helping transit operators provide travel information to locals and visitors alike, thereby making cities more tourist-friendly.
"Walking around Boston, you see a lot of advertising, and there's really nothing you can do with that," Richter said. "That doesn't help you get through your day. With our signs, we're thinking about customers of the city and what they want to see."
On the Rose Kennedy Greenway, for example, Richter said a Soofa sign might tell you the story behind a new Italian restaurant in the North End, while in Fenway, a sign might advertise community events happening at Verb Hotel.
In fact, signs have already been installed in downtown areas, campuses and parks around Boston and Atlanta with more coming online soon.
In addition to monitoring how often benches and signs are used, Soofa's products can measure activity to better understand how a community benefits from public space. The benches and signs can monitor street-level activity, get a better understanding of event attendance and measure the return on investment for improvement projects.
While Soofa does not reveal employment numbers publically, Richter said the company hopes to hire 10 to 20 people over the next few months.
"We want to have a real-world impact — not just be a story," Richter said.