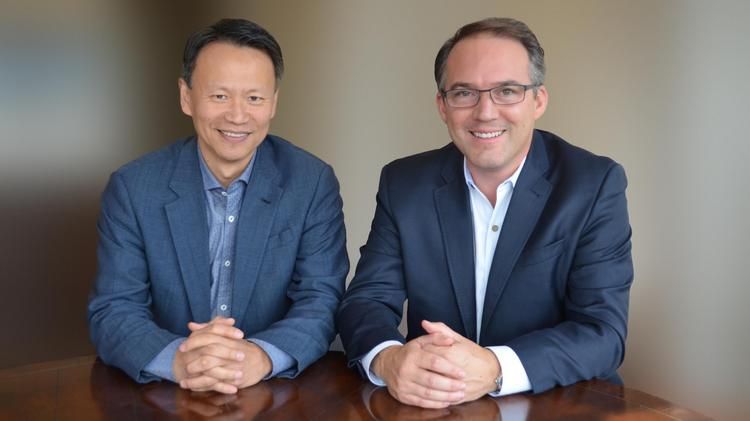 When Mark Magnacca (pictured right) met Yuchun Lee (pictured left) at an event for young entrepreneurs in Boston, he knew he had to find a way to work with him.
Lee has a colorful past that ranges from selling silkworms in Taiwan and launching a software company in high school to making millions playing blackjack while attending MIT — which would later serve as the inspiration for the film "21."
"Lee built his last company [marketing startup Unica] from nothing and sold it to IBM for nearly $500 million," said Magnacca. "He has a proven track record in high tech."
So when Magnacca pitched his business idea for Allego, a sales education startup, at a forum for local innovators, he was delighted when Lee seemed interested. The idea stuck, and he eventually left his job at IBM to work alongside Magnacca as Allego's co-founder.
Now, the duo is combining efforts at their Needham-based company, which offers a video-based sales training platform, and has been taking off since its official 2016 launch.
Completely self-funded by Lee, who also serves as CEO, Allego's mobile-first platform trains, coaches and develops sales talent for more than 100 customers, including local companies like Bullhorn, Salesforce Commerce Cloud, John Hancock Insurance and MFS Investment Management.
Cash-positive since its first year, Allego recently reported three-year sales growth topping 5,401 percent with no signs of slowing down.
In addition to signing new customers like AllianceBernstein and ALKU this year, the company came in at number 62 on the Inc. 500 list this summer.
Magnacca said he's excited about what lies ahead.
"We've gone from 0 to 50,000 users since we started," he said. "We're transforming the way business leaders think about learning in their organizations."
With Allego's technology, distributed sales teams don't need to travel for in-field coaching or on-site training — they can learn their role through video content sharing curated (and even created) by corporate HR.
Magnacca added that Allego's experienced leadership team also sets the company apart from competitors.
"We're not your average startup," Magnacca said. "We're not millennials; we're quite a bit older than the prototypical founders that you see. We have scars and failures that we've learned a lot from."