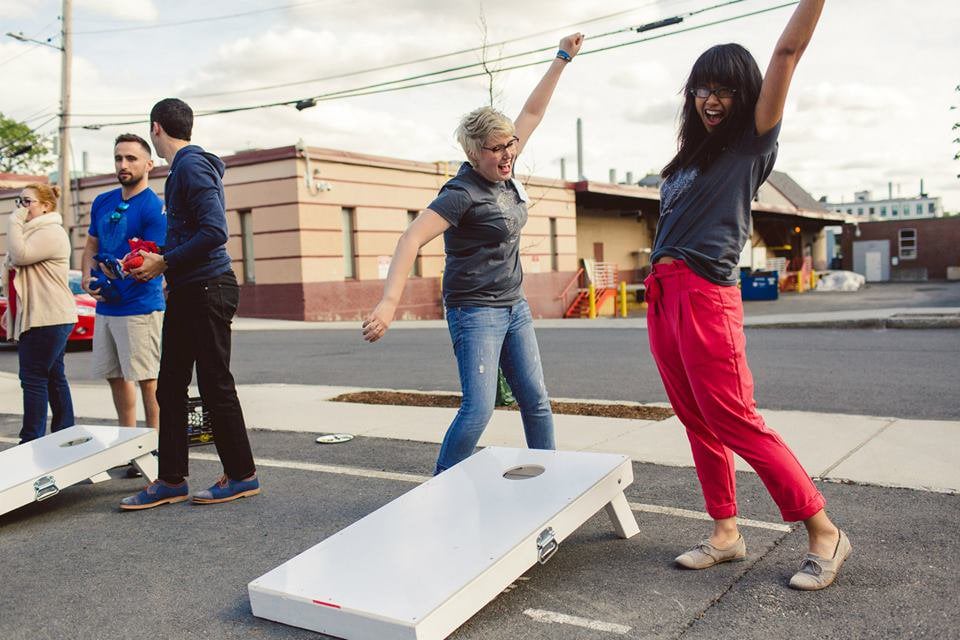 For many, the word "startup" conjures up an image of hoodie-wearing brainiacs working crazy hours for little pay in the hopes their company makes it big.
While some people seek out startup life for precisely this atmosphere, others shudder at the idea of giving up any semblance of work-life balance.
Luckily, quite a few fast-growing tech companies have realized that emphasizing benefits like paid vacation, flexible work hours and group outings are crucial to reducing employee turnover and keeping their teams engaged and focused.
From on-site yoga to Bahamas vacation, the following seven Boston companies have found plenty of ways to keep their workers sane.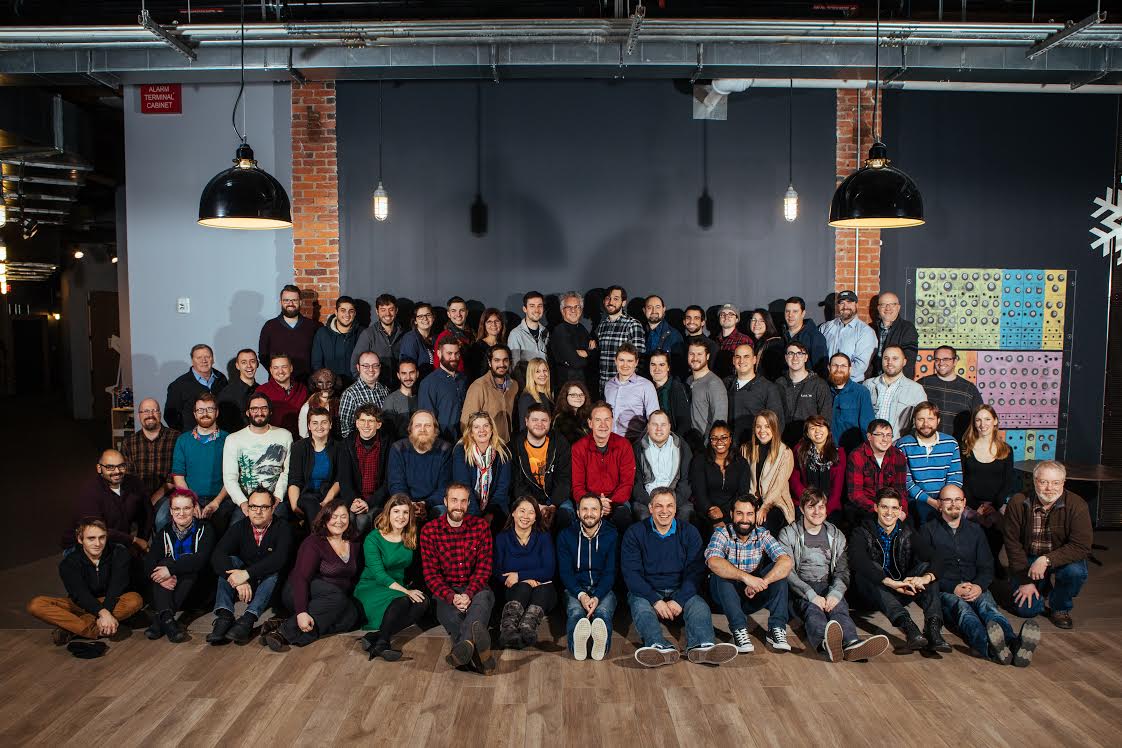 iZotope develops tech solutions for audio recording, mixing, broadcasting and sound designing.
Responses via Doug Miller, Head of Human Resources
How do you enforce a work-life balance?
Through shared respect. We also have a system to make it easy to request time away from the office — whether for vacation, a bit of R&R or even to work from home.
What are some perks you offer employees that encourage work-life balance?
We encourage time away from work by offering over 30 days of paid time off throughout the year dedicated to rest and relaxation. We also support our employees who need to adjust their workdays or work from home to attend to the challenges and opportunities life throws our way. We're big fans of mini-vacations for the heck of it or following a busy time or a major conference. We understand the importances of getting away from behind the desk. At lunch, you will see teams having a communal lunches in our amazing brick-and-beam kitchen outfitted with several wooden harvest tables. It helps when we bring lunch in every Friday and offer complimentary snacks. Colleagues will also get out of the office for walks or lunch outings.
What is the most relaxing spot in your office?
While everyone has their favorite spot, I love the calming silence of our sound-proof recording studio. People go in and out of the studio all day, but when you're lucky enough to find it empty, there's something so relaxing about sitting in those comfortable chairs, surrounded by instruments and recording gear. You can also often find folks perched on a comfy couch above our open space named "Coachella" next to our DJ table. They are two great spots to spur that next great idea, or just take a moment out of the way to unwind.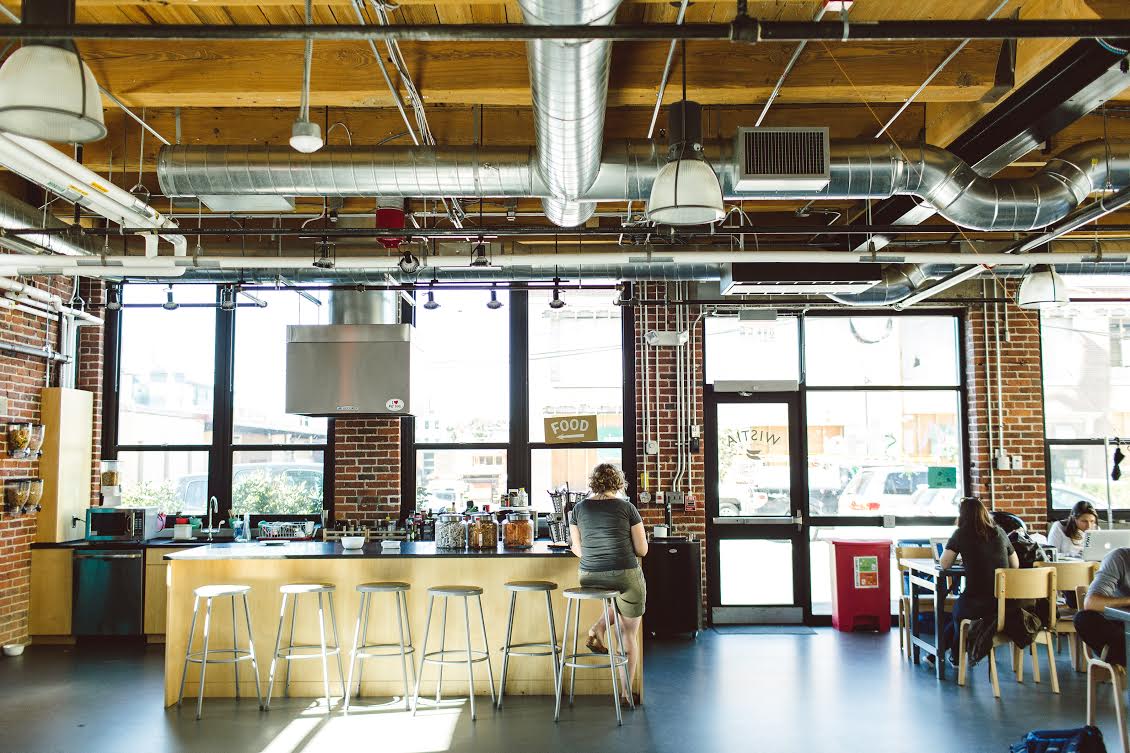 Wistia is an online platform that offers marketers video marketing tools to host, manage and track their videos.
Responses via Meredith Eves, Director of People
How do you enforce work-life balance?
First off, we have untracked vacation and sick time; we prescribe that Wistians use it as they need it. Life is full of different challenges and opportunities, and we want our team to have the flexibility when they need it. To do this untracked, we depend on trust and communication — we utilize tools like Slack and shared calendars to broadcast where we are and when we're available, or not available. We also offer flexible work schedules. While we're an in-person culture, we understand sometimes it's easier to be more productive to work outside the office. On any given day we might have someone working from home while they wait for a delivery, another person is enjoying a coffee shop down the street and one more person getting inspired while they work outside.
What are some perks you offer employees that encourage work-life balance?
Up to 12 weeks paid family leave, untracked vacation and sick time and in addition to nationally observed holidays, we close the office between Christmas and New Years.
What is the most relaxing spot in your office?
We often say the Wistia office is a choose your own adventure space. There are quiet nooks with couches and cozy chairs, airy hanging hammocks, a buzzing coffee shop vibe in our kitchen, and and you'll often find Lenny the office dog soaking up one of the many sun drenched spots in the office. The relaxing spot really just depends on the individual and the day, but there are plenty of great spots to be had.

IdentityForce provides identity theft protection services for individuals, businesses and government agencies.
Responses via Donna Parent, SVP of Marketing
How do you enforce work-life balance?
This balance is made possible not only through robust employee benefits that cater to both the financial and emotional well-being of each employee, but through the company culture itself. Many of the company's cultural traits are bred from its family business roots including a close-knit feel, clear values, caring, loyalty, humility and deep commitment to community. The company leadership truly understands the value of working in a supportive and fun environment. Furthering this, employees are encouraged to do volunteer work, and IdentityForce provides flexibility during the workweek in order to accommodate volunteerism.
What are some perks you offer employees that encourage work-life balance?
IdentityForce perks include paid gym memberships to make it easier for everyone to maintain a healthy lifestyle. Company events and dinners are also planned frequently, including a "Spring Fling" company getaway with spouses and significant others. The 2017 Spring Fling took place in the Bahamas and everyone had the chance to enjoy time together through various activities and catered meals. Employees can also participate in community service events, such as those focused on helping the homeless in Boston, and attend continuing education programs and career development conferences.
What is the most relaxing spot in your office?
The most relaxing spot at IdentityForce is the kitchen. The kitchen is often the heart of a home and it is certainly the heart of our office. In order to take time out together, IdentityForce provides lunch daily to all employees. The team has fun deciding where to order from each day. And when it's delivered we all come together and enjoy eating lunch with each other and catching up on our personal lives, while occasionally mixing in some business talk. The kitchen is also the place where everyone gets together to have coffee, ice cream, birthday cake or desserts for other celebrations and even a beer or cocktail.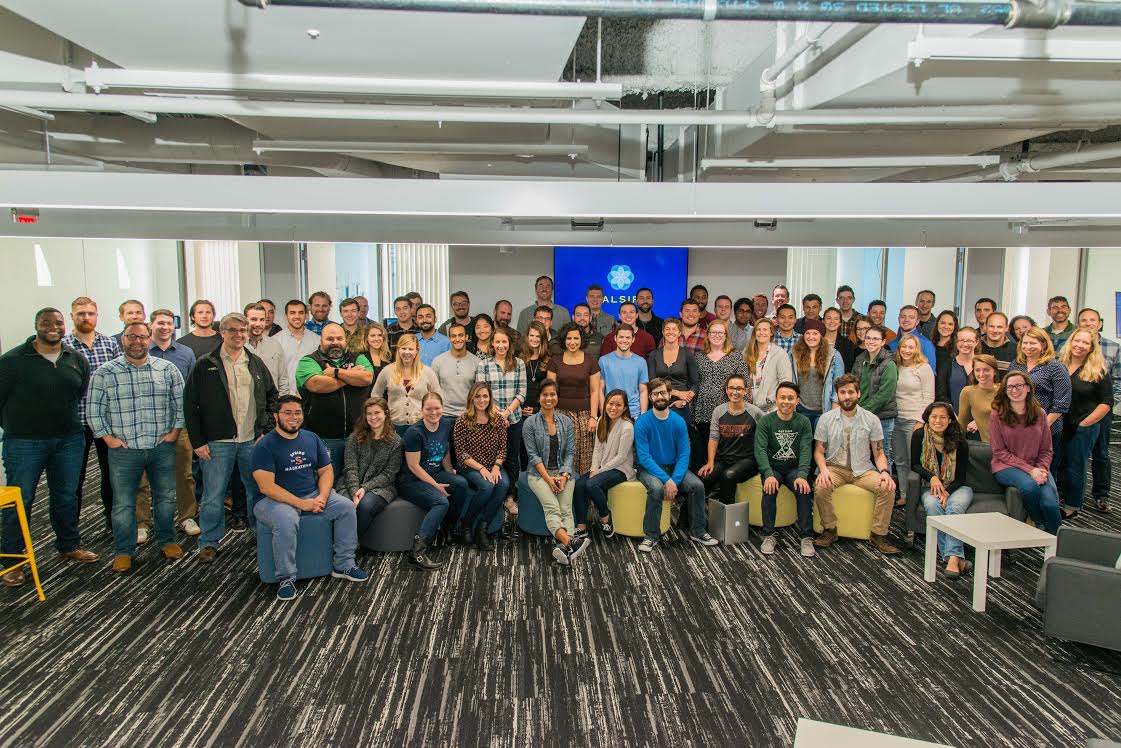 Salsify provides cloud-based product content management solutions that allow businesses to exchange high-quality content.
Responses via Allison Churilla, Director of Talent
How do you enforce work-life balance?
Every Salsify employee has the freedom to control their own schedule. We have an unlimited vacation policy. Not only do we not restrict the days employees can be out of the office — we don't restrict their hours either. Do you work better from home? Are you more productive in the early morning or later in the evening? It's up to you and your manager to develop a schedule that works best for you. We use shared Google Calendars and Slack as a way to keep everyone in the company aware of who is in and out of the office when.
What are some perks you offer employees that encourage work-life balance?
Salsify's unlimited vacation policy is the central perk that drives our culture of work-life balance. In addition, we also offer on-site yoga two days a week, a fully stocked kitchen with snacks and coffee, gym memberships and discounts, bike and commuter benefits and social programs including coffee meetings and after hours excursions.
What is the most relaxing spot in your office?
That's currently under debate here! We have comfortable chairs in the center of our office for those who focus best amidst the white noise of a busy office, and for those who prefer a more peaceful space, we have a quiet area with cozy chairs, privacy screens and outside views courtesy of our full-length windows. You can also find people scattered throughout our cafeteria relaxing with snacks or doodling in our adult coloring books.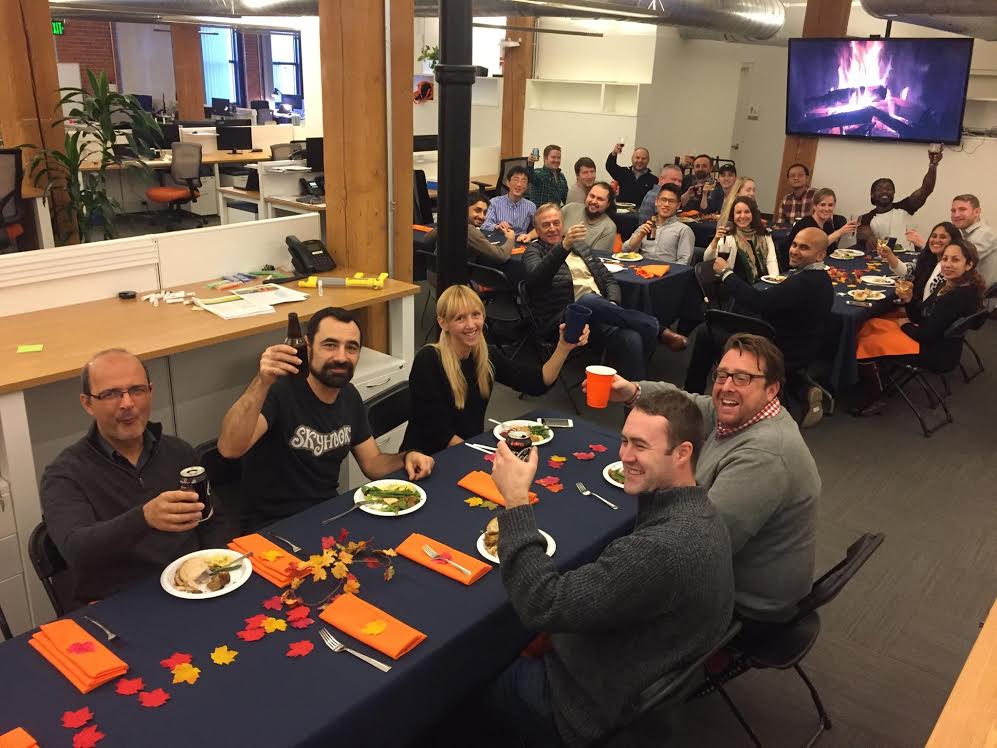 Skyhook powers mobile location services for apps, adtech and devices.
Responses via Karl Holzthum, Chief Sales and Marketing Officer
How do you enforce work-life balance?
We feel that giving employees greater control over the structure of their jobs and more flexibility in managing their personal lives leads to better relationships with colleagues, management and customers. It is important that our staff feels comfortable leaving work issues at work and home issues at home, and not feel the need to always be "on" when they're not working. We have a Culture Committee made up of a team of volunteers from across different departments that meets bi-weekly to ensure we maintain a high standard of work-life balance and fun activities in the office. They are constantly coming up with creative ideas to bring Skyhookers together.
What are some perks you offer employees that encourage work-life balance?
Skyhook offers a generous leave policy (including vacation time, personal days and family caregiver leave) and encourages employees to use that time in a manner that is most useful to them. Skyhook also offers a robust health and wellness program for its employees and buys and provides iPhones or Android devices for employee use, with Skyhook also paying for the monthly phone and data bills. We also have several outings throughout the year to strengthen team building and camaraderie. Our annual summer outing has previously been held on George's Island, Lawn on D and on a private boat in Boston Harbor and includes Live Band Karaoke (which is always a hit). Other outings include an afternoon of kickball, a visit to Boda Borg, F1 Racing, team competitions like Spartan Race and JP Morgan 5K Corporate Challenge, day trips to Provincetown and sailing trips in Boston Harbor.  
What is the most relaxing spot in your office?
The Skyhook Lounge is definitely the best spot. It has comfy couches, bean bag chairs and a large screen hub for company meetings, teleconferencing and watching TV. It's the designated gathering place for most social activities too. When more solitude is needed, we also have a couple of other bean bag chairs throughout the office in more quiet locations.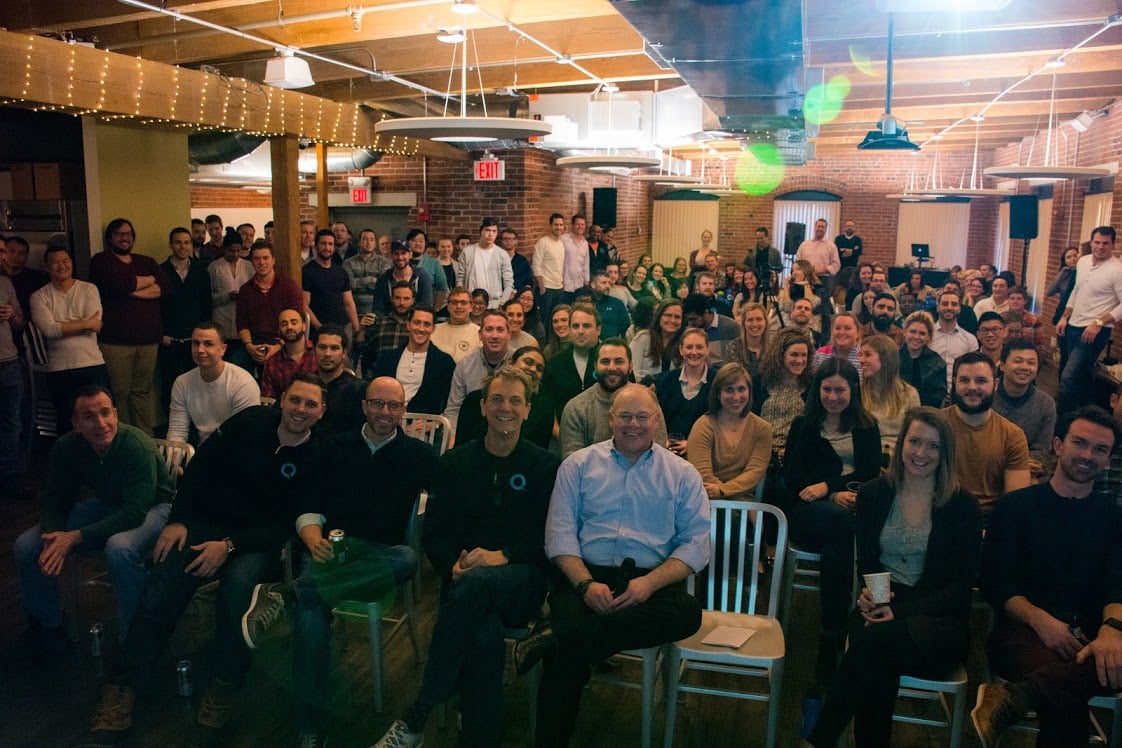 ownerIQ provides online advertising solutions and marketing channels for brands, retailers and manufacturers.
Responses via Jay Schaufeld, SVP of HR at ownerIQ
How do you enforce work-life balance?
At The Q we work hard. Of course we recognize that time away from the office is important and we encourage it. To that end, we recently changed our time off policy to something we call "QFlex Time." It effectively allows employees the time they need and desire away from the office without worry of accruals and balances. Furthermore we believe that downtime with co-workers can be a great way to decompress as well.  Q'ers can often be found hanging on couches in huddle spaces playing board games or cards, having a craft beer and snacks after hours or having lunches together. Q'ers in Boston participate in a softball league (and rumor has it we are undefeated….two games into the season), and our Chicago colleagues play in a volleyball league.  
What are some perks you offer employees that encourage work-life balance?
QFlex Time policy and paid new parent leave time (for mothers and fathers).
What is the most relaxing spot in your office?
That's a tough one. We have a few super comfortable couches that are quite relaxing. Our new kitchen area with high top stools is another really nice space with its exposed brick and beam architecture…and of course it's close to the beer. Also, coming soon are new two-person "huddle up" areas, complete with charging stations. We encourage Q'ers to step away from their desk for a change of scenery and to get creative.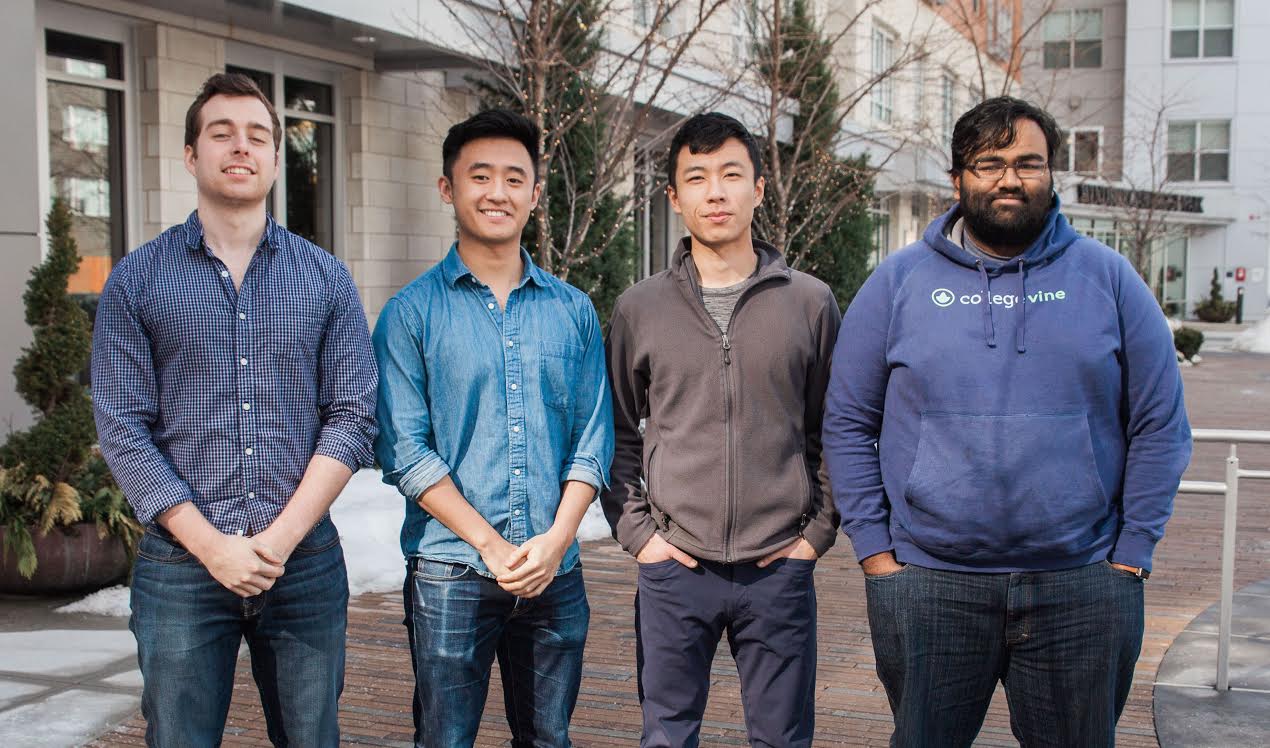 CollegeVine provides one-on-one mentorship and college admissions guidance to students.
Responses via Johan Zhang, Co-Founder
How do you enforce work-life balance?
Some companies like to boast about offering "unlimited vacation" to their employees. But the problem with unlimited vacation is that it actually leads to folks taking less time off. In the absence of clear expectations, hard-working individuals tend to err on the side of taking less vacation and may even feel guilty about leaving. At CollegeVine, we clearly define our vacation policy so that folks know exactly how much they can use. Additionally, we have a "use it or lose it" policy so that our team makes an active effort to take the appropriate amount of time off.
What are some perks you offer employees that encourage work-life balance?
We provide our employees with an extremely flexible work-from-home policy. Many employees work at least one day of the week from home, and it's not unusual for some team members to work remotely for an extended period of time. Our team has worked remotely from Chicago, Jordan, Austin, Portland, South Africa, London, Paris and more! Our office also has a gym, complete with state-of-the-art machines and free weights, that is free for employees to use. The gym also regularly hosts classes like yoga and boxing for those who prefer a group workout. Many of our employees are also quite active, with hobbies including rock climbing, powerlifting, windsurfing, yoga, ballroom dance, cycling and playing basketball.
What is the most relaxing spot in your office?
Our kitchen, with big windows and nice wooden tables, provides a relaxing sense of openness and is a nice place to hang out while grabbing a snack. But again, for many folks nothing beats agency and autonomy. So we let our employees choose their own most relaxing spots, whether that's their bedroom, home office or even their local coffee shop!
Responses have been edited for length and clarity.
Photos via companies