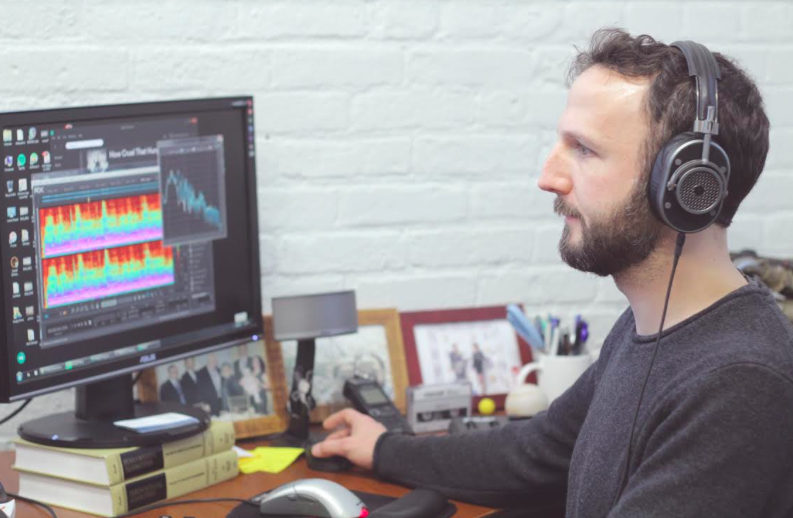 From a basement in Holliston to a sleek Kendall Square office, audio tech startup iZotope has experienced quite a bit of growth in the past 16 years.
In addition to bringing on 100 employees, iZotope has won an Emmy for its audio repair technology, worked with music artists ranging from Diplo and dubstep sensation Skrillex to Beck and Major Lazer, and has rescued audio from the cutting room floor for TV shows like "It's Always Sunny in Philadelphia," "Mad Men" and Netflix phenom "Stranger Things."
Now used by millions of people in over 50 countries, iZotope's cutting-edge products and audio technologies help professionals and hobbyists be creative — whether that means making movies in basement offices or producing albums at GRAMMY-winning music studios.
But iZotope, like most startups, had humble beginnings.
In 2001, co-founder and CEO Mark Ethier (pictured above) was earning dual bachelor's degrees at MIT music theory and composition and computer science when he had an idea. A talented composer and pianist, it dawned on Ethier that he would like to make products and technology that could help people like him build a record from their home.
He launched a tool to help studios perform "mastering," the last step in recording when you prepare music to sound great for different mediums like computer speakers, earbuds or your car radio.
After putting the tool on its website, newly-founded iZotope gained quick momentum. Recording professionals began to notice them.
"They were like, 'Hey these guys from MIT are making fantastic-sounding products that are priced well,'" Ethier said, "And pretty soon we started showing up in professional film and TV and the music world."
Today, iZotope is a big player in the music recording and production world, offering a whole suite of computer programs for producers, engineers and musicians.
Many of iZotope's tools can be used as plugins with high-end recording software like Avid Technology's Pro Tools and Apple's Logic Pro X, while other programs help musicians and songwriters by providing computer-based drum machines and acoustic instruments that can delay or distort sounds.
The company also offers software that mixing and mastering engineers can use to gloss up songs and clean up recording mistakes — that errant air conditioning hum, cell phone buzz or guitar squeak that mess up an otherwise perfect take.
With its success, iZotope has been able to relocate, eventually settling in Cambridge. The company's current location has a lot to do with Ethier wanting to be close to his MIT roots.
"This is our fourth office in Kendall Square," Ethier said. "It's a very cool place to be because it's a center for knowledge and we have access to talent from places like Berklee College of Music, Tufts, Harvard and MIT."
In fact, many of the people Ethier hires are Berklee grads, and Ethier said at any given time, a visitor to iZotope's offices can stumble across a guitar or recorder. The office even has an in-house recording studio, which Ethier said employees can take full advantage of after hours.
Ethier said he looks forward to bringing on 25 more employees in 2017, but said finding the right blend of technical talent and musical passion can be hard to find.
"Hiring is one of our biggest challenges," Ethier said, mentioning that iZotope is currently looking for UX and UI designers and product managers. "Looking for specific talent is challenging, so we look around the world. We want them to have a passion for the arts but have a technology underpinning."
If you do land a job with iZotope, Ethier said you'd be joining "an incredibly creative bunch."
"People here really blend music and tech," Ethier said. "There's a level of passion about the creative arts here that permeates everything. People go home and use our products to make music or film."
At iZotope's all-hands lunch every Friday, Ethier said he always asks who has a gig next week. A few hands always go up. Ethier feels pretty blessed to be a part of the culture.
"This is my dream job," Ethier said. "There's a keyboard at my desk and instruments everywhere. I feel really lucky to be here. Almost everyone here is a musician or a music lover."
We asked Ethier to curate a Spotify playlist, showcasing some of the artists using his audio tech (and some songs he just enjoys listening to):
Photo via iZotope
Know a company with a great story? Let us know or tweet us @BuiltInBOS